Tomorrow (February 29th) is the 176th birthday of Dr. James Alexander Henshall. 44 leap years have passed since this man was born in Baltimore and changed the world of fishing. He lived one of the most interesting lives and impacted fishing as much as any individual American of his era.
For those interested in learning more about Henshall's life, check out
The Autobiography of Dr. James Alexander Henshall
, edited by the great Clyde Drury. It is a fantastic read!
In honor of the great Dr. James Alexander Henshall, we post Will Wildwood's 1892 biography of the good doctor. Long may this "American Walton" be remembered for his many contributions to fishing and fishing history!
-- Dr. Todd
Dr. James Alexander Henshall

by Will Wildwood (1892)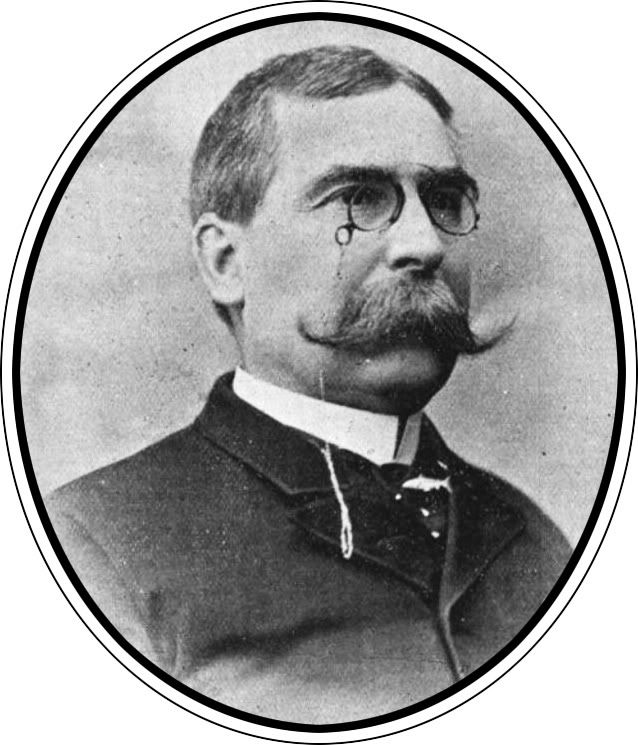 DR. JAMES A. HENSHALL, popularly known as the "Apostle of the Black Bass," the acknowledged authority on everything pertaining to this excellent game fish, was born and educated in Baltimore, Maryland. He inherited a strong passion for shooting and fishing, more particularly the gentle art of angling, and from his early years has been a careful student of natural history. It is recorded of him that at the tender age of four years he secretly packed a small basket with luncheon, and with cross-bow and arrows repaired to a neighboring wood in search of game and Indians. When found he was eating his luncheon beside a small camp fire, and in his basket were the trophies of his trip—a ground squirrel, a frog and a small fish. His favorite books at this period were "Robinson Crusoe" and "Peter Parley's Natural History."
When about eight years of age Mr. Henshall removed to the city, and his summer vacations were spent mostly in camping along the shores of the Patapsco and Chesapeake, with his rod and gun and usually a few congenial companions, who were the proud owners of a small sloop; or on the mountain streams of Maryland, fishing for trout. On Saturday holidays in the spring and summer he often went out with the market fishermen and never tired of witnessing the hauling of the immense seines and learning the names of the numerous fishes. From this ample and somewhat remarkable experience it is not surprising that at the age of fifteen he was a good angler and fly fisher, a fair shot, and could handle an oar or single paddle as well as those many years his senior.
Once, when but fourteen years of age, he swam with a companion on a wager from Baileys to a fish-house across the Bay Patapsco, known as the Spring Garden, a distance at that time of about two miles. He knew by sight and name every game and food fish in Baltimore waters, and could identify nearly every duck and shore bird. When nineteen years of age he and a companion, with fly rod and rifle, traversed the Alleghanies and Blue Ridge from Maryland to East Tennessee, tieing their own flies and moulding their own bullets, and eventually making their own rods. They spent the entire summer and fall in the mountains and in the valley, sleeping in the cabins of the mountaineers most of the time, and living- on the fat of the land, or in other words on brook trout, squirrels and wild turkeys.
His devotion to angling grew stronger as he attained the age of manhood, and he has given to the public innumerable descriptive articles on fishing and out-door sports, while his "Book of the Black Bass," as well as "Camping and Cruising in Florida," may be regarded as among the best books of their kind. Dr. Henshall is an enthusiastic yachtsman, a practical ornithologist and botanist, a keen lover of all manner of out-door sports, and his writings are alike practical and entertaining.
During the epidemic of yellow fever in Norfolk, Va., some thirty years ago, he rendered efficient service and became impressed with the heroic character of the work required of physicians, and resolved to adopt the medical profession. Upon his removal to Cincinnati he began the study of medicine, and eventually graduated with honor. Dr. Henshall began practicing his profession during the war, in Kentucky, and passed through the exciting and trying experiences of that period, in a manner which won for him a host of friends, and was the means of bringing him an extensive practice. At the close of the war, his health being impaired from overwork, he removed to New York City engaging in a lucrative practice with his former preceptor, but was forced to seek a more genial climate, which he found in Wisconsin, where he completely recovered his health. He eventually returned to Kentucky, where he remained for several years, and about four years ago went abroad with his friend Judge Nicholas Longworth, of Cincinnati; going first to the West Indies, thence across to Spain, and cruised about the Mediterranean from Gibraltar to Egypt and Turkey, and traveled extensively through Europe. On his return he located in Cincinnati, where he has been honored by being chosen Secretary of the Society of Natural History, President of the American Fisheries Society, and of the Ohio Fish and Game Commission, and Secretary of the famous Cuvier Club. During the past year he has done valuable work as special agent of the United States Fish Commission, and is now devoting his attention to the preparation of the Angling Exhibit for the World's Columbian Exhibition.
It will be seen from the foregoing that Dr. Henshall is a very busy man, whose services are always in demand where practical work is required in the line of ichthyology, scientific research, or technical matters relating to shooting, fishing and natural history.
He has spent four winters in Florida, has done excellent work in the line of ichthyology and he recently made a collection of fishes of the State of Ohio and of the Ohio river and its tributaries. Dr. Henshall is a very congenial, companionable and entertaining gentleman, and has a host of friends and admirers all through the United States, among whom the universal sentiment may be briefly summed up in the wish that he may live long and prosper.