The First "Sunspot" Spoon  
I'm sure most long-time collectors are familiar with the South Bend Sunspot Spoon. It was only produced two years (1941-1942) but its  distinctive look tends to make an impression on one that is not easily forgotten. What many collectors do not know is that South Bend was not the original maker of the Sunspot. The Sunspot was originally produced for a short time by the Edwood Company of Elkhart, Indiana.
Today's advertisement is from the July 1939 issue of
Outdoor Life
. It contains whatever one would want to know about colors and sizes that the Sunspot was produced in by the Edwood Company.  
At the recent NFLCC Milwaukee Lure Show, I happen to look in my room mate David Budd's case and there was an original Edwood Sunspot, mint in the box. Dave was kind enough to let me photograph it and the pictures appear here. Two things of interest I notice. The spoon itself contains no markings unlike the South Bend products I've looked at recently. The box seems to have suffered a printer's error. When the paper covering was glued to the lid of the box, all print on the sides appears upside down. (I'm tempted to make a "Hoosier" joke here, but in deference to Dave I'll let it pass). I am betting there was some conversation about this when the boxes were first delivered from the printer.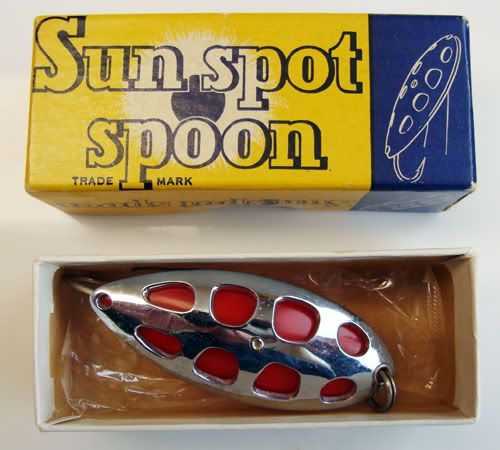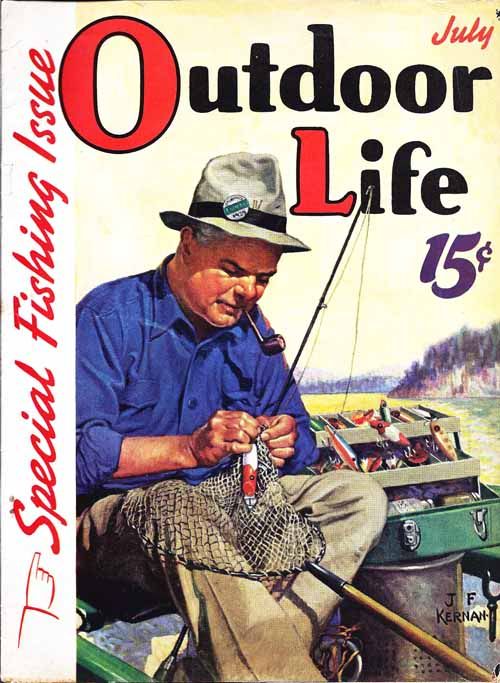 -- Bill Sonnett