Lost on the Bayou:

Dr. Todd Attends the Bassmaster Classic (Part V)

By Dr. Todd E.A. Larson

***********************
PART V: ONCE MORE UNTO THE BREACH, DEAR FRIENDS
It's Saturday morning and I'm running late, so I cancel breakfast plans in order to make it over to the Expo in time for its opening to the public. I'm told that if I thought Friday's attendance was big, Saturday will blow me away.
I vow that this day, I'm going to spend more time exploring the Expo, and more time talking to people on the floor.
The crowds this day are indeed larger, and more boisterous, than the Friday crowd. This time I remember the computer cord and for the remainder of the day, Bigmouth and its sequel Bigmouth Forever play on the flat screen monitor.
It's exhilarating to see how many people stop to watch, some of them intimately familiar with the movies, others experiencing them for the first time. Many of the people who stop and watch are families.
One of the great things about the Bassmaster Classic Expo is how family friendly it is. Many booths have activities suitable for children like casting ponds, and of course, getting kids involved in fishing should absolutely be the top priority of the tackle industry today. The Saturday crowd, not surprisingly, skews much younger than the Friday one.
They're also more forward, at least when it comes to my red sweater vest. I realize too late that it makes me look like Jim Tressel, who was head football coach at Ohio State at the time. And I can tell you first hand, Jim Tressel is just not very popular in the state of Louisiana.
In a weekend full of surprises, one of the most amazing discoveries for me was to learn how popular some of the older bass fishing stars remain. A good example is the venerable Bill Dance. A television icon, Dance's popularity appears undiminished, and as he got set up to sign autographs in one of the big boat maker booths, crowds descended upon him like a biblical plague of locusts.
In one instance, I was walking on the other end of the Expo when I literally got run down by a gaggle of ten year old boys. While his friends sprinted off into the distance, one of them stopped to apologize, managing to breathlessly blurt out "Sorry mister! But I heard that BILL DANCE is over there!" He then sprinted across the Expo floor to catch up to his friends.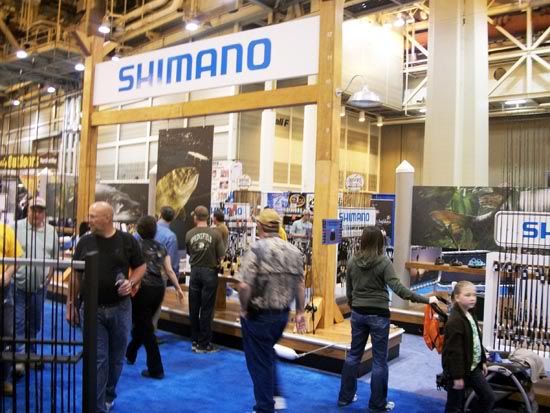 The Expo crowd was very diverse, and included many women and children—another good sign the sport is healthy.
Such is the draw of men like Ray Scott, Forrest Wood, Bill Dance, Jimmy Houston, and the founding generation of professional bass fishing. I was delighted to discover that at least for some, knowing the history of professional bass fishing helped them to better appreciate the present generation of pros.
I think any sport that cherishes its own history will remain healthy and viable.
I head back to the booth for a couple of hours to give Glen a hand. Ken Duke pops in, does his magic, and a huge crowd appears. I watch carefully. When he leaves, I do my best Ken Duke impression, and am surprised to see a crowd form, smaller of course than Ken's but a crowd nonetheless. Glen looks at me with a smile. "Who says you can't teach an old dog new tricks?"
I'd certainly be happy being a poor man's Ken Duke in the bass fishing world.
I discover, however, that even being a pale imitation of Ken Duke is tiring, and I tell Glen I need to go get a drink. Along the way to the refreshment stand, I see a booth that I had missed the day before. It's for Lew's, and I'm more than a bit shocked to discover that they are introducing a new line of Lew's Speed Spool baitcasting reels.
For those who don't know, the Lew's Speed Spool is one of the most important fishing reels in bass angling history. When it came out in the mid-1970s, it was the first narrow spool, low profile casting reel, and it was a mainstay on the pro bass fishing circuit for many years, having been manufactured by Shimano and Ryobi, among others.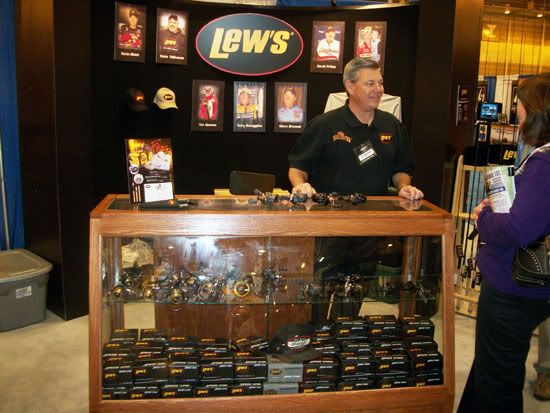 The Speed Spool is back, and that's good for bass fishermen everywhere.
I get a chance to speak to Lew's president, who proudly walks me through the four reels that comprise the new line of Speed Spools. It was exciting to see a legendary name like this reintroduced to a new generation of anglers.
It's another sign that things are looking up.
* * * * *
When it comes down to it, I am a historian of fishing. If pressed, I would refine that to read that I primarily research and write on the history of fishing tackle, with a particular emphasis on fishing rods and reels.
As a result, after I found out I would be attending the Bassmaster Classic, one of the first things I did was contact Dave Pfeiffer, president of Shimano North America, and ask him if Kenji Iida, the lead developer of Shimano's iconic Stella fishing reel team, would be there. When I was told he would only be in attendance on Saturday, I made sure to ask if I could interview him about the state of modern fishing reel development.
I got a call Saturday afternoon from Kenji telling me he had some free time, and inquiring whether I could head over to the Shimano booth.
What started as a quick chat turned into an intensive two hour discussion, as things turned out.
At first glance, Kenji Iida seems very young to have achieved a position as illustrious as lead reel designer for one of the most prestigious tackle makers in the world. Five minutes after meeting him, I realize that no matter what field he had entered, he would almost certainly have been a prodigy. I've met quite a few tackle makers and designers, but few have left as lasting an impression as Kenji did.
We take a seat at one of the few empty Shimano tables, where I explain to him that I was working on a story about the current state of fishing reel manufacturing, and that I'd love to talk to him about how a reel goes from the drawing board to the angler's hands. His eyes lit up. "It's not often I get someone interested in the details of reel making," he replied. "Wait here."
He returns soon carrying a laptop, and proceeds to show me how Shimano makes a fishing reel. As it turns out, few tackle companies put as much time and effort into research and development as Shimano, likely a by-product of the fact that the company started (and remains) a premier bicycle manufacturer. The secret to their success was clearly attention to detail. Detail that the average angler cannot even imagine.
It was one of the most impressive presentations I've ever seen in the tackle industry, and I walked away marveling at how much time, money and work goes into making a fishing reel. Most of us never realize just how much capital goes into research and design for the rods, reels and lures we take for granted. Most people complain that the price of tackle is too high; after talking to Kenji I'm stunned they can sell it for as little as they do.
Bass fishing is indeed Big Business, and to run a Big Business you need to spend a lot of money on research and development.
Shimano is proof of this.
Kenji Iida, the man in charge of the Shimano Stella team, poses with his reel.
* * * * *
On my way back to Glen's booth I stop by the Dick's Sporting Goods display, which has a festival like atmosphere. Bass pro Bernie Schultz is giving a demonstration in the massive fish tank they hauled in, and Billy and Bobby Murray are signing autographs. I pop in to say hello and quickly do a double take. As many people know, the Murray brothers are twins. They wear different color shirts so people can better distinguish them.
Only on this day, Billy and Bobby Murray have switched shirts from the previous day. It took a moment for me to realize this. When I do, I laugh out loud.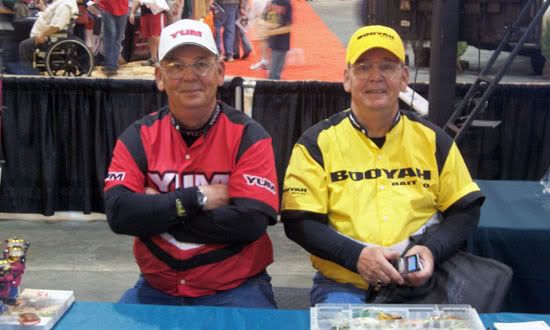 Billy and Bobby Murray…or is it Bobby and Billy Murray?
As I navigate the big crowds, I become more and more aware of just how much fun people are having. I've been to other big sporting expos, including ones run by the Super Bowl and the Final Four, and I've been to the World Series, Stanley Cup Finals, U.S. Open Golf, and Davis Cup Tennis finals.
But I've never experienced the level of enjoyment being so clearly displayed by families on the Expo floor.
We are constantly being hammered by the news media about what is wrong with the world, so much so that we rarely take stock in what is going right. As we enter the second decade of the twenty-first century, there is little doubt that professional bass angling has many challenges facing it. But I defy anyone to attend the Bassmaster Classic Expo and feel anything but encouraged. Not only were there a number of new vendors, but companies that hadn't exhibited in years were there in full force.
And everywhere, people were smiling and laughing.
With this in mind, over the course of the weekend I spoke to over twenty random expo attendees to gauge their opinions on the current state of bass fishing. Although certainly a very unscientific poll, the vast majority were both upbeat about the future of professional bass fishing, and about their own personal bass fishing prospects for the coming year.
In truth, many of the people in attendance were die hard bass anglers and pro bassing fans. However, I would argue that this made them the perfect gauge of the state of bass fishing, in the same way surveying NFL fans would give you a pretty good idea of the condition of professional football today.
Often, the most dedicated fans are the harshest critics.
From what I was told on the Expo floor, I think the future of professional bass angling is bright.
* * * * *
In front of Glen Lau's booth, Tom Jindra is teaching a young fishing pro how to flip cast with a new Temple Fork rod. One of the nicest things about the Expo is how much of the tackle is available for people to demo. I walk over and watch, and before long, Tom hands me the rod and I give it a shot. It weakly plops on the carpet about 20 feet away.
Tom Jindra (left) teaching a flip cast.
Because I run a fishing publishing company, I'm usually surrounded by very talented anglers. I've grown accustomed to being the least accomplished caster in the room.
This is the first time, however, that I've been the worst angler in a room filled with 25,000 people.
For the 50th time someone points to the massive largemouth bass mount in Glen's booth and asks "Is that the Japanese bass?" I explain to them that the Kurita bass is in the Yamaha booth, and that this one is "only" eighteen pounds, caught by a gentleman that Glen was guiding in Florida.
It's a huge fish. One of the things I've discovered about really big bass is how enormous their mouths are. Glen once took an underwater photo of a bass about eight pounds eating a ten-inch bluegill. Its mouth was open so wide there's at least an inch to spare all around the sunfish. There's a reason why they're called Largemouth Bass. Bucketmouth, indeed.
Glen hands a friend a new lure he's been working on. It's over twelve inches long. While some people would immediately declare it to be too big, you and I know better.
Since I must make the thousand mile drive back to Ohio on Sunday morning, I am forced to break down the materials and get them back to the hotel to load in the Saturn. This is because the New Orleans Port Authority will not allow me to drive my SUV into the loading zone (break down does not happen until Sunday afternoon, and apparently it is quite a zoo). With all the police working the front of the Expo, I can't double park the car there, either.
So I'm left to find a taxi. Thanks to the great people at Temple Fork, who loaned me an industrial sized dolly, I was able to easily transport the materials out front of the Expo, where I called for a cab. The cabbie pulls up, looks at my boxes, and says, "I'm not taking that." I look at him dumbfounded. "I'm only three blocks away." He thinks about it for a second. "Fifty bucks."
Sometimes it's worth letting your moral outrage take over. This was not one of those moments. I quickly decide this is the price of short distance transport in New Orleans, especially as darkness falls.
Out on the water, I learn Martens has fallen almost nine pounds back of the new leader, Kevin VanDam, who is now well ahead of Brent Chapman.
Spending twice as much time actually fishing instead of traveling is clearly paying big dividends for VanDam. This is the subject of a late dinner conversation I'm having with some fishing writers; I check my iPod and read on the Bassmaster Classic Blog that VanDam said "I knew it would be foggy one morning this week, so I ruled out Venice."
Ken Duke's prediction is two-thirds of the way to becoming right. I hold out hope that Martens will bounce back on the final day.
TOMORROW: AN EARLY CURTAIN CALL
-- Dr. Todd