Lost on the Bayou:

Dr. Todd Attends the Bassmaster Classic (Part VI)

By Dr. Todd E.A. Larson

***********************
PART VI: AN EARLY CURTAIN CALL
It's six in the morning on Sunday and I'm facing a thousand mile drive by myself. The third day of the Bassmaster Classic and its Expo are still several hours from getting under way, and already I'm experiencing the same morning fog that delayed the start of the Classic by two hours on the first day.
I'm also feeling sad that I won't be at the Expo on Sunday, which I'm told is the busiest of the three days. Because of my teaching schedule, my first Classic experience has been shorted by a full day.
I'm sure that both Glen Lau and Ken Duke will have their hands full on this final day. I'm sorry I won't be there to help them. I begin the very long day's journey into night.
The thing about spending fourteen hours in a car by yourself is that you have plenty of time to reflect on the immediate past. Like most professors, I like to sum up experiences into convenient, easily digestible bullet points.
So what did I learn from my first Bassmaster Classic and Expo? Seven things, as it turns out.
-- That the Classic Expo cannot be experienced in just a few hours. There is just so much to see and do that it would take an entire weekend to take it all in.

-- That a good proportion of dedicated bass fans have an appreciation for the sport's history. Not only was I gratified to see the reception Glen Lau received, but I was also interested to discover how many people came up to me and complimented one of our bass history books, or suggested a subject for a future volume.

-- That there is an incredible amount of high-quality fishing tackle available on the market, and this tackle is by-and-large of an uniformly high quality.

-- That bass fishing may be big business, but it succeeds (or fails) based on the people behind the companies and organizations that comprise professional bass angling. With folks like Ken Duke at BASS and Kenji Iida at Shimano, you can rest easy knowing that some very smart people are stewards of our bass fishing future.

-- That more time spent fishing is always preferable to less time spent fishing. We'll call this the VanDam rule, as it applies to pro anglers as well as weekend fishermen.

-- That being from Ohio and wearing a red sweater vest in Louisiana surrounded by rabid LSU Tiger fans will open you up to many, many humorous (and often profane) comments.

-- And finally, that professional bass fishing is alive and well. I was pleased to discover that most of the people I talked to at the Expo were upbeat about the future of most aspects of bass fishing.
In a way, New Orleans seemed a perfectly symbolic place for the 2011 Classic. After a rough patch, it's future looks just as bright.
* * * * *
Coming home from experiences like the Bassmaster Classic is always a bit of a downer, especially since I am unable to attend the final weigh-in, which I very much looked forward to.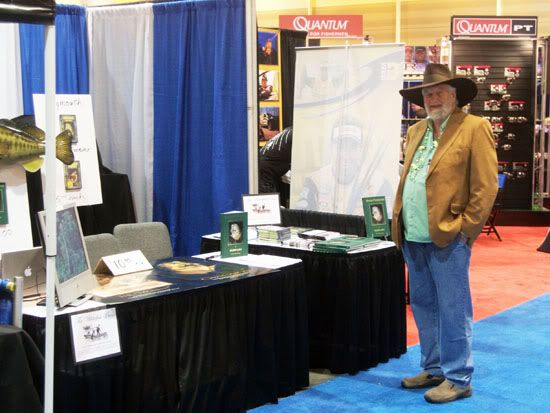 My lasting image of the 2011 Bassmaster Classic will be Glen Lau at his booth.
Throughout the day, I'm given updates from friends of mine about the competition. My dinner stop coincides with the final weigh in, where I'm sent some real-time text messaging as the news breaks that not only has Kevin VanDam won, but that he's won by a record margin.
Fifteen fish for 69 pounds 11 ounces. In three days.
Unbelievable.
He finishes ahead of runner-up Aaron Martens, who does bounce back with over double the weight he had on Saturday but who still finishes over ten pounds back. Martens is threatening to become Professional Bass Fishing's Raymond Poulidor. Poulidor was the French cyclist who finished runner-up in the Tour de France so often his nickname was The Eternal Second.
If I were Martens, I wouldn't worry too much about it. I heard Ken Duke predict that Aaron would win the Bassmaster Classic before too long, and besides, Poulidor not only became the most popular man in his sport, he became the most popular athlete of his generation in
any
sport in France.
I know who I'm putting money on at the 2012 Classic.
* * * * *
The return trip is uneventful. No landmark rollovers on the odometer, no pink Cadillacs, just a seemingly endless number of miles between you and where you want to be.

All I want at this point is to get home safely to my wife and daughter.
I reach Cincinnati on Sunday evening an hour after sunset. The weather forecasts another winter storm, and I still have lectures to prepare for and papers to grade for Monday classes. I pause for a moment, and realize that tomorrow, there will only be three certainties.
I won't be the only one wearing a sweater vest any more.
For the first time in a week, I won't be the worst angler in the room.
And I'll be following the 2012 Bassmaster Classic very carefully, as it is a ton of fun.
One day soon, I'll return to the Bassmaster Classic, and if you want the experience of your life, you'll come join me. I'll be easy to spot.
I'll be the one doing a rousing rendition of the Safety Dance as I celebrate Aaron Marten's Bassmaster Classic victory.
THE END