Over the course of the next year, we'll be detailing the history of 52 companies that sold branded fishing tackle. 52 trade houses in 52 weeks -- some obscure, some famous, and all available exclusively here on the Fishing for History Blog! If you have any items from the week's entry you'd like to share with us, please send it my way and I'll make sure it makes it on the blog.
For a discussion of what exactly trade tackle is,
Click Here
. Enjoy the 52 for 52!
o - o - o - o - o - o - o - o - o - o - o - o - o - o
Trade House Tackle, Part 47:
Four Seasons Fishing Tackle of Chicago
Voedisch Bros. was a veritable Chicago institution for over seven decades. They were a prominent sporting goods wholesaler and retailer responsible for marketing some iconic lures, ranging from the Edgren Minnow in the 1910s to Winter's Weedless Surface Bait in the 1920s.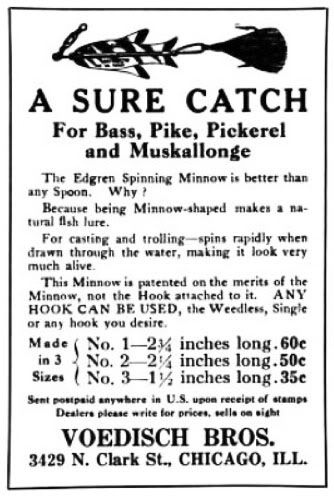 We won't get into too much of their early history, because I want to use this rather obscure company--best remembered today for their 1930s-1950s trade tackle marked "Vee Bee"--as an example of how a company with an already established name, and an additional established trade name, could launch a second trade name aimed at a completely different market.
I'm referencing the Voedisch Bros. heretofore unknown "Four Seasons" Brand of fishing tackle.
The company itself was founded in Chicago in 1904 by a pair of German immigrant brothers named Voedisch, and the firm was a wholesale dealer from the beginning, and although they did dabble in direct market sales, they stuck to the wholesale market until the very end. As far as I know they never had a retail store.
The question dominating so many tackle companies in the late 1950s was how to deal with the increasing flood of Japanese-made fishing tackle that began in earnest around 1955. Some companies fought against this trend tooth and nail (such as Bronson) and lost spectacularly. Others updated, streamlined, and modernized and survived. Some, however, tried to maintain a delicate balance between their traditional line of tackle and the new imports. Voedisch was one of these companies.
As noted, as early as the 1920s Voedisch Bros. had already launched a successful line of trade tackle marked with their own name--the Vee Bee line of tackle, found on rods, reels, and lures (especially Creek Chub Shur Strike baits). They were unsure of how their line of dealers would react to cheap Japanese tackle branded with their venerable name. Would putting cheap (and cheaply made) tackle under their venerable name, already a half century old, diminish the respect many had for their company?
Vee Bee was used on a variety of fishing tackle.
Sometime in the late 1950s (around 1957 or 1958) they decided that the best way to deal with the problem was to launch an entirely new line of fishing tackle, inexpensive and imported, to compete with the big importers like TAICO and L.M. Dickinson. They disassociated the Voedisch and Vee Bee names from this division of their tackle company.
In this way, the Four Seasons brand of fishing tackle was born. Referenced in
The Printer's Ink
for 1960 as "a division of Voedisch Bros., Chicago, manufacturer of fishing tackle…," Four Seasons was branded on all kinds of imported tackle, ranging from hooks and sinkers to fishing rods and reels.

The following two ads show the kinds of places Voedisch was targeting for their Four Seasons brand of tackle.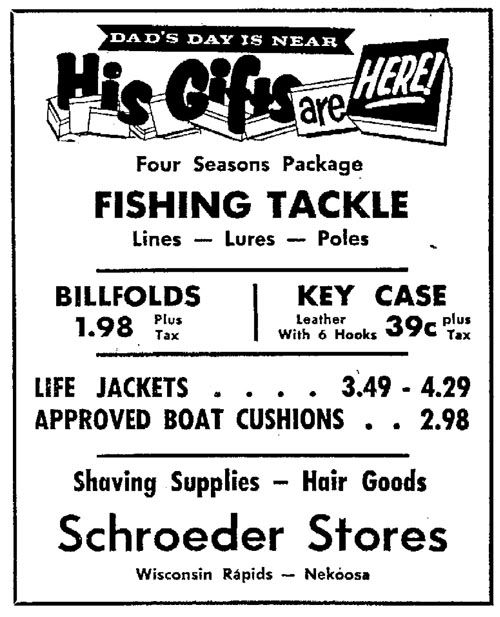 This June 8, 1960 ad from the Wisconsin Daily Tribune shows Four Seasons tackle hawked at the local variety store chain (Schroeder Stores).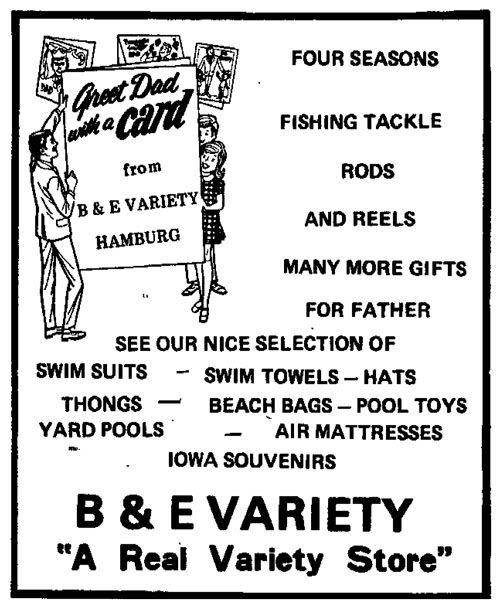 In this Hamburg, Iowa paper ad from June 22, 1969, Four Seasons tackle was hawked at the local B&E Variety Store.
Inexpensive lures are commonly found on Four Seasons cards, as are marked line spools and snelled hook packets. Here is a selection of Four Seasons baits, including a worm rig and their "Faithful Four" spin cast assortment.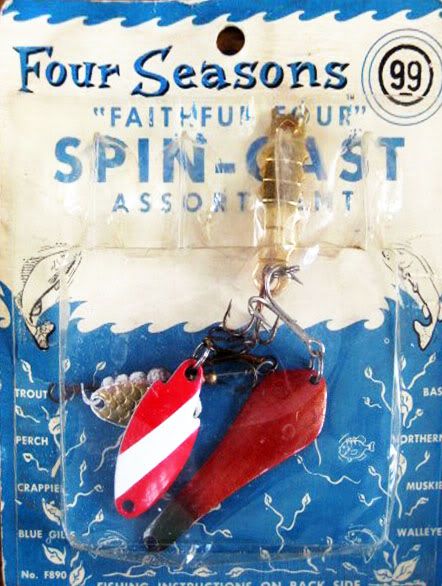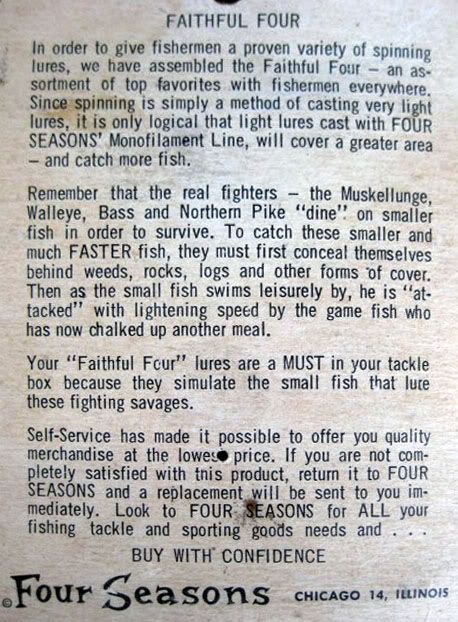 What are harder to find are the marked Four Season reels. I was fortunate enough to pick up three Four Season reels in original packaging dating from around 1960. They include a baitcaster, spincast reel, and a fly reel. I have heard there is a spinning reel marked Four Seasons but haven't seen it. Only the spincast reel is marked "Four Seasons" on the actual reel. All of them were made in Japan, as was all the Four Seasons tackle I've seen.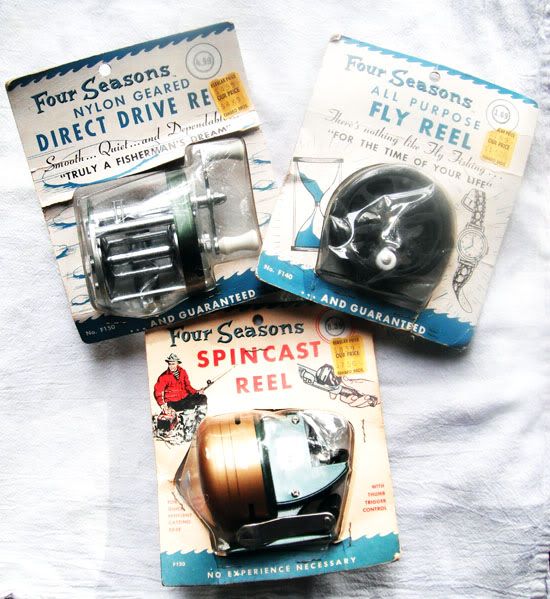 All three reels came from the same estate and were purchased at Fanaro Bros., which was a small hardware company in Collegeville, Pennsylvania founded by Ernest Fanaro (1929-2011) and his brother in the 1950s. Fanaro was exactly the kind of place Voedisch Bros. hoped their economy line of tackle would take hold. This makes these three reels my favorite category of trade reel--the "dual" trade reel attached to both wholesaler and retailer. Interestingly, none of the three reels were ever used.
For those keeping track, to unravel this particular chain, we discover that a Four Seasons tackle representative sold these reels--manufactured in Japan and imported by Voedisch Bros., Inc.--to a small hardware store named Fanaro Bros., who then sold it to the customer (who apparently never used them).
In 1973, Voedisch Bros. was still trading as Four Seasons Sporting Goods but seems to have disappeared soon after. The very fact they survived the sporting goods blood bath of the 1960s means that the Four Seasons line was successful. That they didn't survive the 1970s implies they did not update this line to accommodate the much higher quality Japanese imports like Ryobi and Daiwa.
A fascinating story all the way around that shows just how much Japanese imported tackle changed things, and how complicated the American tackle trade became after World War II.
Four Seasons tackle is not rare but certain items (especially reels) can be tough to find. They are a fun addition to a post-war trade tackle collection.
-- Dr. Todd