Lost on the Bayou:

Dr. Todd Attends the Bassmaster Classic (Part IV)

By Dr. Todd E.A. Larson

***********************
PART IV: MEETING THE BASSIN' PUBLIC
The first person I meet coming out the door the next morning is decked out head-to-toe in bassin' logo apparel. A friendly sort, he asks me where I am off to this fine morning. I tell him the Expo. The smile disappears from his face.
"Jewelry or bass?" he asks suspiciously.
I assure him that despite the (new) sweater vest, I am indeed off to the Bassmaster Classic Expo. A broad grin reappears.
I think to myself that many great nineteenth century tackle makers like W.D. Chapman were also jewelers. That thought soothes the sting out of being mistaken for a Silpada salesman not in the least.
I think the kids on the internet who troll the comment sections of popular web sites would write BOOM! ROASTED! here.
It's certainly an inauspicious beginning to the day. Not long after, I hear that there is a fog delay at the start of the Classic. I guess I'm not the only one off to a bad start.
The Exposition opens at ten, so Glen Lau and myself head out to find some local cuisine. We ask the bell captain for a good local place to eat breakfast, and without hesitation he says "Mother's," a restaurant that specializes in baked ham. We walk the several blocks from the hotel until we reach the café, which is, of course, packed to the gills.
The wait is well worth it. The baked ham, which is billed as the world's best, is most certainly not a disappointment. New Orleans has many charms, and food may be at the very top of the list.
One tip: don't block access to the kitchen at Mother's when you're waiting in line.
By the time we reach the Expo, the place is an explosion of activity, even without the public. Last minute preparations are being made and the bigger vendors like Dick's Sporting Goods have so many people milling around it looks like they've invited the public in early.
Glen has some fascinating neighbors. The vendor to his right is the Tight Lines Ultimate Vision team, who are here introducing Scot Ortwein and his Nightfishion black light system. This is Scot's first Bassmaster Classic Expo, although he seems far more at ease with the experience than I am.
On the other side is Gerald Swindle's "G-Man" booth, and anyone who knows this talented angler will not be surprised to learn his team is as down-to-earth as he is. Across the corridor are Tom Jindra and the knowledgeable Maxima line team; next to them is the legendary rodmaker Gary Loomis and the Temple Fork Outfitter team. Quantum and Pinnacle bookend this section of the Expo floor.
Glen is certainly not hurting for talented company.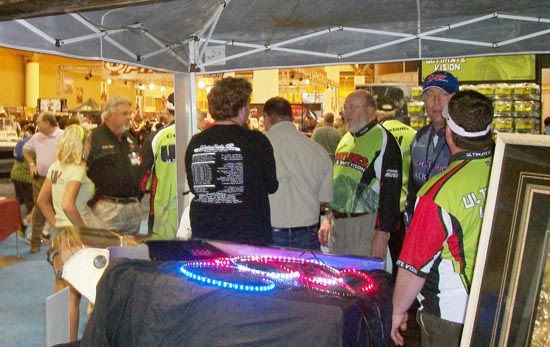 Scot Ortwein of Nightfishion (in the blue hat) discusses pressing matters just as the show is about to open.
Anticipation is running high. Will the combination of recent bad weather, the economy and the price of gas keep people away? As Tom Jindra shows me photos of some nice fish he caught along the Gulf Coast just the day before, it alleviates any fears about the weather being a detriment.
The other two concerns, however, are very real, and talked about in hushed tones, especially by those who are actively looking to sell at the Expo.
Everyone is hoping the Classic will signify an upturn in fortunes, both for professional bass fishing and the tackle industry.
* * * * *
There's a recent series of beer commercials featuring the Most Interesting Man in the World. Somewhere, some advertising executive must have met Glen Lau and based the character on him. The difference is that Glen is very much real, and the life he has led is straight out of a Hollywood fable.
During his six decades in the fishing world, he's met just about everyone of note in the bass fishing industry. I soon discover that not only are many of these folks attending the Classic, but that they all have their own Glen Lau stories.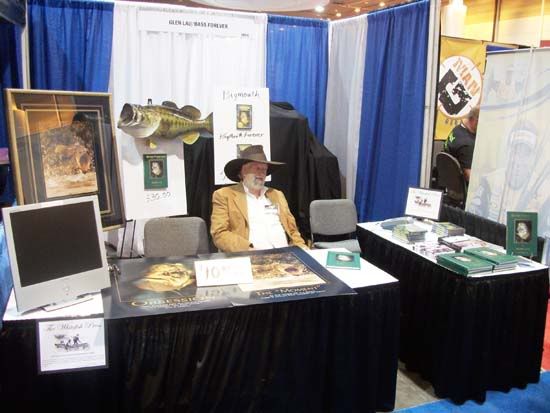 Glen Lau, the Most Interesting Angler in the World, getting ready to meet the public.
Two-time Bassmaster Classic winner Bobby Murray comes by the booth to greet Glen. His brother Billy heads over not long after. Both are as engaging and interesting, and smart, as their reputations claim them to be. I soon discover they are also incredibly funny to boot. For example, I'm talking to Bobby Murray about legendary Arkansas angler Glen Andrews, who fished with (and against) the Murray boys back in the early 1960s during the inception of professional bass angling.
"That Glen Andrews used to beat us so bad," Bobby quips, "he made us start to like it."
Before long a parade of famous anglers and tackle men beat a path to the booth. One of them, Clem Dippel, recently bought
Fishing Tackle Retailer
magazine, which had been orphaned during the recent purchase of BASS. I ask Clem why he decided to purchase the magazine; he just smiled and said, "I'm in my 70s. I was looking for something to do."
Anyone who is familiar with Clem's legendary work ethic knows he certainly doesn't need another job. It seems pretty clear he acquired the magazine to insure that it continued to serve the tackle industry as it has since the early 1950s, when it was known as the
Fishing Tackle Trade News.
It's a good sign for the tackle industry as a whole.
Glen Lau and Clem Dipple renew their decades-long friendship.
Between visits from famous bass anglers, Glen regales me with stories of fishing with Ted Williams, Hank Parker, and his best friend "Uncle" Homer Circle. Some of them are so amazing if they came from anyone but Glen I would not believe them. But I've had too many of his stories verified by others to cast doubt.
This is a man, after all, who once took an underwater photograph of a bass that almost certainly weighed 28 pounds. No one on earth has been around more big bass than Glen Lau, and he tells mesmerizing stories.
* * * * *
For someone who is in front of an audience all the time, I am shockingly ill at ease in Glen Lau's booth greeting the public.
Fortunately, I had the foresight to bring a computer monitor to play Glen's legendary movie Bigmouth on my laptop. It draws a lot of people in, attracted by both the narration from the great Rod Serling and the incredible underwater shots of bass that Glen filmed at Rainbow Springs in Florida. "Can you find the scene where the bass tries to eat the baby duck?" one gentleman asks. "I want to show my son."
It is then that I realize that I have left the cord to the laptop back in the hotel room, and the battery life on my Mac is just about dead. So much for planning…
Dozens of people come up to Glen and tell him how much his work has meant to them. He spends the afternoon signing posters, books, and DVDs for his fans, while I spend most of my time trying to get Glen's credit card machine to work properly.
Half the people, it seems, are wearing Mercury t-shirts. I finally break down and ask one of them why. "The Mercury people said they will randomly stop and give people $100 during the day," he says, "but only if they are wearing the t-shirt."
I don't know how many hundred dollar bills they gave out, but I do know it was a very effective promotion.
Suddenly, Ken Duke appears. He's on a quick break from the BASS booth where he is conducting interviews with famed bass pros throughout the day. He's only there about fifteen minutes, but during that time he attracts a huge crowd, bigger than at any other time of the day.
Clearly, the booth is in good hands. I decide to take a quick walk around the show floor.
I'm almost dumbfounded by what I see. If walking the show floor during set up is an experience, then doing it during public hours is something not soon forgotten.
Bass fishing is Big Business.
I am reminded of this every time I turn around. I stop by Skeeter's massive "Eat. Sleep. Fish." booth, and am amazed at the technological state of modern bass angling. Few things have changed the sport more than boat technology, and this was on clear display at the Expo. I get a similar feeling while visiting the Yamaha and other outboard motor booths.
Skeeter's massive booth just before the Expo's opening.
The rumors I heard about the Classic itself are true. Some of the anglers are making the two hour trek (one-way) to Venice to fish. I think to myself how this is only possible because of the technological leap forward in bass boats.

Whether it's a good idea is still a matter of debate.
Bass fishing is indeed Big Business. And from the looks of things on the floor of the Classic Expo, business appears to be brisk.
* * * * *
I make my way back to the booth with my eyes glazed over. What started out as fifteen minutes turned into an hour, and I get back in time to watch the booth as Glen does an interview for Bassmaster.com on some of his best fishing tips.
As the afternoon goes on, traffic begins to slow a bit, which allows me to catch my breath. I get a chance to talk to one of Maxima reps about his latest fishing exploits, and am more than a little jealous of how much time these Southern boys get to spend on the water.
I also meet Gary Loomis for the first time. The legendary rodmaker is in good health and better spirits, and when he finds out I am a college history professor, he comes over and takes a seat and begins to talk American history. Not surprisingly, he is well versed on the subject.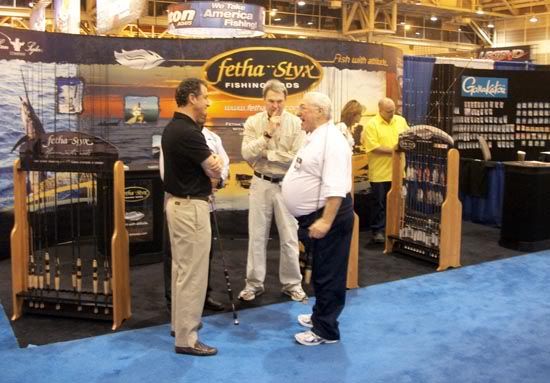 Gary Loomis (center in the white shirt) discussing rod design with the Fetha-Styx people.
Eventually, the subject turns to fishing and fishing rods. Despite having sold his company to Shimano several years back, Gary is still actively testing and designing rods. We chat a bit about his latest projects and about his (and Temple Fork Outfitters) work supporting Project Healing Waters, which helps wounded U.S. veterans recover by teaching them how to fish. It is an exceptionally worthwhile project, and one I fully support. One of Whitefish Press' latest books--
A Fly Rod In My Sea Bag
--is helping raise funds for this great organization.
Just having the chance to sit down and talk with so many talented anglers and tackle makers has made the trip more than worthwhile.
By the end of the day, I am physically and mentally exhausted. Glen is in his middle seventies in age but certainly has weathered the public crush much better than I have. I am happy to see the Expo close for the night, if for no other reason than my feet really hurt.
I am ecstatic to learn that out on the water, Aaron Martens has taken the Day One lead with 20 pounds 7 ounces, followed closely by Arkansas native Scott Rook. Will this finally be Martens' year? Lurking in third place is Kevin VanDam.
I'm told he chose not to make the long run to Venice.
Back in the room, the Silpada reps down the hall are partying in full swing. New Orleans seems to bring out the celebration in almost everyone, and I'm happy they seem to be having such a good time.

I'm also happy for the pizza that's being delivered to my room. It's been a very, very long day.
TOMORROW: ONCE MORE UNTO THE BREACH, DEAR FRIENDS
-- Dr. Todd