Top of the Mountain and the downhill slide: The Heddon River Runt Spook (part 4)
The period right after World War II up until the late 1950's, was a time when the Heddon River Runt Spook was about as popular as a lure could get and certainly was the number one selling plug for James Heddon's Sons. Many variations were added to the line along with several new colors, all in an effort to keep sales going strong. It seemed almost impossible to look into a tackle box from this period and not see one or more River Runts. It was only a matter of time until most fishermen had as many as they needed and sales started to slow. A check of catalogs in the late 1950s and early 1960s shows that spinning models were featured while casting-sized baits were offered in fewer models. The River Runt Spook had been on the front of the Heddon Catalog each year since 1935. 1958 was to be the last year the famous Yellow Shore Minnow River Runt, in the mouth of a leaping bass, would appear on the catalog cover. The 1959 catalog cover featured a lure with more sales potential: the Heddon Sonic. The ad presented here appeared in the June 1956 issue of
Outdoor Life
. It is one of the last full page color ads featuring only River Runt Spooks.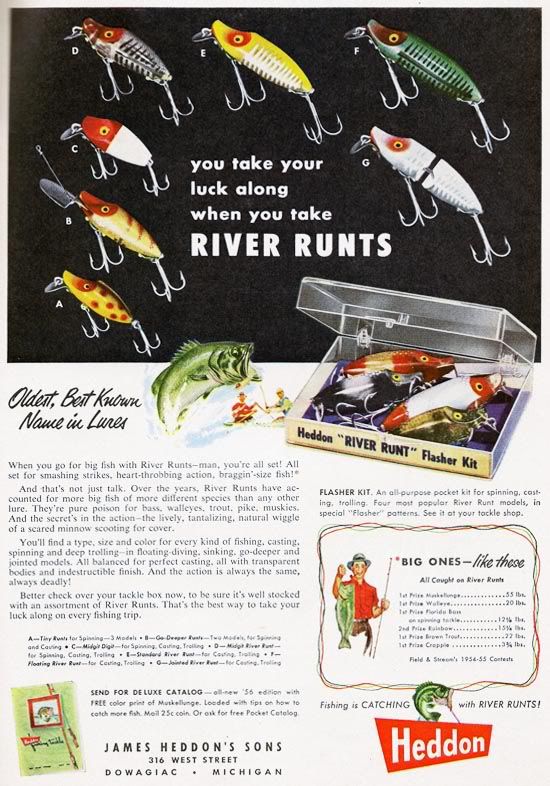 When I joined the NFLCC in 1985 River Runt Spooks were held in such low esteem that I was told by a venerable collector that one could do three things with them: put them out at a garage sale, fish with them or throw them in the trash as no one would ever collect such a common plastic bait. A few years later, "River Runt Fever" swept the lure collecting hobby and suddenly lots of folks were looking for River Runts in various models and colors. At the height of this mania, I attended a lure show in Schaumburg Illinois and saw in one room, a galvanized wash bucket filled to the top with Black Shore Minnow River Runts with a sign sticking out of the bucket reading "Your Choice $35". As if that weren't bad enough, right next to the bucket lay a really nice wooden Midget Digit River Runt (a bait made for less than two years before World War II) for $20. As experienced collectors predicted, the supply soon out stripped the demand and all but the truly rare River Runt Spooks returned to more realistic prices.
The Heddon Company was sold in 1951 with the President John Heddon staying on for three more years. There followed frequent changes of ownership leading up to the present owners (PRADCO) in 1983. In an effort to spur sales, River Runts were produced during this period in a large selection of heretofore unseen colors (many are florescent) that older fishermen must have found mind-bending. However, today's "color collectors" view these as a great opportunity.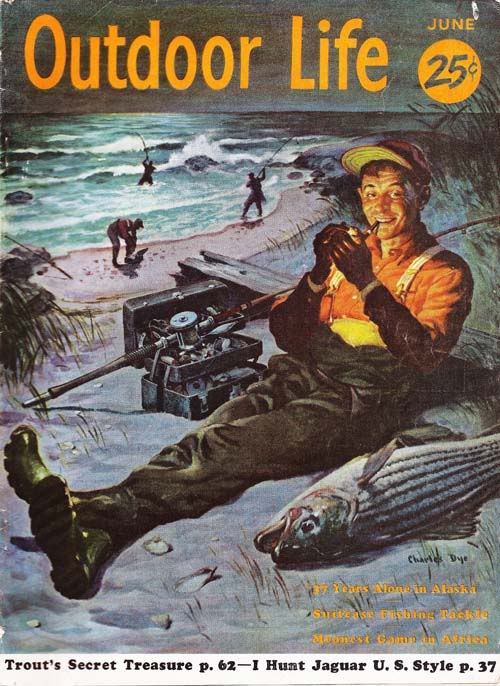 -- Bill Sonnett