A Mutual Admiration Society Spawns An Unusual Ad
The March 1929 issue of
Field & Stream
contains the following full page from the publishers celebrating their long relationship with the The Enterprise Manufacturing Company, better known as the Pflueger's. It also congratulates E. A Pflueger on his upcoming "Golden Jubilee" celebrating his 50th year in the tackle business. Not only does it take note of the fact that Pflueger advertised in the first ever issue of
Field & Stream
in 1895 but also reproduces that first 1895 ad which was for the Pflueger Glass "Luminous Bait."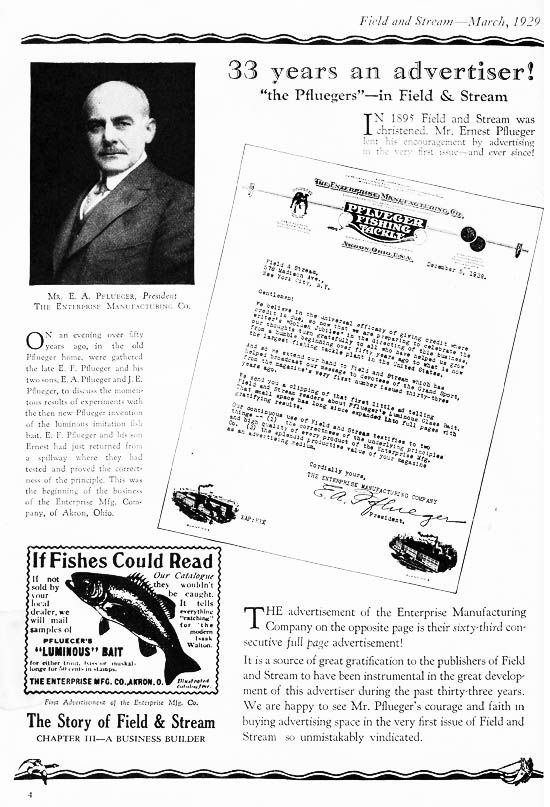 It is stated that this will mark the 66th consecutive issue of
Field & Stream
containing a full page ad for Pflueger. This in itself is unusual. Magazines even up through the 1960s followed a seasonal schedule as to whether hunting, fishing, boating etc. would be featured and the bulk of the advertising that appeared usually complimented the season. When I received
Outdoor Life
and
Sports Afield
in the 1950s one could count on the April edition concentrating on Trout, the May edition on Bass with Pike and the other fish going on through the summer. By August upland hunting appeared, followed by waterfowl and deer hunting up though Christmas. Only a small fraction of hunting or fishing related advertising appeared "out of season". I've often wondered if fishing related advertising was given a price break if it appear in the fall or winter as ads for small, startup companies with limited budgets often appeared in "off season" issues.
After
Field & Stream
and the Pfluegers each heap praise on the other, attention is directed to a full page Pflueger advertisement that appears opposite this page. It is the introductory advertisement for one of Pflueger's most famous and enduring products. What is it? Tune in next week for the answer...........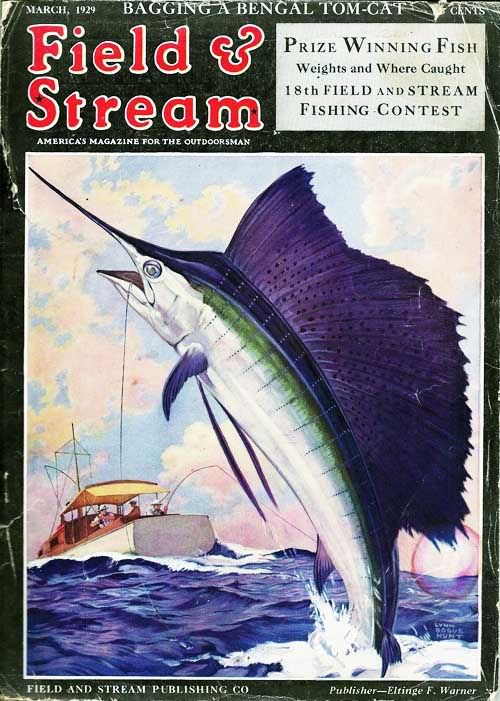 -- Bill Sonnett