Lost on the Bayou:

Dr. Todd Attends the Bassmaster Classic (Part III)

By Dr. Todd E.A. Larson

***********************
PART III: THE BEST LAID PLANS OF BASS AND MEN
"It's going to be a great show." So goes the exuberant proclamation from Ken Duke, executive editor of BASS publications. I can't imagine the strains put on Ken's time by the Classic, but he takes time to come over and talk to me on a number of occasions. Ken helped Glen Lau write the book
Bass Forever
, and he's very excited that it is being launched at the Classic.
Me? I'm terrified. As I've discovered, there are two prevailing emotions that dominate the life of a small publisher like me: Dread and Abject Terror. There are so many things to worry about in the publishing process it is amazing I have any hair left.
Ken doesn't have much hair, but then he's been publishing a lot longer than I have.
There are some hidden blessings. The biggest thing most publishers worry about is something I have never lost a moment of sleep over: if the book is any good. Glen and Ken and their 70+ combined years as top bass anglers have taken care of that. Everything else? Well, those fall into the category of MY problems.
I run into Dan Basore, an old friend who many people know from his years as a columnist for
Midwest Outdoors
and his unparalleled traveling antique tackle exhibit. He seems genuinely surprised to see me here. I tell him I am genuinely surprised to see me here, too. "Aren't you supposed to be teaching right now?" he jokes.
It must be the sweater vest…
* * * * *
Walking around with Ken Duke at the Bassmaster Classic is akin to hanging out with Robert Redford at Sundance. When I say that Ken knows everyone, I mean he knows
everyone
. In the span of five minutes, he introduces me to an internationally famous writer, a former Bassmaster Classic champion, and an NFL hall-of-fame player. And no, they weren't the same guy.
We've spoken many times on the phone but this is the first time we've had a chance to meet in person, and I'm astounded at how much energy he has. Keeping up with him is exhausting, in part because his responsibilities are enormous and in part because everyone – and I mean everyone – wants ten minutes of his time. I am tired for him.
Still exhausted from the long drive, I head back to my room at the Hilton overlooking the river. Barges and cruise ships alike pass within a couple hundred feet of my back window. The week before the region had been paralyzed by a terrible winter storm (recall the lead up to the Super Bowl in Dallas), but today I am basking in the 70 degree weather.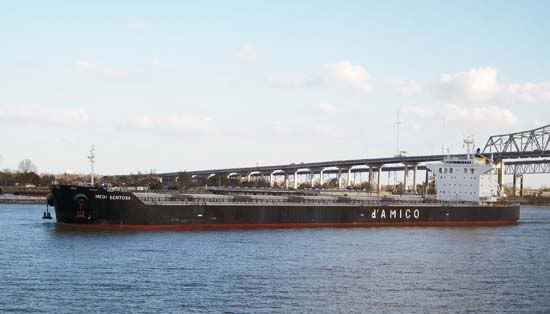 The view from my window.
The Silpada jewelry ladies, in town for their own national convention, are in a suite two doors down. They are mostly in their thirties and forties and are perfectly made up, as if to outdo each other. It appears happy hour has arrived early for them in New Orleans. A group of them descend on me near an elevator.
"Are you a bass fisherman?" one of them asks excitedly. She's wearing one of those dresses where it is almost impossible to find a place to safely rest your gaze.
"No," I respond, staring directly at her forehead. "I'm here to write about the bass fishermen." I hold up my media badge.
"Oh," she says, not even bothering to hide her disappointment. "Well, if you run into any of the bass fishermen, tell them we're having a party in Room 3229."
I stumble on to the elevator to go up and see Glen and Ken. The overwhelming smell of competing perfumes has made me momentarily dizzy.
* * * * *
Ken and Glen are sharing a room, so I've headed on over to see them and discuss the Friday schedule. It's the first day the Expo is open to the public, and Ken wants to make sure we feel comfortable. Quiet moments like these are cherished memories at such a public venue, and I revel in the stories being swapped about the famous bass anglers the two of them are intimate with.
The topic turns to the Classic itself. Ken gives an expert break down on the favorites and the dark horses, and it's fascinating to hear his nuanced analysis of professional anglers. You don't often hear bass angling explored in the same way as basketball experts break down the Final Four, but Ken does it effortlessly. The man
knows
the professional bass fishing world.
Glen Lau knows bass, and how to catch them.
He's also fished with many Classic competitors and winners over the years, and gives his opinion on their fishing techniques. The two banter back-and-forth, while I try to soak it all in. Glen talks about one particular pro angler who always seems to be on the cusp of greatness. "He'd catch twice as many fish if he'd just learn to
slow down.
"
I tell them I heard rumors that some of the Classic anglers are planning to be make the long run to Venice, losing precious hours of fishing time. Both Glen and Ken agree that there are abundant fish to be caught closer to home.
During a discussion on fishing techniques, I ask Ken to tell me what makes an angler like Kevin VanDam so successful. "He works as hard or harder than anyone around," he says without pause. "But more importantly, he's at the top of his game mentally. It doesn't matter if VanDam goes a thousand casts without a hit, he
knows
on the next cast he will catch a fish. It's that kind of confidence the great anglers need to succeed in a sport where you fail to catch a fish on 99.9% of casts."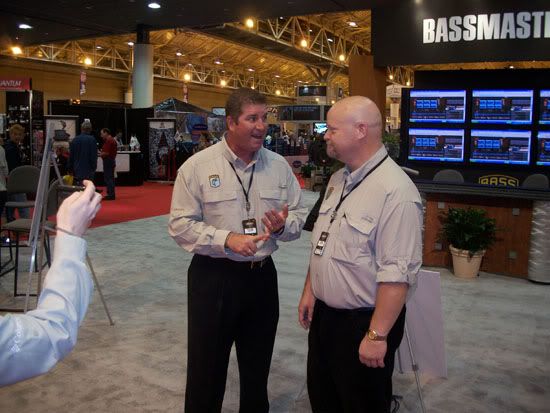 Ken Duke (right) in one of the quiet moments at the Classic. How do we know this? There's only one person talking to him.
I ask about my favorite angler, Aaron Martens. Ken agrees that this year he's got a good shot to win. "Aaron has a good shot of winning every tournament he enters," Ken notes.
Substitute basketball for bass, and he could easily have been talking about Kobe Bryant or Kevin Durant. The best athletes in any sport are also the toughest mentally. I ask Ken to set aside his professional duties for one second, and predict who he thinks will win.
For the record, not only did he predict the winner, but he also correctly identified nearly half of the top ten finishers.
The man
knows
professional bass fishing.
* * * * *
That evening, there is a media meet-and-greet that Ken convinces me to attend. It's held at the nearby Harrah's Casino, and attending will be a number of competitors as well as media covering the Classic and other VIPs. It is also one of the surreal events of the entire weekend, for it takes place at a dance club called Masquerade.
Professional bass anglers are in their own way a well-dressed lot, but they seem more than out of place in the syntho-pop surroundings of this particular venue. This applies to an infinitely greater degree for the bass angling media, a group not noted for their sense of style. But the lure of easy access to free food and drink proves too much for many of the writers in attendance, yours truly included.
As a result the buffet line is soon backed up past the neon-covered bar, even as non-media bass fans are kept at bay by zealous security guards checking for media badges. There are precious few places to actually sit down, so groups of people congregate, attempting to balance heaping plates of free food with one hand and their drinks with the other while trying in vain to shout above the music.
One of the VIPs Ken Duke introduces me to is Louisiana native and former NFL great Jackie Smith. A graduate of Northwestern Louisiana State University, he went on to a stellar NFL career that culminated in 1994 with his induction into the Pro Football Hall-of-Fame. Now a spry 71 year old, he's in better shape than the vast majority of people in the club. Admittedly, this is no great feat as most of them are writers, but trust me when I say he is in tremendous condition. Active in outdoor sports his whole life, he's also perfectly at ease even in such a foreign environment.
Perhaps the center of attention is also the one person I am sure is more uncomfortable than I am: Japanese bass angler Manabu Kurita, who tied George W. Perry's largemouth bass world record in July 2009. Sponsored by Yamaha, Kurita is currently touring the United States and was the center of attention just about everywhere he went. As he does not speak English, it must have been a rather bizarre experience, especially as people continually thrust copies of magazines at him to sign. He was surrounded almost the entire time by people, including a translator.
All of a sudden, I looked over and saw for the briefest of moments he was sitting alone. I watched as he closed his eyes for a full three seconds and exhaled.
It was nice to know that the Bassmaster Classic is exhausting for others, too.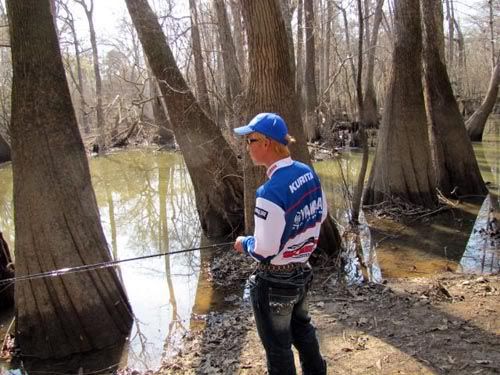 As part of his Yamaha-sponsored tour, Kurita visited Georgia's Lake Montgomery, where George Perry caught his world record bass in 1932. (Photo Courtesy Bea Babb).
After an hour or so the music had so successfully dulled my hearing I could no longer understand anything anyone was saying. I fight the urge to try out the Safety Dance, and instead make my way out the door and back to the hotel room. The last thing I see is Ken Duke in animated conversation with several anglers. The man's energy is a marvel to see.
As a postscript to my first official day of the Classic and Expo, later that evening I find myself in the hotel lobby, where I run into a couple of members of an SEC college bass fishing team here for the 2nd Bassmaster College Classic.
As I'm around college student athletes all the time, I strike up a conversation with them, asking them what they think about the experience. Tan, fit, and dressed smartly in their team uniforms, they seem a bit overawed, although it's not quite clear whether it's due to the pomp and circumstance of the Bassmaster Classic or because of the sea of perfume and glitter of jewelry from the Silpada representatives who are milling around them like schools of sharks.
Just before I get on the elevator overlooking the lobby, I take one last look back at the college bass anglers, who are already deep in conversation with a half dozen Southern Belle jewelry reps. For some reason, the immortal words of Admiral Ackbar from the movie
Star Wars
come to mind, but I manage to avoid yelling out "IT'S A TRAP!"
This Bassmaster Classic is surely an event they will never forget.
This evening, I do not dream of bass. I do not, in fact, dream at all.
I simply collapse into a bass-induced coma.
TOMORROW: MEETING THE BASSIN' PUBLIC
-- Dr. Todd