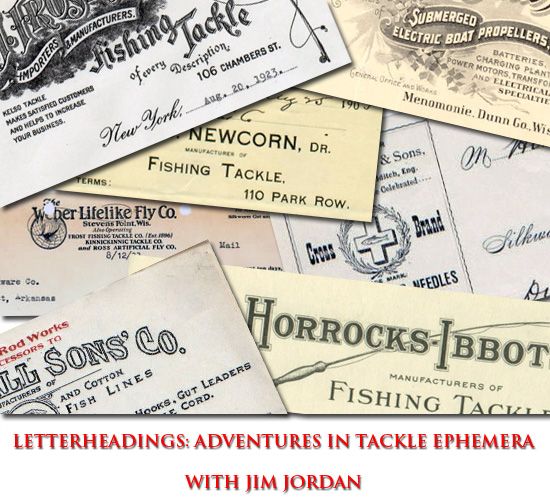 This weeks feature is another early South Bend Bait Company letterhead. At first glance this March 13, 1912  letterhead appears essentially the same as the 1911 letterhead featured in last week's column. There are a some key differences. One big difference is the advertising cut which is printed in the lower left hand corner. This cut is very product specific, and is almost totally dedicated to promoting South Bends Anti-Back-Lash Casting Reel.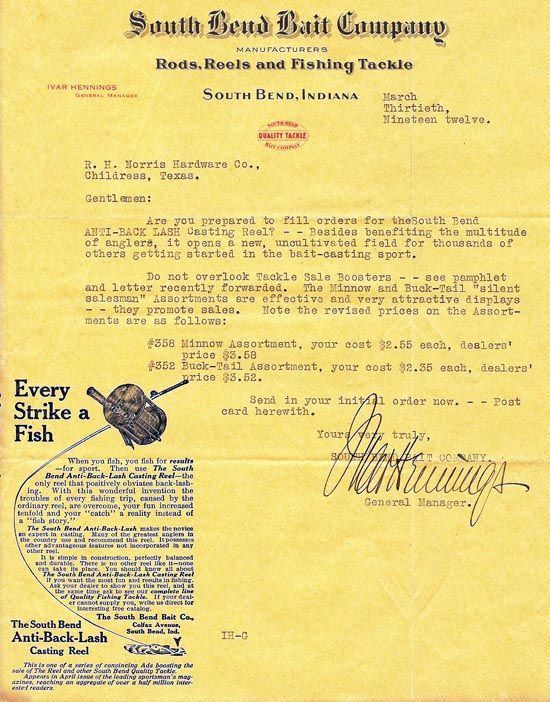 Remember this ad is used only five months after the one shown last week. This ad now has some notable differences from the ad found on last weeks featured South Bend letterhead. Specifically this one informs us that this South Bend ad will be one of a series and will be placed in Sportsman's magazines (plural), whereas in the previous letter only one specific publication was mentioned. Any mention of being successors to the Worden Buck-Tail Mfg. Co. has been dropped. The cut now informs the reader that this South Bend advertisement will be put out in front of over a half a million prospective sportsman customers. The content of this letter also lends some insight into another of South Bends advertising tools, the Tackle Sales Booster and the companies Silent Salesman Assortments.
This wonderful 1912 South Bend letter indicates Ivar Hennings' persistent publicity campaign is stepping up its game. It is a textbook  look at Ivar Hennings advertising strategy. Hennings believed that the letter was one of the most sadly neglected phases of advertising. When it came to gaining a customer, Ivar Hennings felt that a personally and specifically targeted letter was second only to a personal visit from a company representative.
Fortunately for fishing tackle ephemera collectors the South Bend Company regarded its mail so great an asset that it made full use of what they referred to as the enclosure idea. The idea would be for little advertising pamphlets to go out with every letter and with every box of goods.
Tune in next week for a taste of  South Bend's enclosure idea, a look at South Bend's Tackle Sales Booster, and their Silent Salesman Boards.
I would like to thank Jim Garrett & Skip Brooks for sharing the 1912 South Bend Letterhead used in this week's column.
Best,
Jim Jordan