I've mention in the past that before I started to collect vintage tackle I collected vintage bass fishing books. I grew up in Ohio where there was no trout fishing within my reach and what little water that was in my immediate neighborhood consisted of a small stream and a couple of flooded limestone quarries. None the less, I was interested in catching bass but had little to go on. My first big break came when our pastor showed me a book that had just arrived at the local library. It was the 1952 classic,
Black Bass Fishing
by Robert Page Lincoln. I soon ordered my own copy and read and re-read it dreaming, as only a young boy can, of catching real bass myself. This was followed by Ray Bergman's 1942 classic,
Fresh Water Bass
, Erwin Bauer's
The Bass Fisherman's Bible
and Jason Lucas'
Lucas on Bass Fishing
. These books were scoured for any tidbit that could lead to my success.
Today I enjoy fishing with older tackle and using the methods suggested in those books. In the Winter here in Michigan a good case of fishing fever can usually be quelled by reading one of these classics. They contain a mix of well-told stories that usually illustrate a point the author wants to make. They also help me reflect on my many decades of fishing. I enjoy remembering past triumphs and losses while waiting for Spring and another fishing season. I want to encourage vintage tackle collectors to take the time to read some of these works as they are not only entertaining but give real insight into the "hows" and "whys" of using the vintage tackle we love so much.
With this in mind, I would like to suggest a short list of where to begin your reading. At one time some of these books were hard to locate but used book sites on the Internet have made the search very easy and in most cases more economical than it was only a few years ago. There is not a book listed here that with a little patience can not be found for $10 or less. We will start with just these seven.
Charles K. Fox
Advanced Bait Casting
.(1949)
If there is a more entertaining book written on bass fishing, I don't know of it. Fox and his friends worked hard in the 1930's and 1940's trying to solve the problems of fishing for easily spooked Smallmouth Bass in the rivers of eastern Pennsylvania. A great writer is telling an interesting story. Some of my friends who are not readers have been amazed how interesting this book is.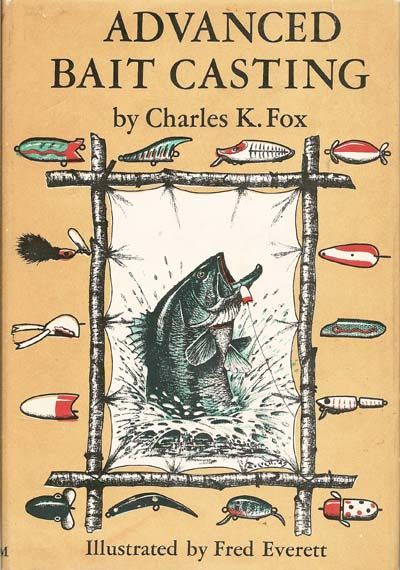 Robert Page Lincoln
Black Bass Fishing
(1952)
This book was written just before the author's death and comprises a lifetime of experience fishing for bass. There is so much information contained within, that despite the fact that I have been reading and re-reading this book for 60 years, I still find new gems each time I pick it up. It is one of the books I keep by my bed and often read a few pages after turning in. A good example is the chapter on casting lines. It is not only a great history but helps in understanding tackle of times past.
Sheridan R. Jones
Black Bass & Bass-Craft
(1924)
It is truly astounding how far ahead of his time Sheridan R. Jones was. If the cover and the photographs were removed one might think he was reading a book written 50 or more years after the 1924 publication. There is an entire chapter on the occasions and methods for getting a plug to land softly on the water with a "spat" rather than a "splash". Also covered are different approaches to bass in different habitats and seasons. Many writers today simply rehash what has been written before but Jones broke unplowed ground at every turn. One is hard pressed today to point out anywhere that he was wrong.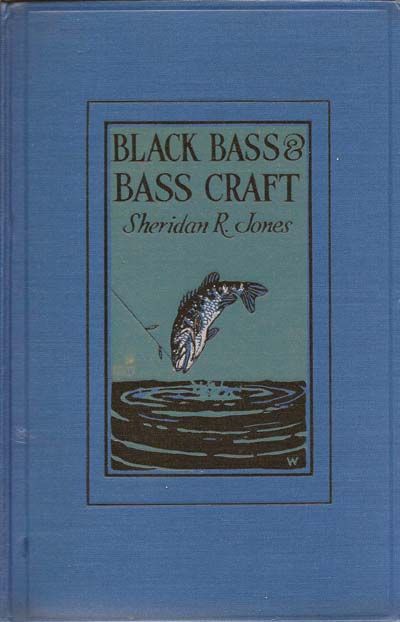 Wallace W. Gallaher
Black Bass Lore
(1937
This is a book one does not hear much about but it is one of my personal favorites. Wallace W. Gallaher was an old man when he wrote this book in 1936 and as such he gives us a personal look into the very early days of bass fishing. He was from Missouri and did much of his bass fishing with a flyrod. It soon becomes obvious in reading this book that Mr Gallaher was a gentlemen and after a lifetime of fishing has many stories to tell of incidents that illustrate his points. If there are funnier stories than the ones he relates about characters he has fished with, I have not seen them.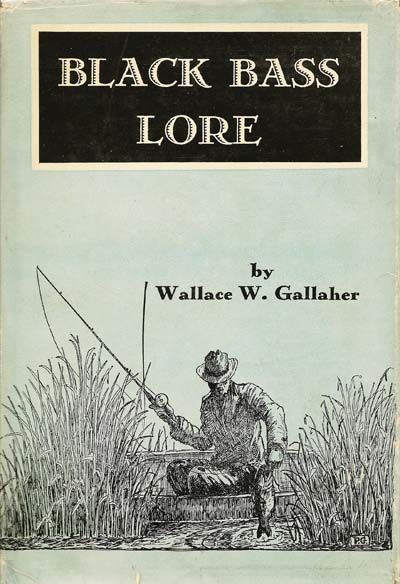 Ray Bergman
Fresh-Water Bass
(1942)
This classic is illustrated with many plates, painted by Fred Everett, showing bass lures of the day. In the back of the book Ray Bergman comments on each of the illustrated baits. For many years I read Ray Bergman's monthly columns in Outdoor Life and was always impressed with his easy going, matter of fact writing style. He would state a point then tell of experiences he had that bore out his conclusions. No vintage bass book library would be complete without it.
Ernst Radke
New Angles to Bass Fishing
(1955)
I do not like the dust cover for this book and the cover itself must be one of the ugliest ever designed. I don't like the title ether. BUT if you ever have a thought of fishing with vintage tackle there is no finer book to get you started. I have purchased more than a dozen copies and continue to do so each time I see it for $5 as I know I will soon pass it on to someone getting started in putting together a vintage fishing outfit. I always hear back from those folks that nothing has been a greater help than this book. As someone told me last week, "it is golden".  Not only is it a great help in selecting vintage tackle to use, Mr Radke's enthusiasm makes me want to stop complaining about the weather, the bugs or anything else and go fishing!
Jason Lucas,
Lucas on Bass Fishing
(1947, 1949, 1962)
It is difficult today to understand the jolt that Jason Lucas delivered to the Bass fishing fraternity when he wrote his first article for
Sports Afield
in March 1945. The following year he was made fishing editor and soon developed what Clyde Drury has described as a "following that bordered on cult".
Lucas on Bass
was published in three editions with each succeeding edition having a different dust cover, expanded content and updated material. He was a champion of light tackle, deep fishing and a sever critic of much of the everyday tackle that was being produced. There is no bass library that is complete without this book. I have shown below the cover of the third edition, followed by the inscription on the inside plate.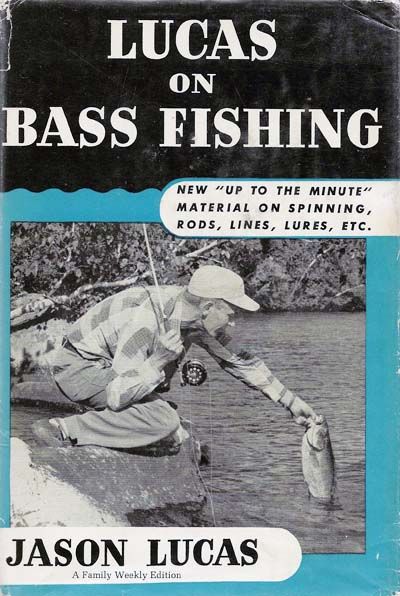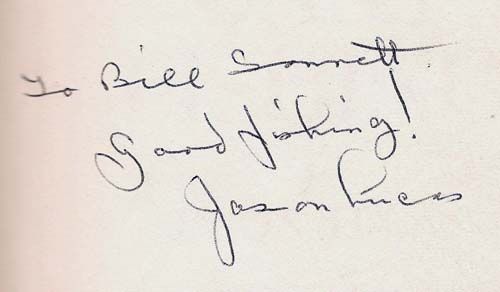 I have now completed 200 "Old Ads" columns and this will be my last. All good things come to an end and this has been a very good thing for me and I hope for my readers. I will be writing some more articles for the
Fishing for History Magazine
, some of which will expand on original "Old Ads" pieces. In the mean time I wish you all tight lines and as Jason Lucas did to me 50 years ago --- "Good Fishing"
-- Wild Bill