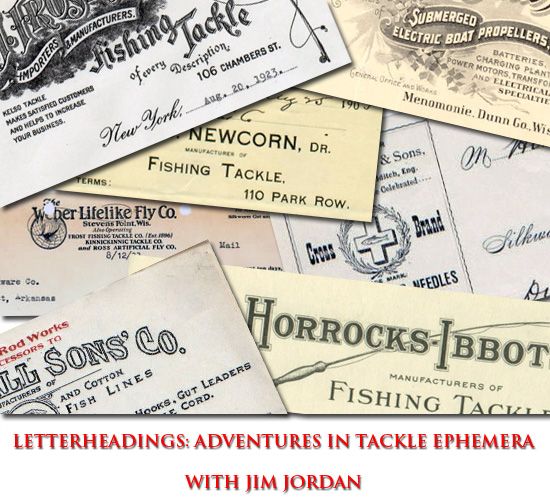 I'd like to introduce myself, my name is Jim Jordan. Dr. Todd has asked me to write a fishing tackle letterhead -  ephemera feature for his blog. My main collecting interest is currently focused on early letterhead, envelopes and other paper work from early lure making companies. As one who looks forward to reading and enjoying the Fishing for History blog every day, I thought it would be nice to try to give something back. Basically my plan is to share some pieces of my collection along with some brief commentary. I hope you all enjoy the history that some of these early pieces of paper bring to light.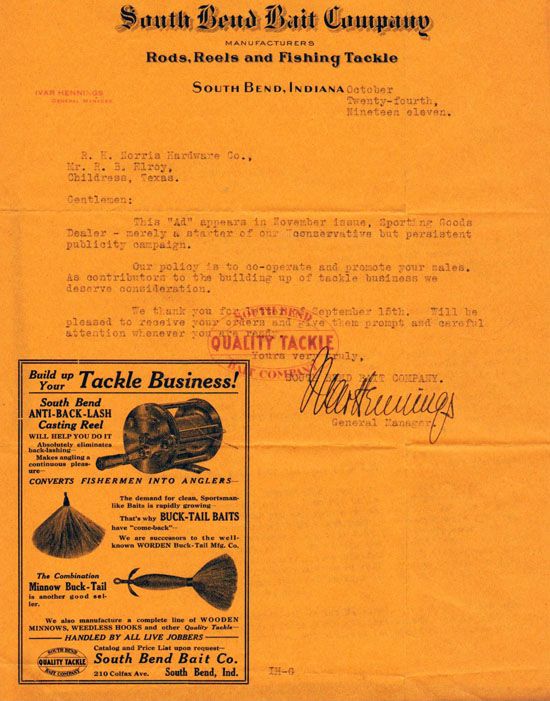 This  South Bend Bait Company letterhead addressed to R.H. Norris Hardware of Childress Texas provides us a glimpse at Ivar Henning's effort to build a little known, new bait company into a tackle manufacturing giant. In this 1911 letter Ivar Hennings discusses a publicity campaign he was putting in motion. He called it conservative, but persistent.  The letter features a cut from an ad which was set to appear in the  November, 1911 edition of 
The Sporting Goods Dealer
. The inclusion of advertising cuts from magazine ads was typical of the early preteen South Bend letterhead. The ad illustration on this particular piece shows  South Bends Anti-Back-Lash reel, a Buck-tail Bait as well as their Combination Minnow Buck-Tail.
Ivar Hennings used these items as the seeds to grow the company years before the Oreno baits were even a thought.  It seems for added credibility,  South Bend was still mentioning the fact that they were successors to the  well-known Worden Buck-Tail Mfg. Company. History has shown Hennings' publicity campaign was indeed persistent and effective. The South Bend name is now one that is widely known by anglers, while the Worden name no longer has meaning to most contemporary anglers.
Best Regards,  
Jim Jordan