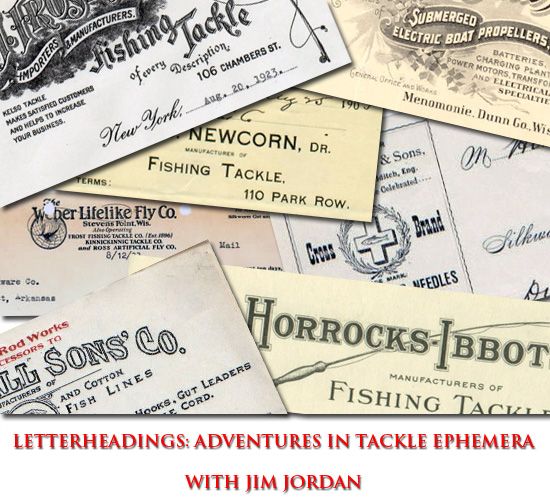 Fishing Tackle Company Letterheads often turn up with content discussing the availability of their companies catalogs. Many times company letterhead are included with the catalog when mailed. These letterheads tend to have a format of bland content which usually includes an introduction to that years catalog, a request for an order and a thank you.
This 11/9/21 Weber Letterhead is much more interesting than those letterhead which are typically associated with tackle company catalogs.
The beautifully colorful outdoor fly fishing scene and the letters content makes this letterhead really enjoyable. It even has an illustration of Oscar Weber's signature spider web in the lower left corner. The spider web would be found on Weber packaging for many years to come.
Weber's opening words signify the beginning of the Weber Life-Like Fly Company. He goes on to discuss his product line and packaging. I find it amazing that Weber was offering  six grades of Trout flies and five grades of Bass flies in his first catalog. I would love to see a sampling of the different grades for comparison.
Weber mentions that his catalog will be available January 1. That would make 1922 the first year for a Weber Life-Like Fly Company catalog. I have never had the pleasure to see a 1922 Weber catalog. I bet it is beautiful. An article in a 1921
Sporting Goods Journal
describes the Weber catalog as having 32 pages and included detailed illustrations of silk worm gut, also, over one hundred illustrations, showing trout ,bass and salmon flies in natural colors. The article also stated the catalog would be offered to jobbers and dealers upon request.
Regards,  
Jim Jordan