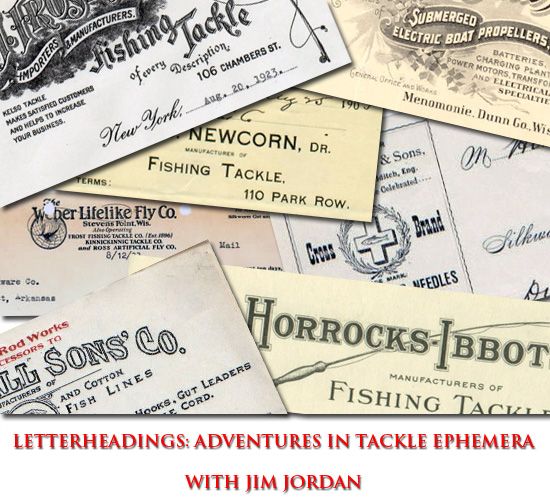 This weeks letterhead is rather plain in design and content, yet  I find it no less interesting than the most colorful illustrated letterhead. This one is all about the actual letter heading and signature. W. B. Haynes & Company 274 Park Street Akron, Ohio dated 3/4/14. Signed W.B. Haynes.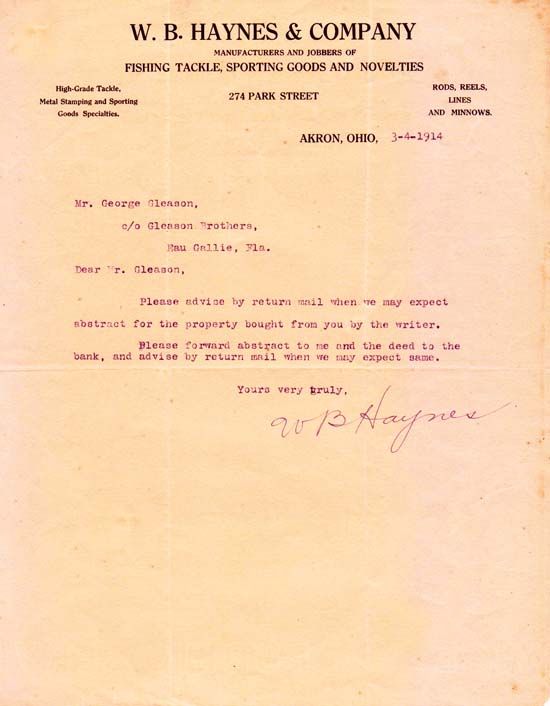 Being a collector who favors small miscellaneous lure makers, I really enjoy this piece. William Barber Haynes is best known by antique tackle collectors for his early Woodpecker style floating bait.This bait was called the Haynes Magnet. His floating bait differed from other tackle company Woodpecker style baits in that it had a hanging spinner attached to the line tie. His 1908 advertisement stated that the spinner is not intended to revolve and must not be permitted to do so. I supposed it was to be used as a flash attractor. Haynes also marketed the Haynes Pearl Casting Minnow as early as 1907. It had a mother of pearl body, German silver side gills, a front spinner and a trailing feathered treble hook.
Haynes listed his company as a manufacturer and jobber of Fishing Tackle, Sporting Goods and Novelties. Aside from listing fishing & sporting goods as some of his wares, he also interestingly listed metal stamping. I wonder if he stamped out the metal parts used on his classic baits.
This letter is addressed to George Gleason c/o Gleason Brothers Eau Gallie, Florida. The content is related to Haynes purchase of some property. There is little detail about the property in question. It is known that Haynes did deal in Florida real estate in 1917 and placed advertisements in the sporting magazines of the day. The ads listed "Florida Cottage lots $28.00, Miami suburb. Quail,  Bass, Kingfish,Barracuda, Tarpon, Sea trout. Motor down hard roads to your own cottage. Avoid cold Winters, William Barber Haynes."
When in Florida, William Haynes enjoyed fishing the Gulf Stream for Sailfish. When fishing fresh water, Haynes preferred catching smallmouth black bass on a medium weight fly rod on the Kwartha lakes of Ontario.
W. B. Haynes was not only a tackle manufacturer and real estate dealer, He was also a writer for many of the early sporting magazines of his day. He also penned a Handbook series of books on dogs for Outing Publishing as well as books on duck hunting. Haynes was very well respected in Akron angling circles and was named by Fred Arbogast in 1917  as one of a group of key anglers and sportsmen to help organize the formation of a Tournament Casting Club in Akron, Ohio.
Best,
Jim Jordan