Steve Kuchman posted this to Joe's and graciously allowed us to repost it here. I'd been meaning to write something up on Doug but hadn't had time. He was a true legend of bass fishing and earned his nickname the Bass Professor.
A Tribute To A Legendary Big Bass Fisherman
by Steve Kuchman
On April 3, 2013 Doug Hannon passed away at the age of 66. Whether you liked or disliked Doug, he was a true ambassador of Bass Fishing. Like Jason Lucas, Buck Perry and a very few others, Doug was a bass fishing pioneer, especially for Big Bass. I personally learned more about big bass from Doug than anyone else, and although I've never met or fished with Doug, I felt compelled to write this tribute.
Being an analytical man of many talents, Doug Hannon did more in his lifetime than most. He was a conversationalist, renowned fishing guide, author, teacher, lecturer, photographer & filmmaker, TV host, highly skilled diver & underwater photographer, inventor & designer, patented lures, fishing tackle & boating designs, was an early proponent of catch & release, Fishing Hall Of Fame inductee, caught & released more than 800 largemouth bass over 10 lbs., running enthusiast and avid guitar player. Doug taught us about fish's senses of vision, hearing, smell and about spawning, solunar influences, cold fronts and many other pieces of the puzzle.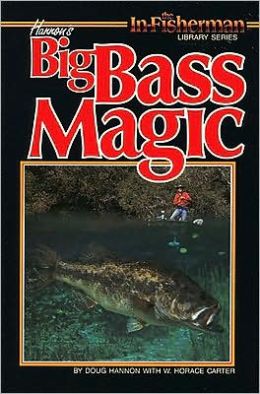 One of Doug's many books.
Among some of the things Doug left us are the First Weedless Trolling Motor Propeller, with a hub design that is now used on all electric trolling motors, Catch & Release Formula, the Moon Clock, the Mule Anchor, the Snake Bait, Skitterfish, Hannon Frog, Swimming Worm, Fishing Snake, the Wave Spin Reel and a whole different approach to bass fishing. Some controversial, some innovative, always ground breaking.
Hannon's trolling weedless motor propellor.
Products developed by Hannon and sold by Tern Corp.
Hannon had his own line of lures for Burke.
Close up of the Skitterfish.
Doug Hannon's snake bait lure by Burke.
Doug invented the Wave Spin fishing reel.
To me, Doug was one of the most knowledgeable bass fisherman and angling authorities of modern times. A true pioneer and will always be "The Bass Professor" ---- Thanks, Doug, and Rest In Peace.
I also e-mailed Dan Basore to nominate Doug Hannon as an NFLCC Honorary Member candidate.
That's my story and I'm stickin' to it.
Thanks, Steve