Fishing for Laughs, Part III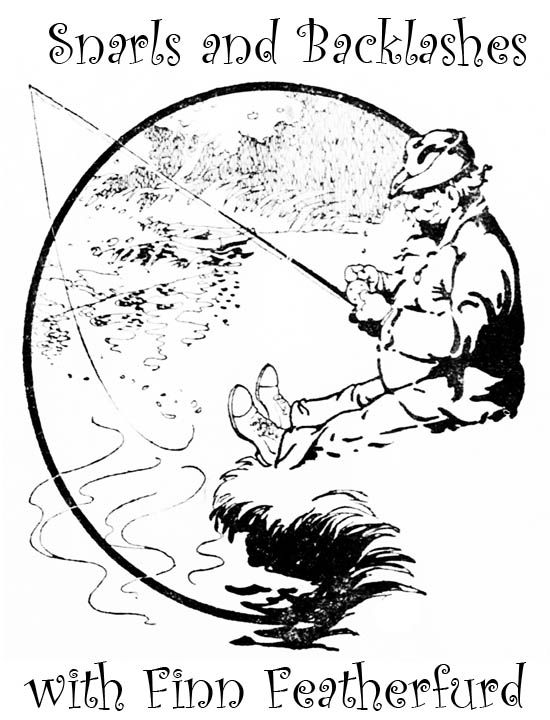 While researching this series of articles I found some things that were very funny, but a great many more that were not. What follows is the single worst example of fishing humor I could find, from the author of "
The Elements of Conversation, or, Talking Made Easy
" in
The New Monthly Magazine
for 1836. Here is what our anonymous author has to say about fishing jokes:
It is allowable, when you have run a subject dry in English, to hitch in a bit of any other language which may sound to your liking. For instance, on a fishing party. You say fishing is out of your line; yet, if you did not keep a float, you would deserve a rod; and if anybody affects to find fault with your joke, exclaim " Oh, vous bete!" There you have line, rod, float, and bait ready to your hand. Call two noodles from the city in a punt, endeavouring to catch small fry, " East Angles;" or, if you please, observe that " the punters are losing the fish," "catching nothing but a cold," or that " the fish are too deep for them." Call the Thames a " tidy" river; but say you prefer the Isis in hot weather.
HILARIOUS. Oh, but wait -- it gets better.
Let me try to put this into perspective for you. This is an author who believes that nothing, and I mean nothing, should stand between you and a pun. Read on for his recommendation on how to respond to a friend who writes you about the death of a loved one:
If a mail is pathetically describing the funeral of his mother or sister, or wife, it is quite allowable to call it a " black-drowning party," or to talk of a "fit of coffin;" a weeping relative struggling to conceal his grief may be likened to a commander of "private tears;" throw in a joke about the phrase of "funerals performed," and a rehearsal; and wind up with the anagram real-fun, funeral. I give this instance first, in order to explain that nothing, however solemn the subject, is to stand in the way of a pun.
And there you have it. The worst fishing joke from perhaps the worst human being of the nineteenth century.
Not much else to say here. I award this zero fish out of five for set up and one fish out of five for delivery, if nothing else because he spelled "vous bete" correctly.
-- Finn
Finn Featherfurd is the pseudonym of a sad and lonely retired professor and newspaper columnist who has spent the better part of the past four decades (unsuccessfully) chasing fish in the Lower 48. A long-time collector of vintage fishing tackle of all kinds, he is currently fascinated by pre-1920 children's fishing reels (40 yards and smaller). When the spirit moves him, he will contribute occasional pieces and essays to the Fishing for History Blog. He can be reached at finnfeatherfurd@yahoo.com.