Conrad's famous Surprise Box!
I got an email the other day from Dr Todd along with the following ad for the "Fishing Tackle Grab Bag." It is from the February,1969 issue of
Field & Stream
.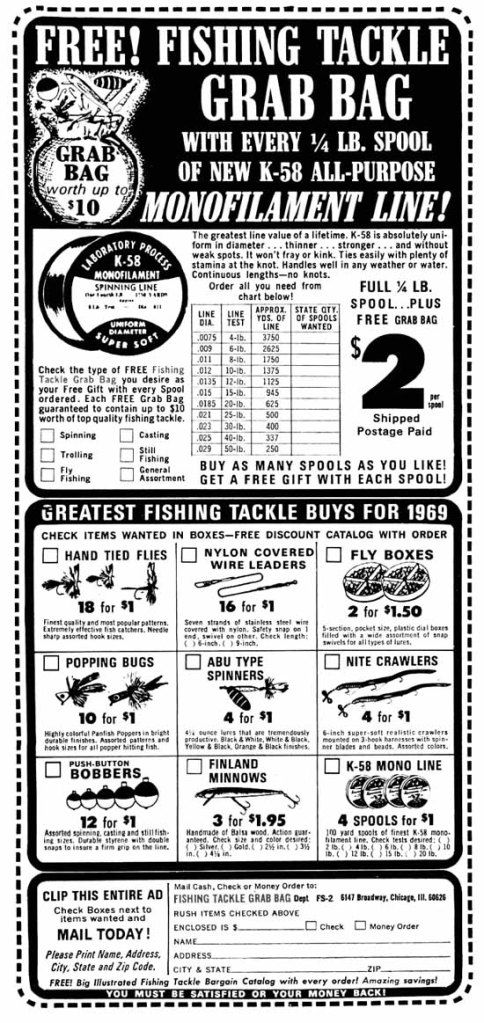 Dr Todd says he can remember "begging and I mean begging" his dad to send away for this box of tackle that seemed too good to be true, His father never did, so when he saw a complete "Fishing Tackle Grab Bag" on eBay he fulfilled his childhood dream and bought it. Needless to say his father was right all along.
The "Grab Bag" consisted of a rubber worm, K-58 mono spool, hooks, and a comically oversized catalog.
Told you it was comically oversized -- that's a full sized magazine in the left corner!
I'm somewhat older than Dr Todd and his tale immediately brought to mind Conrad's Famous Surprise Box. The following ad is from the July 1957 issue of
Outdoor Life
and is typical of their advertising which was to be seen in many issues of outdoor magazines at the time.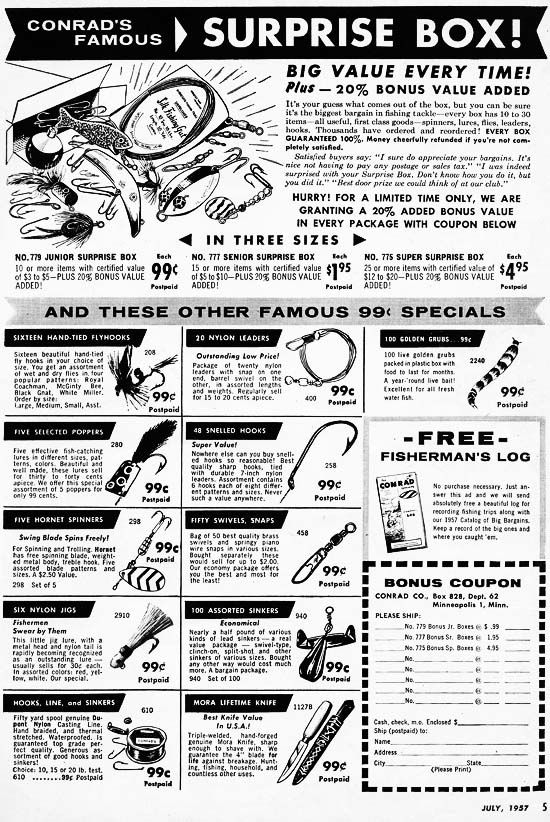 I had a paper route in 1957 with 63 customers. After delivering the paper six days a week, I got paid 10 cents for each customer. $6.30 a week put me on "easy street." This new found wealth and a fairly empty tackle box was just the combination that the Conrad Company was looking for. With my own finances I sent off for the 99 cent "Junior Surprise Box". When the day came that it arrived in the mail, I went up to my bedroom and opened the box. WOW! --- All I recall was a bunch of fishing related stuff such as swivel snaps, wire leaders, hooks, feathers and some things I'd never seen before, but I was sure they would come in handy so they went into my formerly empty tackle box. One item remains sharp in my mind and is represented in the drawing at the top of the ad. It was a carded coil of silk gut leader. I'm not sure what pound test it was but it looked like it would hold a Tuna fish and was chartreuse colored. Unless it was soaked in warm water for several minutes it was as stiff as uncooked spaghetti.
I have to smile these days when I see a young boy fishing with a bobber and a heavy cable leader above the hook. That was me, except I also added about 30 inches of real silk gut leader above an array of snaps, swivels and wire leader. I was ready for anything. Even at that time I thought the small ABU Reflex lure looked tiny at the end of all that terminal tackle. I proudly showed this "outfit" to my Dad who was kind enough not to burst out laughing.
After sizing up the possibilities, I decided that if I was going to be like Jason Lucas I would need a really full tackle box. This seemed like one of keys to success. I sent off for the $1.95 "SENIOR SURPRISE BOX" with great expectations. A long time passed and I did not receive the expected package. Finally, one day a letter came telling me that the Conrad Company had gone bankrupt and they would not be able to fill my order, but they would be sending me an item of equal or better value in its place.
Months later a fillet knife arrived in the mail. It had an easy-to-sharpen carbon steel blade and proved to be the best fillet knife I ever owned. It had an over-sized wooden handle which I understood was to make the knife float if accidentally dropped in the water. Some years later my High School fishing buddy Clarence and I were fishing from shore when he commented to me that he really liked the knife but didn't care much for the handle. I carefully explained the purpose of the handle to him. His immediate reaction was, "there is no way that knife will float." My immediate reaction was, want to make a bet -- watch this and I dropped it into the murky waters of Indian Lake where it sank out of sight like a stone.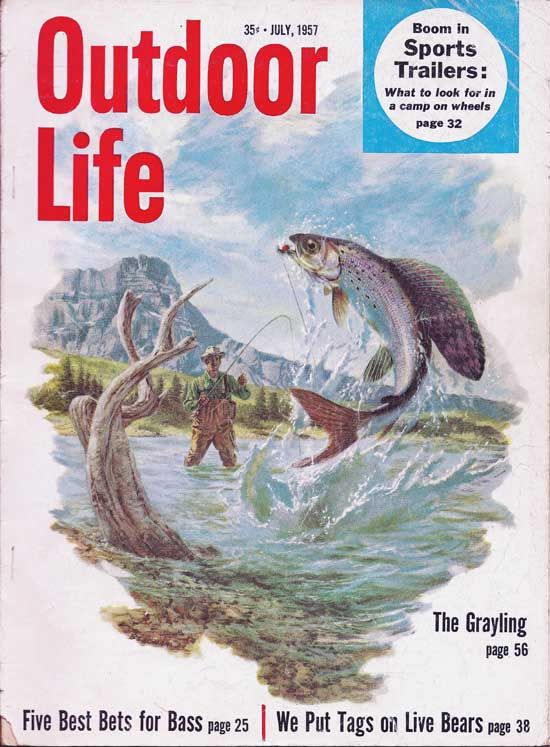 -- Wild Bill Sonnett