History Repeats Itself…
When I saw this add for the Jenson Floglegs lure in the June 1949 issue of
Field & Stream
, I was reminded of my experience as a boy with this unique bait and how many things in fishing tend to repeat themselves through the years. A friend of my father's opened his tackle box one day in the early 1950's and my boyhood eyes immediately went to the "Froglegs" lure lying in the top tray. WOW! Was that a neat bait or what! I made up my mind then that I was going to own one. They were for sale at the local hardware store. I don't remember whether I saved up and bought one or asked for one for Christmas. In any case, I acquired one and after playing with those kicking legs and reading the hype that came with it, I was ready to go catch giant bass at the first opportunity. I knew very little about bass fishing at that point and was convinced that the key to success was finding the magic lure. The kind of lure you could throw just about anywhere and bass would be helpless to resist it. This kicking frog looked like it just might be the one. After casting it a couple of dozen times my enthusiasm started to wain. Seeing no results after a while, it went back in the tackle box never to emerge again. Such is the fleeting enthusiasm of a youth.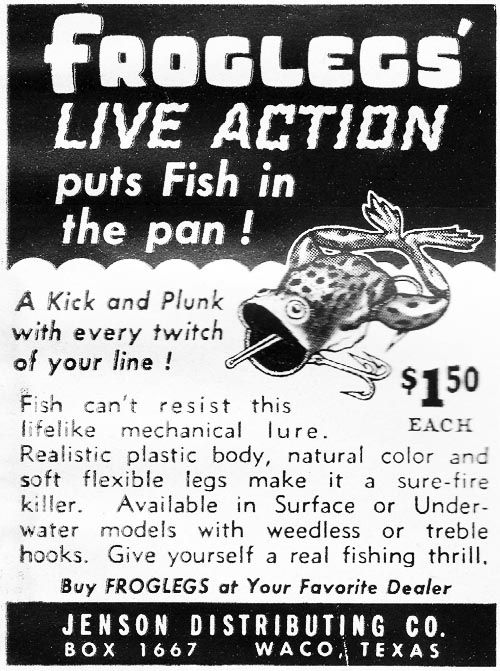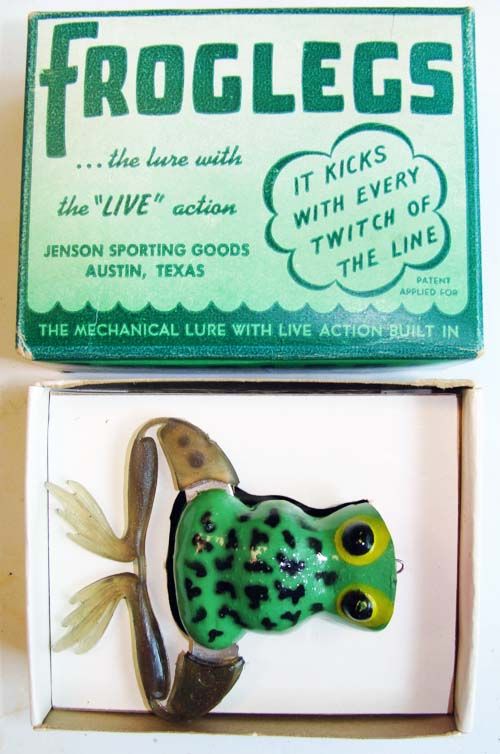 Fast forward 50 years and I am fishing with a young man on a lake that was densely covered with weeds. He pulled out a bait that appeared similar to an old fashioned pork chunk but was hollow rubber. I asked him what it was called and he said "Scum Frog." I would not have given it much thought except he started hooking bass almost from the first cast. He told me he bought it at Walmart so I stopped by there and picked one up. I caught a very nice bass with it on my first cast. The bait has proven effective in thick pads. My buddy Warren Platt just about has a stroke at the mention of "Scum Frog" as he is a vintage tackle, top-water purist. I gave him one some years back which he has grudgingly used when nothing else will negotiate the weeds. Still he grumbles about it and bad mouths the thing at every opportunity.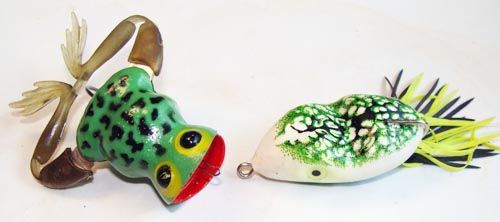 "Scummy" shares the spotlight with the Jenson Froglegs.
Warren took a young, fatherless boy from across the street under his wing some time ago and taught him how to cast and has taken him fishing several times. When Warren opened his tackle box the first time to show the boy some of his prized, vintage plugs, the boy immediately reached in and grabbed the Scum Frog telling a chagrined Warren, "I like this one here!"  
When my wife's grandson was visiting during his 9th birthday he became interested in bass fishing. I thought as a special treat I would individually wrap up some classic vintage lures and present them to him in a box for his birthday. He was all smiles as he unwrapped the orange Flatfish, then the yellow Jitterbug, then the Red & White Babe-Oreno and a half dozen more classics in turn. When he spotted the "Scum Frog" in a blister pack at the bottom of the box he leaped to his feet and turning to his Dad loudly burst forth, "DAD! I GOT A SCUM FROG!" How I wish Warren had been there. LOL!
Over the years I have seen some collections of Jenson Froglegs containing many colors and styles I never knew existed. What I have not met is a person who says it is one of the best bass lures he has ever used. I "grew up" many years ago and very soon the two boys in this story will also be adults, but even as "grown up boys" we still have high hopes when we see a fishing lure that appeals to us as something a bass would find irresistible! I'm sure you have heard the old adage, "Lures don't have to catch fish ----- only fishermen".  
Oh yes they may also catch collectors! What fallows is a short tour of part of Don Wheeler's fabulous Froglegs collection. Very, very impressive Don. Thanks for sharing.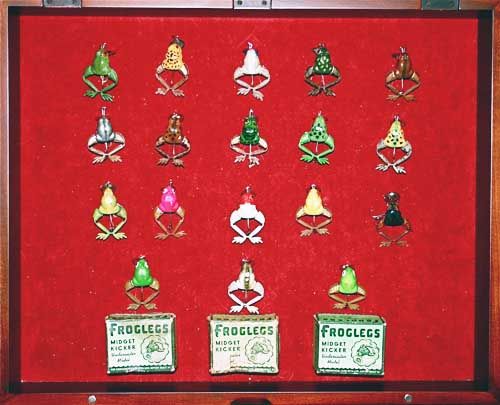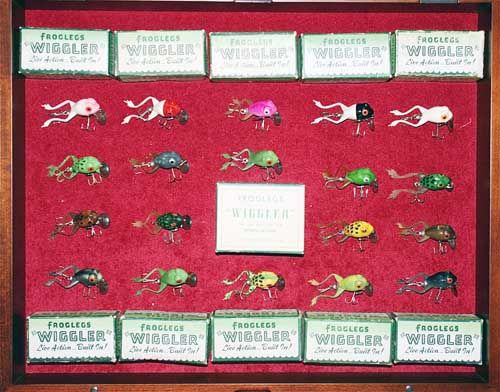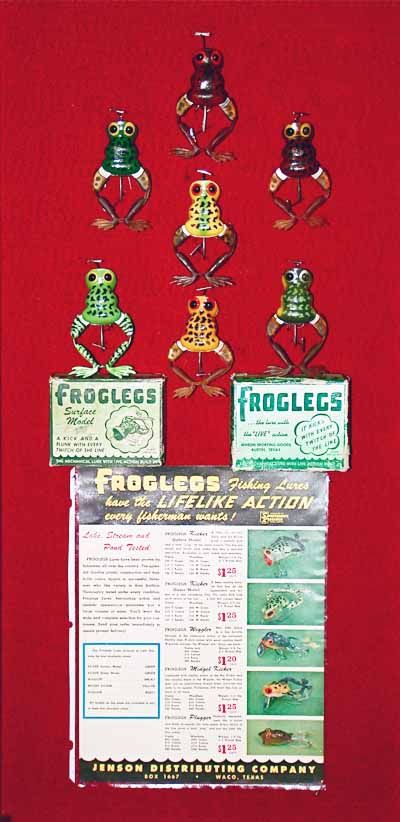 -- Bill Sonnett