Don't have time to read 50+ fishing and tackle collecting blogs and web sites? Well, let us do it for you! Follow all of the latest news, articles, and stories on
our Whitefishpress Twitter
account! Hint: You don't need to be a member...just bookmark the
Twitter Feed Page
or click on latest links to the right!
THE MONDAY 10: The Ten Fishing Stories of the Week You Need to Know
The Big Lead
: Sad, sad news this past week.
Stu Lawson
, legendary reel collector, has passed on. Rest in peace, my friend (photo by John Elder).
Even more sad news.
Tim Mierzwa
, noted collector and author, has also passed on. Sigh. I'll miss you Tim.
Tackle shop
opened during Truman's presidency has closed.
Outdoor writer
John Geiser
has passed away.
Media goes crazy for
teen shark anglers
.
Fly fishing
leads to uncertain situations.
Chef
Eric Donnelly's
epic dry fly catch.
A nice feature on the
fly fishing Becks
.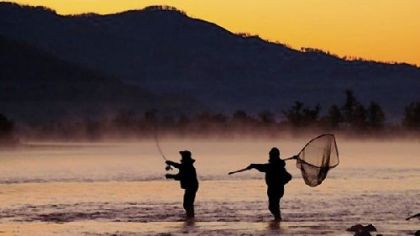 Catskill Fly Fishing Center & Museum inducts 8 into
hall-of-fame
.
Finishing with a Flourish
:
American Rod Smiths
get profiled.
-- Dr. Todd