This is the final part of a three part column featuring not the best covers over the years but ones that stick in my memory as being different than the norm.
Sports Afield
magazine was considered one of the "Big Three" after the World War ll. In the 1930s it ran a distant third to
Field & Stream
and
Outdoor Life
in both quality and circulation. A little more on how it rose in the ranks later. As one who looks at old magazines on eBay regularly, I have noted that there occasionally appears a pre-1910 issue but I have never seen a copy of
Sports Afield
from the teens or the twenties. Not sure what the story is with that.
The first cover I would like to offer today is the April 1935 issue. You must admit it is different from the norm. I don't ever remember seeing a "double" (two fish on one cast) on the cover of another magazine. What to me really sets this cover apart are the bright red and green solid colors. Once you see this cover, you don't forget it.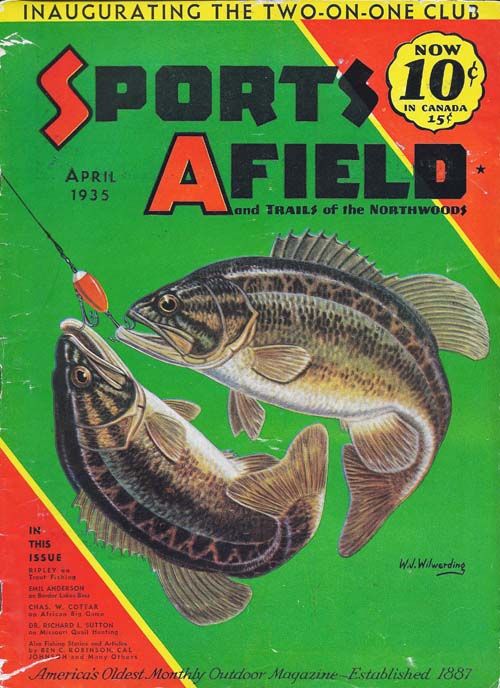 The 1939
Sports Afield Fishing Annual
featured this great fish painting which proved so popular it was also used as the cover of a monthly issue and was later made available to readers as an art print. I always enjoy looking at this one and it jumps off the table at me from a pile of outdoor magazines.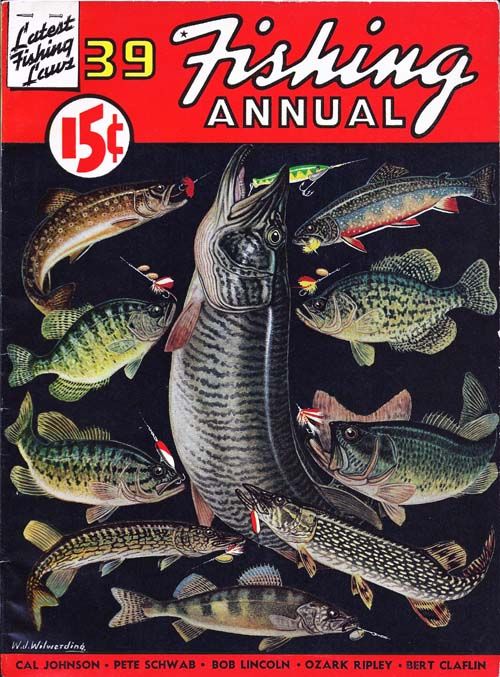 The next somewhat odd cover shown here is the August 1940 issue. Times must have gotten tough for
Sports Afield
during this period. It was a thin magazine with lots of forgettable photographs and not very much print. This issue stands out in my mind due to the amateur-like artwork on the cover. Reminds me of someone' s first drawing in High School art class. A look inside shows that it is the work of Earl Cornue who is also the magazine's "Art Editor" As I said, times must have been very tough.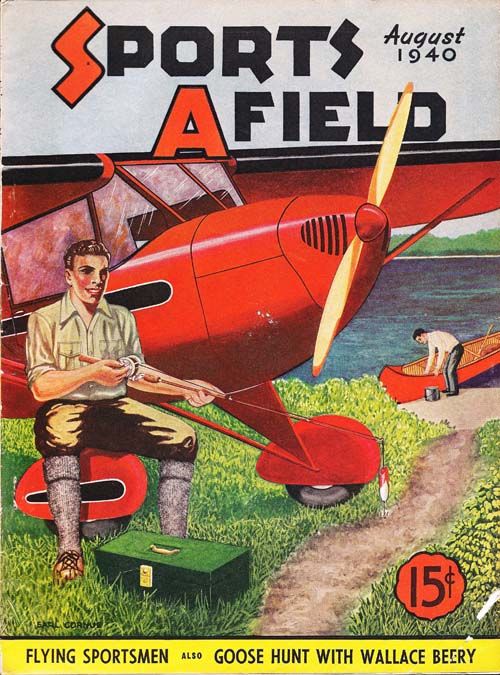 In the late 1940s
Sports Afield
ran a series of "dog head" covers in the fall months. They were painted by John Albertson and were of such of high quality and presented in such a pure form that they have become classics and are sought after by collectors. This one is from September of 1949. The others are just as good. This jump in quality after World War ll was much the result of of a dynamic young editor, Ted Kesting, who tirelessly worked to improve the magazines' quality and hence build up circulation.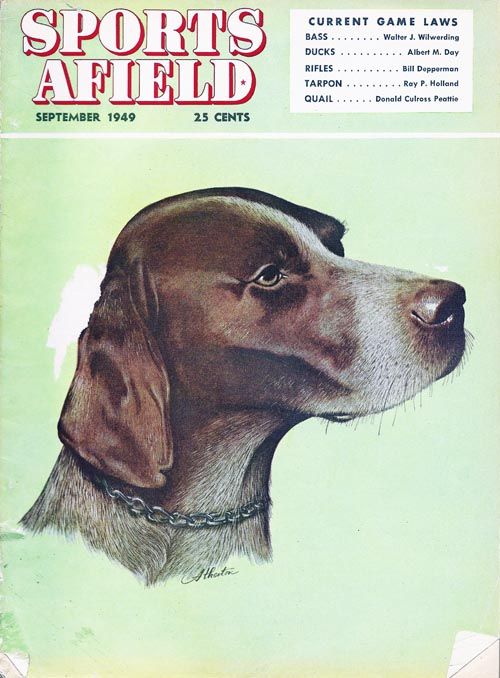 Let me state right up front that I hate this cover. But once seen it cannot be forgotten. I may even cause a few nightmares. There was a period in the early 1950s when this sort of cover appeared on all of the big three. Close ups of tiger's faces were most often used with phrases like "Striped Death" for shock value. This February 1952 cover I find the most hideous of the lot. This is one I would like to forget but can't…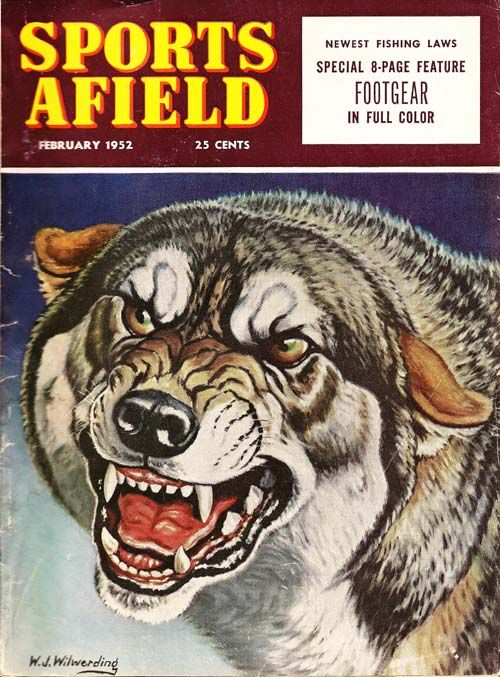 The last cover I'd like to present may not appear that unusual to the casual observer. It appeared on the February 1958 issue. One needs to know WHO is on the cover. My friend Clyde Drury, author of
Books of the Black Bass
wrote about Jason Lucas, the fishing editor of
Sports Afield
from 1946 until 1968, that "he had a following which bordered on a cult and I was one of them". Me too Clyde. After authoring a six part series on fishing in 1946, letters poured in and he was hired as the fishing editor. Ted Kesting knew a good thing when he saw it. Lucas' writing was so different than what was the norm in outdoor magazines, it is difficult to impress on today's reading anglers what a shock it was and how popular he became. When
Sports Afield
arrived in the mailbox the first thing read was Jason Lucas' column and then his answers to readers questions. The answers were ofter blunt. The one I will always remember was in reply to a reader asking what Lucas thought of the idea of taking one's wife fishing. His answer: "I suppose you could have her row the boat if you could train one thus" --- Try that in today's world. This picture was actually taken of Jason Lucas at Lake Mead in1948 --- ten years before it was used as this cover..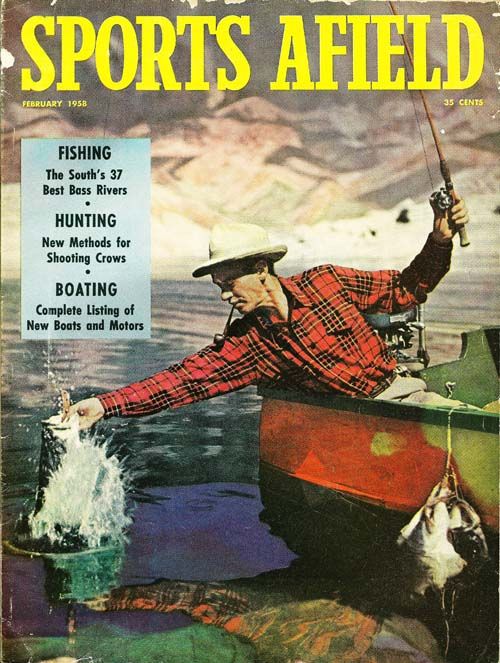 -- Wild Bill Sonnett