For those who don't know, the Cullerton family has been as involved in the American tackle industry as any family of the past 100 years. I really think many of the readers of Fishing for History will enjoy this book!
Many know and remember Bill Cullerton Senior for his 22 year run as host of the WGN Great Out of Doors Radio show. Or you may know him for his years in the sporting goods industry and his contributions to Midwest Outdoors magazine. But most lure collectors know him as the grandson of Smilin' Bill Jamison and the man who after WWII ran the Jamison Company. Or you may know him as the man who was sales manager of the Johnson Silver Minnow Company or his years as one of the greatest sporting goods distributors in the country or as an Honorary Member of the NFLCC and father of Bill Cullerton Jr. co-owner of the Bagley Bait Company.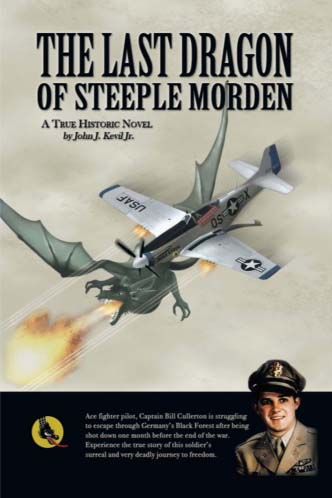 But as he calls it his "other life" is now told in an exciting new book titled "THE LAST DRAGON OF STEEPLE MORDEN" by John Kevil Jr. There couldn't be a better writer of this tale than John. He was a boyhood friend of Bill Cullerton Jr. 
Over the years he had heard snippets about Mr. Cullerton's WWII experiences. On his first day at school someone told him that Cullerton was the number one ace from Illinois.
Once when John was vacationing with the Cullerton's their boat got stuck. When Mr. Cullerton removed his shirt to get out and push he saw a bullet scar.
Later when reading the book Top Gun where 5 pages were devoted to Captain Cullerton, he decided that wasn't enough of the story. He asked Mr. Cullerton if he could write a book about his experiences and got the OK if he would start calling Mr. Cullerton Bill.
In a dinner meeting titled, "Vanishing Cultures, An American Portrait of Captain William Cullerton we were privileged to hear both the author and subject talk about Bill's experiences. He's the last living WWII Ace with 21 enemy planes destroyed on the ground and 7 destroyed in the air, 8 in one day.
This was very dangerous fighting in the wonderful P51D supercharged aircraft. In short bursts he could fly up to 650 miles per hour. General Doolittle saw that there were greater opportunities to destroy the enemies assets on the ground versus aerial fights. 
Bill and his group were trained to strafe at low levels. Sometimes he would be as low as 20 feet above the ground at high speed with machine guns blazing and a couple of wing bombs dropped to boot. There were only 20 of 1,000 selected for flight training that made the grade to fly these missions.
Bill said it's all about Steve the love of his life who he's been married to for 69 years. His plane bore her name. On one of his strafing runs in Germany he was hit by ground fire. His fellow pilots saw his plane explode.
It was thought that Bill was dead. Too low for a parachute to float him to earth. Even if a P51 pilot could jump almost all would be killed immediately by the plane's tail.
But somehow he made it to the ground. Now the German's were after him from citizens to dedicated SS troops with their specially bred and dogs trained to track and kill.
Bill's hunting and fishing knowledge gained on the Midwest's woods and waters were valuable as he evaded capture while finding food, water and cover. Warning, once I started reading I couldn't stop till it was read. Now we browse and reread about one of the greatest of the "Greatest Generation", our friend Bill Cullerton.
This will be a great gift for you and anyone of any age. I and friends are gifting our brothers, sisters, grandchildren and other friends and family. The book is available at many book stores and Amazon.com in soft or hard cover and as a Kindle or iBooks downloads.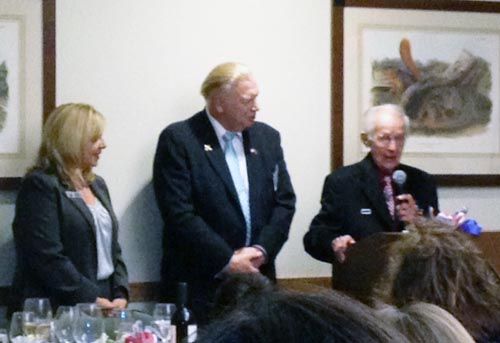 From right to left, Bill Cullerton Sr. John Kevil Sr. and Bill's daughter Cindy introduce the new book about Bill's "other life." and the cover of the book.
-- Dan Basore