Fishing for History reader Brian O'Connor recently emailed me after coming across an article I had written
about Larry Koller
. Koller, for those who don't recall, was a legendary outdoor writer who also worked in the advertising industry, and was a top notch photographer. Jim Krul at the Catskill Fly Fishing Center & Museum has a great collection of original Koller photographs.
When Brian was twelve, he knew the Koller family. As he writes, " she had given me hundreds of black and white photo's from Larry's advertising years. He had recently passed away and she was cleaning out all of his old work photo's and files. At the time i thought it was a neat thing to have. Later on I realized I have some significant history."
That they do. Here's a sample. The photo below is a stock promotional image of a Horrocks-Ibbotson spinning reel from 1954.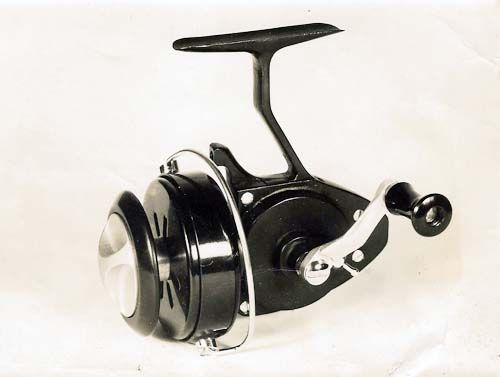 Included with this was the following press release, from H-I's advertising agency: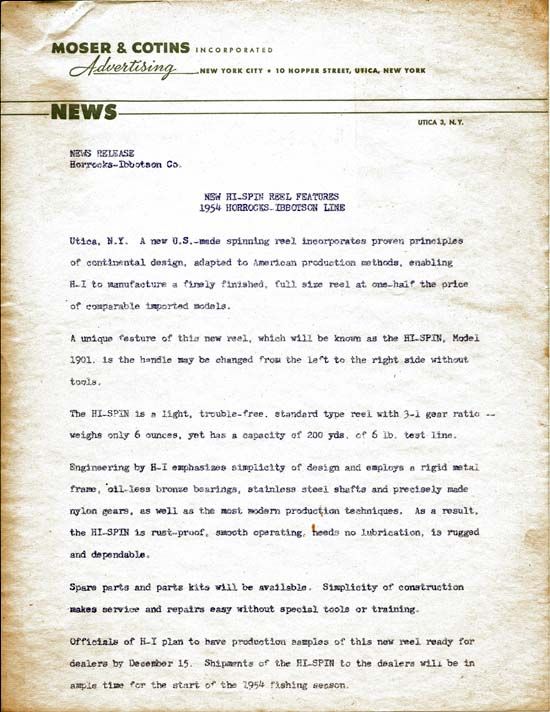 What is fascinating about all this is the following internal memorandum, sent to Larry Koller and dated Oct. 19, 1953.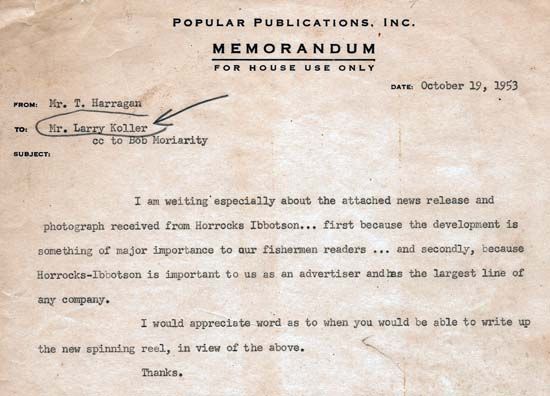 This is important for several reasons. First, it underscores how huge Horrocks-Ibbotson was. Second, it shows how much influence the "big boys" had in making publications take their products seriously. And finally, it shows the pressure outdoor writers like Larry Koller were under to promote the latest gadgets from the big tackle makers.
Thanks a ton to Brian O'Connor for sharing this with us. He's sent some additional images showing Koller's outstanding skills as a photographer which we'll feature over the course of time.
-- Dr. Todd