The Helga Devil – The Untold Story Continues...
The April 1946 issue of
Field & Stream
contains the advertisement seen below for The "Helga Devil". I am quite familiar with this lure but really don't recall up to now ever seeing a nice advertisement for it in any of the major outdoor magazines.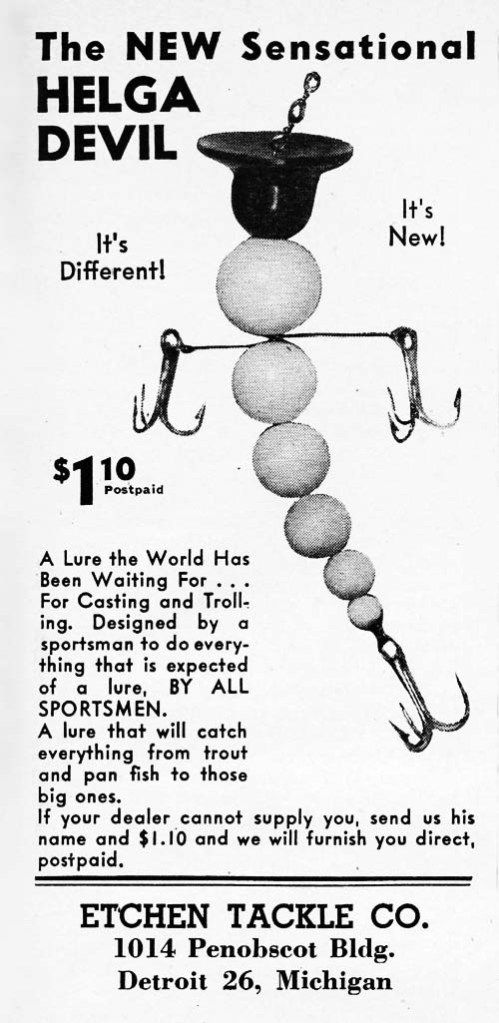 By reading the ad thoroughly you will know about as much a I do about this odd bait. I must give them credit for not taking a back seat to anyone when it comes to overblown rhetoric. Again and again we see ads claiming a particular fishing lure to be the "greatest lure ever invented" or something similar. I don't ever recall seeing the claim "A lure the world has been waiting for...." and a lure "designed to do everything that is expected BY ALL SPORTSMEN." It is also a little hard for me to visualize this four inch long bait as effective on "pan fish" as claimed. In an effort to come up with more information on the Helga Devil or its maker the Etchen Tackle Company of Detroit, Michigan, I Googled both names. In most cases this popular Internet search engine tells me that it has instantly come up with several million "results" for whatever I am searching for. "Helga Devil" and the Etchen Tackle Company came up with only 8 results which must be some kind of a record. All of those results, with the exception of "Helga's Deviled Eggs" had to do with Internet sales of this vintage bait. No information there. The box says distributed by the "Trading Corp. of America". Google them and the name came up in Columbus, Ohio. Called their number and they assured me they had only been in business about 30 years and were not related to the 1946 outfit in Detroit. George Ritchie's book
MADE IN MICHIGAN FISHING LURES
surprisingly, had nothing to ad to the above.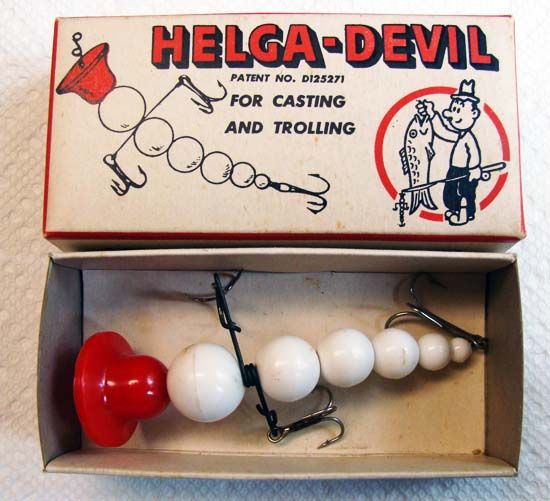 In all its glory --- the "Helga Devil"
So what do have to say about this bait. As the ads states, "It's Different". After World War ll thousands of small companies sprang up across the Unites States, attempting to get a foothold in the growing economy. Most were only short lived. That appears to be the case here. In the 1980's I regularly attended NFLCC lure shows in Detroit and the surrounding area. Someone must have hit the mother load of boxed Helga Devils as they were for sale in large numbers. I still occasionally see them today, but almost without fail, they are mint in the box--unfished. This last fact alone pretty much tells the tale as far as the commercial success of this very "different" fishing lure.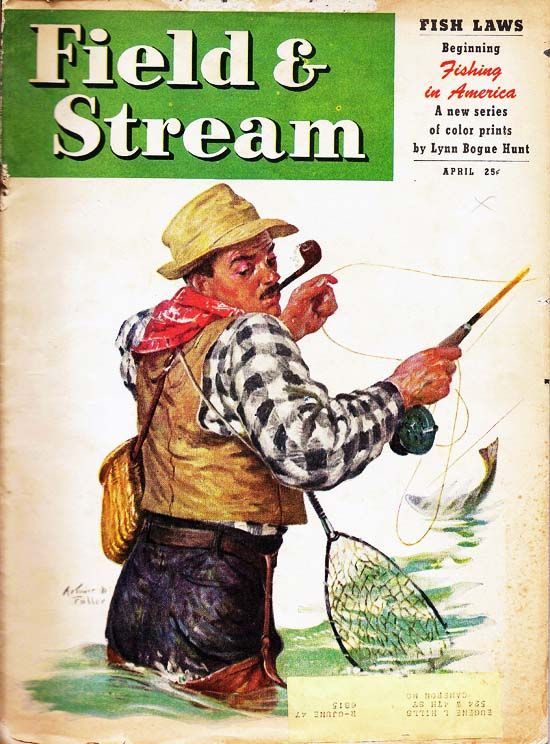 -- Wild Bill Sonnett