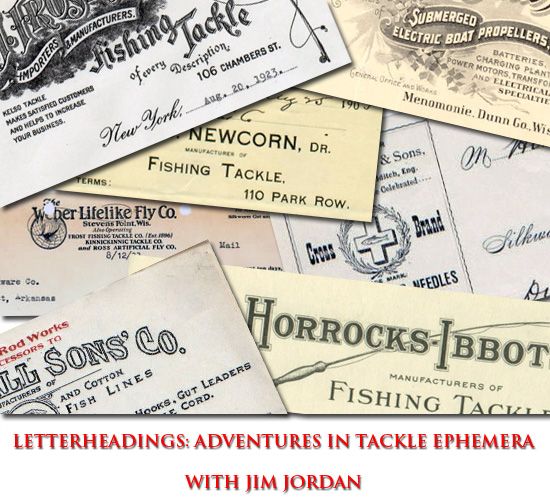 YALE METAL PRODUCTS
by Jim Garrett & Skip Brooks
The history of Pequea Works (and its predecessors) is fairly straight forward. We have briefly covered this information and a selection of their letterhead during the last three weeks. It is axiomatic that Pequea Works (pronounced Peck-Way) was named by Harry Kaufman and Edwin Brown after the Pequea Indian tribe living in what would later become Pennsylvania. However, the history of Yale Metal Products, a subsidiary of Pequea is not so straight forward. We do not know why it was named Yale or who actually named it.
The well respected tackle historian, Dr. Harold G. Herr (1931-2001), made a modest start on this research in an article published in the ORCA News Winter Issue of 1993. With limited and incomplete information he did the best he could. In the summer of 1999 a brilliant article by Phil White entitled "The Carlton Descendants" appeared in the ORCA Reel News Magazine adding additional clarification to Yale activities. More on this article below.
Perhaps the greatest contribution of Yale historical data was provided thanks to a couple from Maryland named Oberender. After seeing an ad in a local paper in the summer of 1986, John and his wife Evelyn drove from Whitehall, MD to Strasburg, PA for an auction. The old Pequea factory contents, including all manner of fishing tackle, was going piecemeal to the highest bidders. And bidders were going a lot higher than John had anticipated or was prepared to go.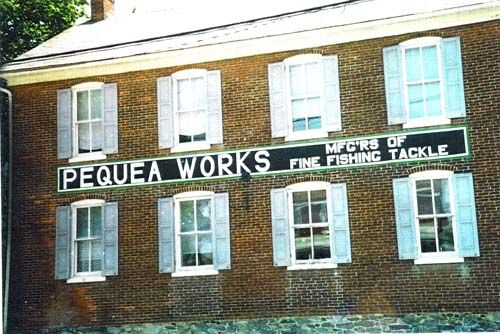 John tried to focus on the remaining tackle items still available in the oppressive heat. The heat had not seemed so bad during the drive that morning (a little over an hour, the distance just over 60 miles). But trying to concentrate on the treasures being auctioned in the old factory building, with just a couple fans to move the air around, was increasingly difficult. Soon the auction was concluding and he had little to show for his efforts. Perhaps he was thinking that coming to Strasburg had been a mistake. In this he would have been monumentally wrong. Coming here would turn out to be one of the most beneficial days of his life and the lives of tackle historians through the years.
When the auctioneers began closing things down, John asked the man in charge about the dozens of boxes of factory records remaining in the stifling attic space of the old red brick building. The attic could only be accessed with difficulty through a small rectangular opening. The auctioneer asked the few remaining people if anyone else was interested in the dusty boxes. It is lost in the memories of those then in attendance as to whether it was John or the auctioneer who suggested the price of $10, but that is the price that was agreed upon for the entire archive remaining in the attic. No one but John and Evelyn Oberender had the foresight to rescue those precious historical records worth thousands and thousands of dollars. If it had not been for them the boxes would have ended up moldering in the dump because the factory space was being cleared for major renovations. Over the years the Oberenders sold off those boxed documents, catalogs and letterhead at auction, at shows, by direct sale and through eBay. This author has tried to reassemble as much of the original package as possible. The vast majority is still out there somewhere.
The earliest dated paper (currently available to this author) concerning the business located at 380 Canal St., New York City, is a tax return for the year 1919. The names on "Schedule A" are typed so we do not have to rely on the capricious interpretation of fading handwritten information nearly 100 years old on the rest of the form. The metal fabricating business was a co-partnership between Leibinger and Joseph Masin. The name "Yale Metal Products does not appear anywhere on these forms and was likely not in use at the time.
By 1921 Leibinger was apparently out of the picture and W .S. Torrence had taken his place in the co-partnership. The company was manufacturing metal parts for completion of both tackle and non-tackle related items. This wide ranging application of metal fabricating skills at Yale would continue all the years of its existence. It was especially useful in obtaining contracts for war related goods during WWII.
It was also during the early 1920's that Yale reels began to make their appearance. Let us return to Phil White's 1999 article referenced above, which on page 9 discusses these initial Yale reel appearances:
"The cover of a c1920 catalog lists some of Yale's products: "Lightweight, Phantom, Fly Weight, Ideal and Gem Single Action Reels/Good Luck Wood Reels/Handy Reel Seat, Good Luck Fish Scaler". On this list we note some "Rochester" reels, and some Meisselbach products. Perhaps Yale Metal Products was the fabricator of the Rochester fly reels. Or perhaps they bought the tooling for these successful products when Heineman emptied the Meisselbach factory."
By the second day of Dec. 1922 Joseph Masin had applied for a patent on a new type of bearing especially useful on fishing reels. On the 24 day of July 1923 the patent was granted. Reels of this new design with the Yale trademark, along with the Meisselbach/Carlton designs with Yale markings were widely advertised and sold.
By 1924 Harry Kaufman and Edwin Brown were co-partners with Joseph Masin. Masin was still directing company operations in New York. However, a letter to Masin from Pequea discussing a contractual agreement between L. Kay Grundy (acting as manufacturers representative in Los Angles) and Yale Metal Products was originated by Harry C. Kaufman in Strasburg, PA. On the 17 of December 1925 Kaufman and Brown bought out Masin share of Yale. Masin's rights, title, property, good will, stock on hand, machinery and most important, his patents, were purchased for the sum of $7,225.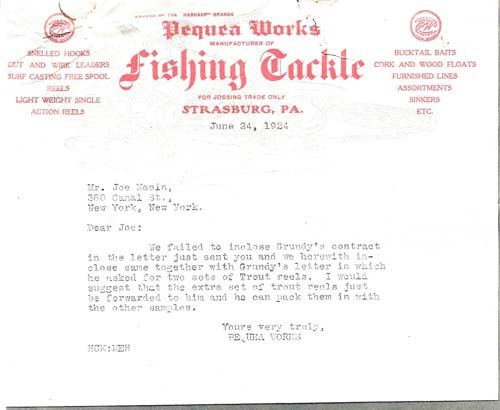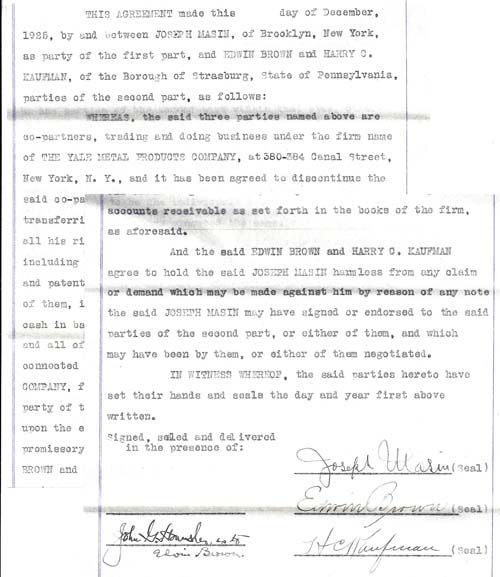 Shortly thereafter, Yale Metal Products was moved to Strasburg. Although it is not known how many, if any, workers moved with Yale from New York to Pennsylvania. I would speculate that many of them did because reel production does not seem to have been much affected. During this transition period, dozens of retailers were offering these reels at competitive prices across the country. A picture of the Yale factory and its employees in Strasburg dated 4 March 1935 is shown below.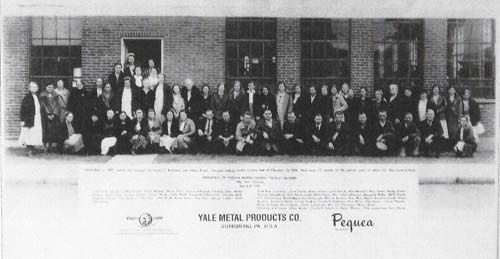 Since this article is intended to focus on Yale letterhead and related paper, and not on an analysis or taxonomy of its reels, perhaps it is best to close here. The rest of Yale Metal Products history is closely associated with that of Pequea and that story has been told in earlier articles. I would like to close with these thoughts: There are only a small hand full of tackle companies whose records have survived their demise. With the possible exception of the aggregation of paper from the Hall Rod Works factory in Highland Mills, NY, no other tackle related collection of paper has been so informative, comprehensive and important to our hobby as the Pequea records. They contain correspondence from almost every tackle maker and retailer, large and small, from the turn of the century to the 1960s. Not only U. S. companies are included but dealers from around the world. For this we have John and Evelyn Oberender to thank. Tackle historians will always be in their debt.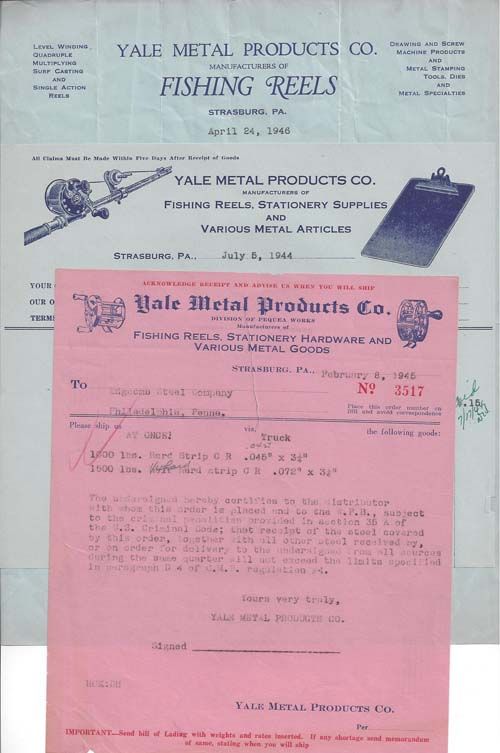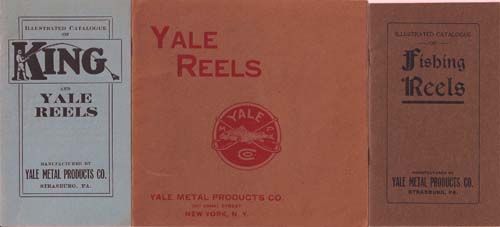 The description of the auction at the Pequea factory in 1986 was provided as a courtesy by Evelyn Oberender. However, any errors contained in this article are solely the responsibility of the authors. -- Jim Garrett & Skip Brooks