As many collectors know, we lost one of our own -- Wisconsin's Dale Dalluhn. I had a table next to Dale and his lovely wife Sally six or seven NFLCC Nationals ago, and we got to know each other (as I grew up in Wisconsin I had met him before but this was the first time we spent a lot of time talking). He sold me a wonderful fluted dealer display for my collection, and we corresponded afterward.
A few years ago I ran a feature on folk art baits, and Dale and Sally sent in pics of the two incredible 1940s Hayward, Wis. musky lures below. I loved them, as they had all the characteristics I adore in folk art lures.
A few months after Dale passed, Sally Dalluhn emailed me. One of Dale's well-known traits was his incredible generosity with his collector friends. Well, Sally said that she remembered how I had featured these two musky lures on the blog, and that she knew that Dale would have wanted me to have them. Today they arrived with a note that said "Dale loved giving."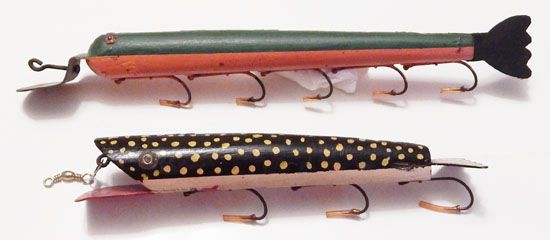 Thank you so much to Sally and the Dalluhn family. Dale is gone, but not forgotten.
-- Dr. Todd