Bob's Fly Tying Shop was founded by Bob Lauterwasser in the wake of World War II in Ludington, Michigan. Mostly known today for having sold some very nice
ice spearing decoys
they sold a lot of items they manufactured as seen by the back of the snell packet below.
There isn't a ton of information on this store, but it is known they were in business for about a decade.
The Ludington Daily News
reported on September 4, 1948 that
"When talking to Bob Lauterwasser, proprietor of Bob's Fly Tying Shop on West Ludington avenue, we were curious to kno what his reaction was when the next-door fire threatened to cook his goose. We learned that Bob had been as uneasy as an umpire in a bottle factory during the time of the fire, but he admitted the thing that worried him most was getting some 300,000 fish hooks out of stock. Good fish hooks are hard to find and he didn't want to be hooked with a loss that big. The imported hooks had been accumulated over a considerable period of time and Bob uses thousands of them in his wholesale fly and hook business.
It's a cool shop that likely bought a Herter's snelling machine and tied their own snells in the back. This makes small mom-and-pop snell packets like this rare, and nifty collectables.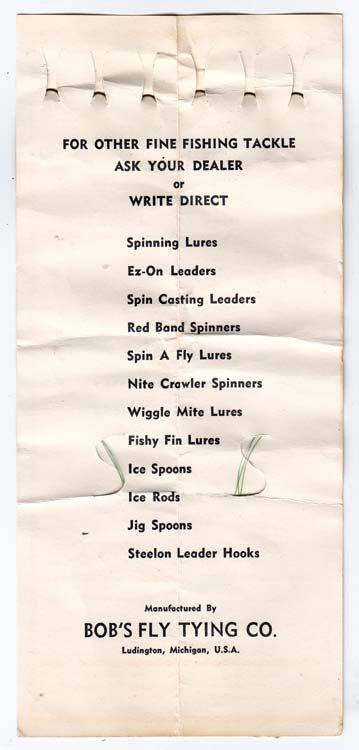 -- Dr. Todd