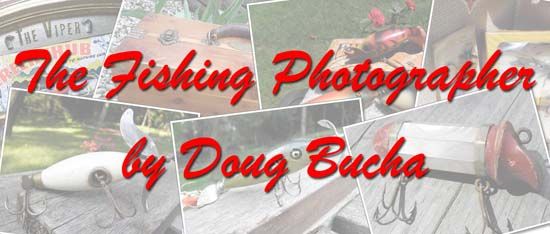 WHAT'S IN YOUR …….. TACKLE BOX?
Sometimes we find objects in old tackle boxes other than lures and reels and we classify some of these items as cross-collectables. Most of these items are such things as fishing knives, mosquito dope, etc. and have become collectables in their own right.
On rare occasion, we find objects in tackle boxes that do not directly have anything to do with fishing but were still prized possessions of fishermen. A good whisky flask during Prohibition would be such a possession. There's nothing like sharing a little nip with your best fishing buddy on a cold morning on a lake or stream. Having a fine whiskey flask in the bottom of ones tackle box would be a must.
Fine art advertising posters which combine fishing with spirits, would also fall into the realm of being called a cross collectable. When you are going through the contents of an old tackle box don't over look those other little items. Keep in mind that some of these flasks have patent dates going back into the 1870's, which makes them true antiques and very collectable.
It would be fun to make a list of strange objects that collectors have found in tackle boxes over the years.
PS. I find it a little unusual that I have never found a flask with any contents….Strange!!
-- Doug Bucha