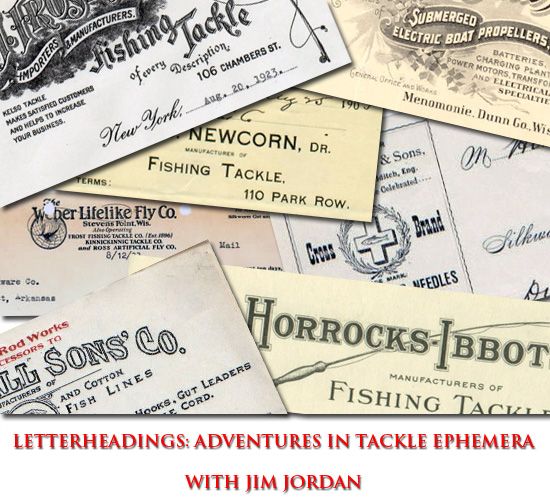 Edward Campbell Simmons' monumental  St. Louis based Hardware business was built upon his beliefs in top quality products and the use of traveling salesman to market them.
This wonderfully illustrated nineteenth century card encapsulates these beliefs. Featuring an illustration of a dapper angler suited from canvas helmet to hob nail shoes. The illustrated Simmons Trout Fishing Outfit sports a fashionable appearance of quality that could transform an average fisherman into a distinguished angler in a single catalog order. Each piece of the anglers attire and equipment is listed along with an accompanying catalog number to facilitate an order. This card by design announces the date you could expect a Simmons salesman to call. The card indicates that Simmons salesmen worked six days a week. No wonder that Simmons was one of St. Louis Missouri's most prosperous Hardware houses.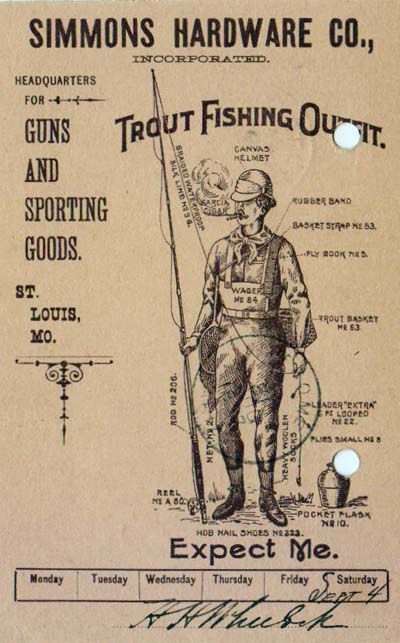 Simmons was one of the first to introduce traveling salesman in the Hardware trade. At one time Simmons had over 500 men traveling for his company. He had a close connection with his salesman. Simmons put out a personalized weekly letter filled with wit & wisdom for his sales force. He would even have them come to his home for Christmas dinner. Simmons offered profit sharing to his salesman long before it was ever a consideration of other companies. At the end of each year , every salesman would bring Simmons their record of sales and they would be paid a generous percentage of their yearly  sales. The salesman called this extra bonus compensation "Velvet". Some salesman's "Velvet" almost equalled their yearly compensation. In 1874 Simmons Hardware was the first  U.S. mercantile  company to become incorporated.This allowed Simmons to offer shares of company stock to his team for their annual bonus.
Simmons Hardware had manufacturing facilities for their line of tools, pocket knives and saddlery. Their extensive tackle line was not produced in house. The tackle they sold consisted of products made by the leading tackle companies of the day and branded with Simmons Company trade names.  The company marketed tackle under their famous Keen Kutter Brand as well as Ketch-Em Wooden Minnows, Knox- All Casting Lines and Premier Spinners.  Simmons had a registered motto  "The  Recollection of Quality Remains Long after the Price is Forgotten". One only needs to look at a Simmons hardware marked Talbot Reel or Pflueger made Ketch-Em Wooden minnow to see how true this is.
Early Carded Simmons Hardware Company Premier Fly spoon- " The Best Casting, Skittering or Trolling Bait "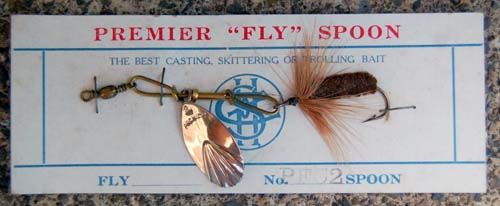 1915 E.C. Simmons Catalog cut listing The Premier Spinner - Courtesy  Jim Garrett &  Skip Brooks

Simmons line spool photo courtesy of John Etchieson.
A special thanks to John, Jim & Skip  for sharing their passion for fishing tackle history.
Best Regards,
-- Jim Jordan