I ran across this simple and elegant design for a tackle box in
Popular Science Monthly
for September 1922. It's a really cool tackle box and I hope to try and make one this winter. It is also the very first reference I can find to what became known as a "possum belly" tackle box.
Roomy Waterproof Tackle Box Adds Joys to Fishing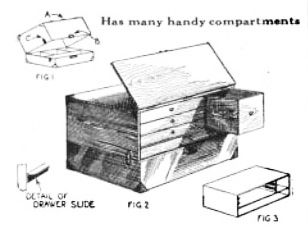 Although there is no part of a fisherman's equipment more necessary than a tackle box, it is difficult to get one that is just the right size and design. Any man handy with tools can, however, make his own tackle box.
The one illustrated is made of 3/8-in oak, the lower section, if not the entire case, being covered with tin. Closed, the box stands 8 in. high; it is 8 3/4 in. wide and 13 in. long. The top section is 5 1/8 in. high, the lower section 2 7/8 in. Each of the 4 drawers in the upper section is 1 1/8 in. deep. The square drawer for the reel is 3 3/4 in. on each side. The hinges for the drop fronts are indicated at A in Fig. 1; B is the lock and C shows one of the two catches which hold the sections together.
The lower section is partitioned off as shown in Fig. 1 and the upper section as in Fig. 3. Drawers for the latter may be made of tin and should be partitioned to accommodate the assortment of artificial minnows and lures. All tin parts should be given at least two coats of black asphaltum paint, and the wood must be spar varnished or thoroughly oils and waxed t make it as waterproof as possible.
-- Dr. Todd