The Earliest American Lure Box? Exploring Andrew Clerk's 1873 Archimedean Minnow
Recently I was emailed photos by Buck Juhasz of what I believe to be the earliest American fishing lure box, and thought I'd do some research and give a little background on the lure that almost assuredly went in this box.
The box is marked "Andrew Clerk & Co.'s Improved Hard Rubber Archimedean Minnow" and is a two-piece cardboard box with an orange paper label.
Since Andrew Clerk & Co. was renamed Abbey & Imbrie in 1875, we know for dead certain that this box pre-dates this 1875 transition. Since Andrew Clerk & Co. was known as Baker, Green & Clerk until 1864, we have a hard date for when this box was sold: 1864-1875. I believe I can more closely date the box based on some other evidence, as we shall soon see.
The Archimedean Minnow
But first a little background on the lure. What is an Archimedean Minnow? It is a fishing lure invented in Britain in 1845 by a man named Frederick Allies of Worcester. Allies received a patent for this lure on July 18, 1845, and the main innovation had a lasting impact on fishing lure design: the Archmidean fins on either side of the lure that made it spin in the water.
The term "Archimedean fins" were used to describe the two upward and downward fins that made the bait revolve. This is because they would make the bait spiral in the water like the Greek mathematician Archimedes' famous screw used to pump water in the ancient world.
Here is an example of a Townsend patented pearl phantom minnow showing the Archmidean fins from an early Cummins catalog.
The Archimedean Minnow became very popular in Britain. The first reference I can find to it is in Edward Fitzgibbon's
A Handbook of Angling
(1847) in which the author declared that the best artificial minnow is "the Archimedean minnow of Mr. F. Allies of Worcester...the artificial bait of Mr. Allies is sold by Mr. Farlow, of 221 Strand; by Mr. Cheek of 132 Oxord Street, and by all the other good London tackle-makers. Of small and middle size, it will kill (I guarantee it) trout, perch, jack, and occasionally salmon; of large size, it will kill the largest pike, the Salmo ferox, Salmo hucho, and the old Salmo salar in its inconstant moods."
A year later, William Carpenter in
The Angler's Assistant
(1848) declared "There are various descriptions of artificial minnows, one of which--the 'Archimedean minnow,' invented by Mr. Allies of Worcester--is becoming a great and deserved favourite."
By the time of the famed Crystal Palace Exhibition of 1851, Allies was clearly manufacturing a full line of Archimedean Minnows. Here is the blurb on Allies from the Exhibition's official catalog showing the range of goods he displayed:
These lures were largely used for trolling for pike and salmon, and as such remained a popular lure for over a half century. The 1866 Allcock's catalog contained a color image of the "Allies' Pectoral" minnow, referenced as the "pectoral fin minnow" at Crystal Palace, and this lure was still available in the late 1880s (see cut later in article).
The Archimedean became a standard bait for British anglers. Francis Francis wrote of it in 1874 in his
By Lake & River
: "I had a notion that I would spin it, and was rigging out my tackle, which, among other things, comprised a large sized, heavyish Archimedean minnow..." J.J. Manley was still touting it in 1877 in
Notes on Fish and Fishing
: "There is an infinite variety of artificial minnows. After trying very many, I find that practically the old 'Archimedean' horn minnow is as good as any..."
It was one of the few fishing lures to make it into English verse as well. Edward Farmer wrote of the Archimedean (and its inventor Fred Allies) in his "A Few Fishing Lines, or a Challenge to Angler" (1863) in the following stanzas:
I've learned to manufacture flies
Of every mortal form and size.
I do not mean that I can make them
As Blacker does--but fishes take them.
I've just enough of what's termed 'nouse,'
To build an artificial 'mouse'
'The Archimedean minnow' too,
Quite equal to the 'Derby-killer,'
For which men part with with so much siller;
Although the maker, sooth to say,
Has killed some rattlers in his day'
Mine take the lead, none e'er denies
Of those so noted by Allies.
Not everyone was a fan of the Archimedean. A.S. Moffat penned a blistering attack on artificial lures, naming the Archimedean specicially, when he wrote in 1865 in his
Secrets of Angling
: "Before, however, we speak of the art of minnow-trolling, I may be allowed a word or two respecting the various new inventions intended to increase the resources of the troller, in the shape of the new-fashioned bait--"Archimedean Minnow, "sensation baits," "nobbler flies," etc.--each one more destructive than any that have been seen in the world before. Truly, they would have one believe that the appetites of the fish were as capricious and as prone to novelty as milliners or young ladies..."
Suffice to say that the revolving Archimedean Minnow of Frederick Allies was an excellent innovation with a very long history in Britain. By the time Manley was writing in the 1870s, the term "Archimedean" had become a generic term used to describe any kind of similar style minnow as Allies' invention, whether they were made of horn, metal, gutta percha, or as we will see, hard rubber.
The Archimedean Minnow in America
Despite what Graham Turner might write, the use of actual fishing lures before the Civil War was unusual in America. This helps explain why so few examples of early lures show up. The few lures that were available to Americans anglers included the Buel Spoon, the T.H. Bate spinner, the Haskell Minnow, and various British imported devons, phantoms, and Archimedean minnows.
I am going to make a reasonable supposition based on available data as to what the lure that goes in the "Improved Hard Rubber Archimedean Minnow" box.
First of all, I think we can date the lure box a bit more specifically to the early-to-mid 1870s due to its use of the words "Hard Rubber." This is a term that was originally popularized in the late 1860s by the North British Rubber Company of Edinburgh, who wrote in their advertising copy for 1868 of items made of "Vulcanite (or Ebonite, or Hard Rubber)." So Hard Rubber was another name for Ebonite.
It first became popular in American fishing in the early 1870s as well, and soon became common in advertising. In fact, Andrew Clerk & Co. were sole agents (as I've written of before
on my articles on A.H. Fowler
) for the Fowler's Hard Rubber reel in 1874.
So I believe that this lure box dates from 1873-1875, as the term Hard Rubber became commonly used not just in popular parlance, but by Andrew Clerk as well.
But what does the lure look like?
The following cut comes from the 1871 Samuel Allcock & Co. catalog, and shows the "Allies Pectoral" discussed above.
The same catalog page shows what I believe to be the original Archimedean Minnow, which Allcock called the "Caledonian Minnow."
This is the lure that Abbey & Imbrie (successors to Andrew Clerk & Co.) advertised in its 1883 catalog as its "Caledonian Extra" Minnow, as seen in the cut below:
This is also the lure I believe went in the "Improved Hard Rubber Archimedean Minnow" box.
As an incredible, incredible coincidence, twelve hours before this article went to press, Stephanie Henry posted on the always amazing Joe's Board some photos of an unidentified lure. One look at it and it was clear this was a Caledonian Minnow, in fact, it is (I believe) the very lure that would have come in this box! Simply incredible. Here are Stephanie's photos, with her kind permission: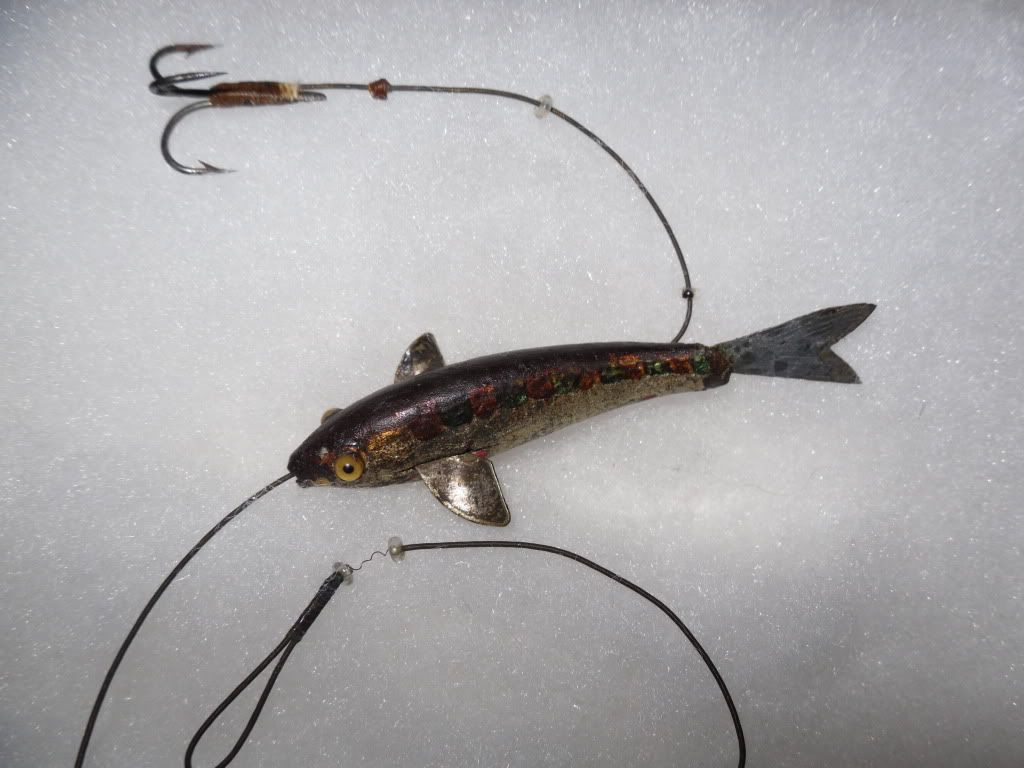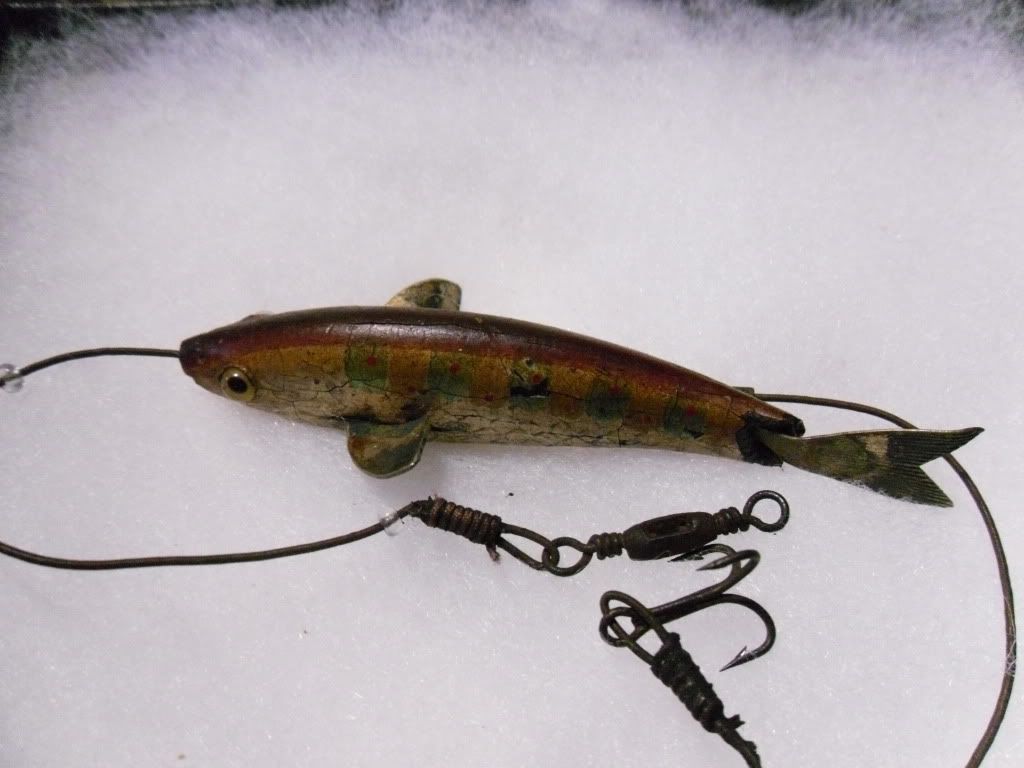 The Caledonian is also one of the few British lures that survived the American tackle making boom of the late 1870s and 1880s, that saw imported lures almost completely supplanted by lures made by Chapman, Mann, McHarg, and others. Here is a full page from the 1880 Abbey & Imbrie catalog:
Note the use of the word "Hard Rubber" to describe the A&I Caledonian.
So there you have it. The earliest American two-piece cardboard lure box I have ever seen and the lure that likely went in it. There are two very, very old cardboard boxed lures in Arlan Carter's book, including one Chapman that likely dates from 1875. But I believe this one is older.
Can anyone beat the proposed 1873-1874 date for an American tackle company cardboard lure box??
-- Dr. Todd