Dan Basore gets profiled...the next world record bass will come from Japan...drunken hooligans mar Milbridge Day Cod Fish Races...9 year old catches 8 pound bass...Texas anglers spend $3.2 billion PER YEAR...snook...a fish story around a 115 inch marlin...Tasmanian angling...fishing for porbeagles...and sturgeon...catching fish with books...following Hemingway's footsteps...the best fishing is in Chile?...do we need camo rods?...William Tapply, son of Tapp Tapley, passes away...it must be THE NEWS OF THE WEEK!
The Big Lead
: Dan Basore
gets a great write up
in the
Chicago Daily Herald
.
Why the next World Record bass
will come from Japan
...
From the Drunken Yahoo File: The Milbridge Day Cod Fish Races are marred by a brawl
involving 50-60 people
.
Boston sports site Barstool Sports reports on
supposed record massive catch-and-release Tarpon
in the only way it knows how: massive Boston homerism, factual inaccuracies, and profane comments.
9 year old boy much better angler than you: catches
massive eight pound largemouth
(with TWO painted turtles in its mouth).
Ray Sasser reports that anglers spend $3.2 billion...
in Texas alone
!
What snook anglers will endure
to catch a prize
.
A fish story with a
115-inch blue marlin
.
Angling in
Tasmania
.
Update on the World Record Bass that Maybe Wasn't: It was caught on a Bluegill, and maybe, in
a restricted part of the lake
.
A 100 pound Porbeagle gives these anglers
the fight of their lives
.
Giving thanks to
the sand eel
.
Keith Sutton goes fishing
for the Sturgeon
...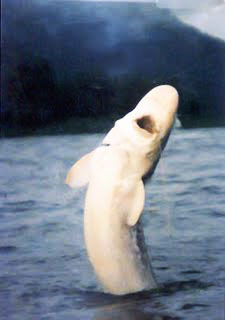 Man attempts to break world record of catching
1680 fish in one day
.
Does this look like the face of a man accused of stealing tens of thousands of dollars of fishing tackle? Yes.
Yes it does
.
Why pro anglers are hooked on
high-tech fishing
.
How (and where) to find
cheap fishing tackle
.
Catching fish
with books
.
Look out--here comes the invasive
spiny water flea
.
From the Late to the Table Files:
The Berkshire Eagle
looks at the 10 best tackle products
of the last 75 years
.
An Iraqi war vet catches
a unique tarpon
.
The High Hampton Inn
lures fly anglers through its "Cool School."
The Cleveland Plain Dealer
reviews
The Big One: An Island, An Obsession, and the Furious Pursuit of a Great Fish
.
The Times Argus
reviews
lures galore
.
Chris Hall seeks to remove the
mystery from fly fishing
.
This Panama man follows in the
footsteps of Hemingway
.
The world's finest angling is in...
Chile
???
A series of
bizarre fishing catches
. Plus
an update
.
Gordon McHenry opines on the
benefits of bobbers
.
John Merwin asks: do we really
need camo rods
?
Returning GIs to calm anxiety
with fly fishing
.
Finishing With a Flourish
: ORCA
Reel News
editor Richard Lodge sends us sad news that famed writer (and son of ertswhile
Field & Stream
editor Tap Tapply) William Tapply
passes away at the young age of 69
. He wrote a number of fishing books including mysteries featuring fictional Maine guide Stoney Calhoun...
-- Dr. Todd