The Video of the WeekThings I Would Buy If I Could Only Afford Them
Here's one you don't see very often: a
Makinen Tackle Co. spinner on the card
.

3 boxes of the
Fishing Fish Spoon
--the only spoon that was never used (as far as I can tell) by an angler. Seriously, these show up new in the box so often one wonders if they were ever actually sold.

This is a flat out awesome
E. vom Hofe salmon reel
.

How about a nice
Tycoon Tackle Craig Special
saltwater rod?

This nifty
Shakespeare Worden Bucktail spinner
is a classic early 20th century lure.

A tip to investors:
vintage glass rods
are going to be the next big thing.
This is a great graphic card for the
Pflueger Frog Harness
.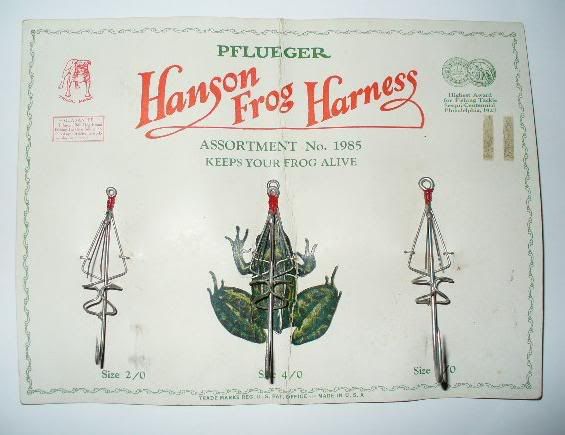 This is a super sweet
Perez saltwater reel
.

This
Heddon Artistic Minnow
comes with the buoy, which is pretty rare.

This is a
great Otto Zwarg
400 3/0 salmon reel.
I don't know much about this
Florida Lure Mftg. Co. bait
of Eustis, FL, but it has attracted a lot of bidder attention.

75 issues of early
Fishing News and Fishing Facts & Secrets
has received a whomping opening bid.

Gene Edwards is a very hot rodmaker to collect and fish these days, and
this is a nice model
.

I do like this
Shakespeare Musky Minnow
ever so much.

I love Coach Dog paint jobs, especially
on a Heddon "00."

I'm still trying to figure out the deal on this
Armax skeleton fly reel
...

The Follett
is one of the iconic vintage fly reels and doesn't come up for sale very often at all.

The Meek Blue Grass No. 3
is a classic high end casting reel.

A Heddon Crazy Crawler in Luminous
is a super tough color.
How about a
Streich's Acro-Bait in the box
?
You're not going to find a cleaner
Paw Paw Caster Bait
than this one.

This L&S Muskie Master
with the red eye is a classic early plastic bait from this company.

A Bomber Kreeker in WWII Victory Finish
is a great piece of war memorabilia, and a neat lure to boot.

The classic UMCO 1000A
is the standard for these aluminum tackle boxes.

A Jim Pfeffer bait
is always a popular lure.

A vintage Hollowhead
is a surprisingly tough little lure to find.

As always, have a good and safe weekend, and be good to each other, and yourself.
-- Dr. Todd