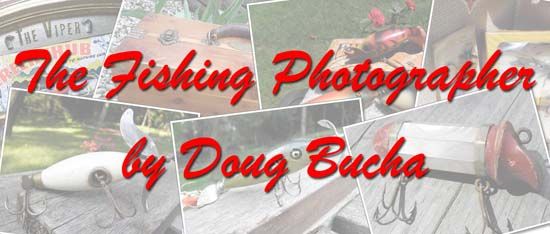 BLACK LIGHT PHOTOGRAPHY: A NEW PHOTOGRAPHIC TOOL
I first saw the black light photography method used by Frank Cristao a few months ago. It got me thinking about some other ways that it might be used by collectors. It could be a useful tool when either buying or selling lures on the internet. Example: As the photograph of the solid black South Bend Vacuum bait shows, the repainted area under black light photography stands out.
As you can see, this method even works on lures that do not glow in the dark.
A good example/use would be when a buyer is unsure of a lure that he is interested in, he could ask the seller to take some black light photographs of it and send them to him. The reverse would be true in that a seller could show a lure he was trying to sell, was not touched up. This method could save a lot of time and hard feelings. Black light photography seems to work with any good digital camera. It's a lot of fun. Maybe some other uses can be found? Let me know.
Your Fishing Photographer: Doug Bucha