This week in Hollywood Goes Fishing we feature a photo of Robert Ryan deep sea fishing as Shirley Booth looks on. This photo was from the set of the 1954 film
About Mrs. Leslie
, which is basically a film about how a millionaire (Ryan) hires a comely woman (Booth) to be his "vacation companion" but tells her nothing about his life.
Ryan (1909-1973) was a solid actor and a genuinely tough guy (he was the Dartmouth College Heavyweight Champion his entire time he was in college). He usually played menacing heavies like his murderous character Montgomery from the criminally underrated 1947 film
Crossfire
. It does not look like he is very comfortable handling that Penn reel ...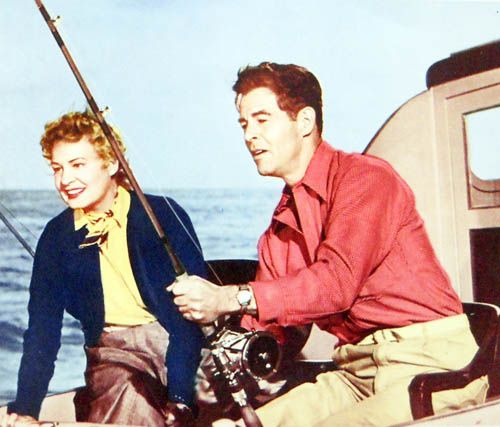 -- Dr. Todd