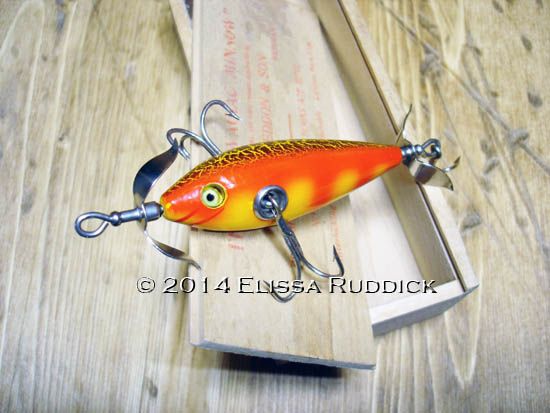 I love most every color of vintage fishing lure that was ever made, as they all have their own unique beauty. Like all lure collectors though, I suppose I do have a favorite color. Let me rephrase that,
I do have a favorite color!
For me, it is Heddon's "Rainbow Fire," a nickname given by collectors to describe a variation of Heddon's Fancy Sienna Yellow, color code 7. I'm not sure who first started painting this variation, nor when, nor why, but I have to tell you, whoever came up with it,
IS MY HERO!
First of all, the regular Fancy Sienna Yellow color is a fabulous color in its own right -- no improvement necessary -- but whoever thought of adding the rainbow colored vertical bars or stripes, which look like they are dripping down from the normal rainbow colored horizontal stripes toward the yellow bellies of the lures, was a genius! Maybe it was by accident, and the employee decided to just keep going. No matter how this color came about, I am completely infatuated by it. I don't think I have the words to describe what this color combination does for me! Well, I can think of some, but I best keep those to myself… Can y'all tell how much I love this color? I don't think Heddon made very many lures in this color, as this particular variation seems very tough to find. It's a good thing I do like many other colors, because I wouldn't qualify as a true lure collector with only two lures in my display case. Hey, don't y'all think a 1969 Camaro Z28 would look cool painted in this color?
If you have any questions/comments, Elissa Ruddick can be reached at elissaruddick AT aol DOT com.
-- Elissa Ruddick