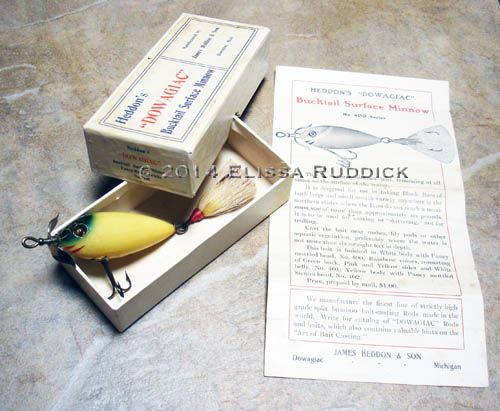 Many times I talk about a lure's color, and I certainly will again and again, but today I will focus on the whole package; the lure, the box, and the box papers. Most collectors -- me included -- would prefer to have the complete combo whenever possible. Let's face it, though, most of the time the boxes and paperwork were discarded when the lure was placed inside the tackle box and then used to catch fish. We do the same thing today, so it is very nice when we can find everything together, as it was over 100 years ago.
This Heddon No. 400 Bucktail Surface Minnow combo dates to 1908, and was short-lived in the product line, only lasting for two years. This makes it even tougher to find it as a complete combo. I love the lure, but I love the box and box paper even more! As I look at this combo, it makes me wonder who originally bought it and wonder why it was just stored away. More times than not, we will never know the stories behind the vintage fishing tackle that we collect, but we can dream, just like I dream about buying more of these for the $1.00 prepaid by mail price shown on the box paper! Wonder if I followed the suggestion on the bottom of the box paper of writing for the "Dowagiac" catalog, if I would get one? Well, I can sure dream, anyway …
If you have any questions/comments, Elissa Ruddick can be reached at elissaruddick AT aol DOT com.
-- Elissa Ruddick