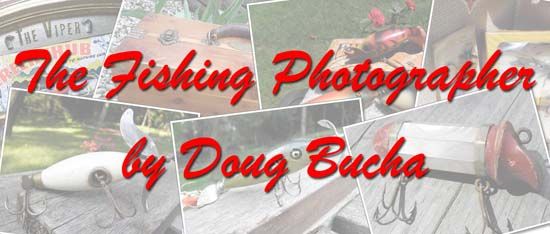 FALL COLORS OF MICHIGAN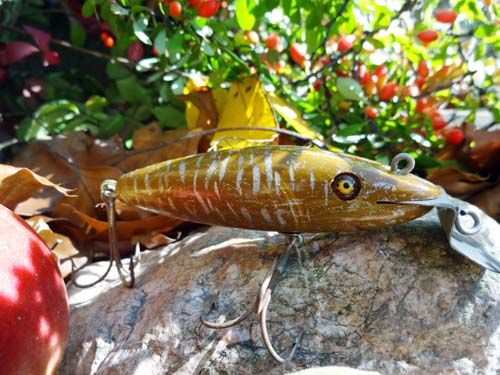 It's fall in Michigan and the colors are fantastic. The time is right to have your camera handy. I was lucky enough to catch a shot of this old Creek Chub rustling around in the leaves the other day.
This is possibly a preproduction model!! The lure does have all the typical features that an early 100 would have, such as a slanted head, no washer tail, flat cup hook hanger, unmarked lip and so on. This lure, however, has a few other things going for it that gives me deep thought that it may be a preproduction lure.
The lip is not only unmarked, but un-plated. The other hardware is also unfinished. It does have the belly weight. The thing that really stands out is that the holes for the eyes and the line tie are very crudely drilled and look like they were hand painted over to cover up the bare wood. I have seen other lures painted with this same brown color pattern but they all had gold markings. This one has silver markings.
The lure was purchased from a lady and her husband who stated that it had come into their possession from a great aunt who would have been well past her 90's, if still living. The great aunt was from Garrett and "had worked for the bait company in town". To give you a perspective as to a time frame, a very early Shakespeare Baby Revolution with Mickey Mouse props was also acquired from the same party.
Your thought's or knowledge of very early Creek Chub 100's would be welcomed.
Doug Bucha (dbucha AT att.net)