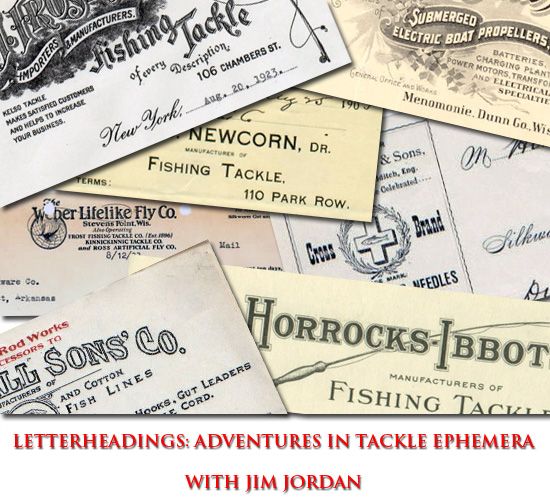 EDITOR'S NOTE: Jim Jordan has had to take a (hopefully) brief leave of absence from Letterheadings. Filling in for him until he gets back will be some guest posts from a pair of great fishing historians, Jim Garrett and Skip Brooks. Here is their first offering; many thanks to G & B for filling in at the last minute!
Hello Folks - for this session and the next couple we're going to discuss one of the major tackle producers of the Twentieth Century. Strangely, it is one of those companies that flies beneath the radar of many collectors. Anecdotal evidence indicates that Harry C. Kaufman was making fishing baits in his home as gifts and for sale at least as early as 1902. By May 1905 these baits were advertised in The Amateur Sportsman Magazine under the name of H. C. Kaufman & Co. located at 1835 Cumberland St.Philadelphia, Pa. We have not seen any correspondence from this early period. Whether this business failed or was voluntarily dissolved is unknown.
The Philadelphia Bait Company was the next variant of Kaufman's tackle endeavors. In July, 1906 he signed a three year lease to rent factory space on North Franklin St, Philadelphia. The Rent was paid until August 1907 when the company became insolvent. Anticipating that all would not end well, Kaufman began moving assets out of the factory to a new location in Strasburg, PA before they could be attached by the sheriff for payment of debts. Dozens of creditors were left comfortless when the company went under (i.e. E.K. Tryon Co. and the Supplee Hardware Co.). In characteristic Kaufman style Harry requested preferential treatment in his demands for $600 in salary he claimed the company owed him in back pay as its President.
Kaufman would rise again, like the Phoenix, to form a new tackle company headquartered in Strasburg, PA. Edwin Brown, principal of the Strasburg Public School, became his partner. Early correspondence from the company can be found dated as early as April 1910 but it was likely trading under the name, Pequea Works, at least a year or two earlier. A hand written pay roll dated 12 April, 1909 lists 25 employees in addition to Harry. Success at last! The company was known at various times as Pequea Works, Pequea Tribe and Pequea Fishing Tackle. These names and other variations were sometimes used simultaneously in the later years of the company. The company expanded rapidly buying manufacturing facilities at other nearby locations and by acquiring the Yale Metal Products Company located on Canal Street in Manhattan City, NY. Yale Metal Products was quickly moved to Strasburg for the production of reels and other tackle Ephemera. Edwin Brown died on the 19th day of April, 1941 and Harry bought his share of the company from the Brown estate. Harry Kaufman died in April of 1952. After a long and ultimately successful history the company was finally dissolved and sold at auction in 1986. At this auction dusty cardboard boxes detailing the life's blood correspondence of the company and its predecessors was scattered among eager bidders intent on owning a piece of its history.
In this segment, three of the four known styles of The Philadelphia Bait Company letterhead will be shown. The fourth style, not available to this writer, shows an early involvement by Edwin Brown in this company but his position is not detailed. Also shown is a blank stock certificate from the Philadelphia Bait Co. In the next two segments letterhead from Pequea and Yale Metal Products will be discussed.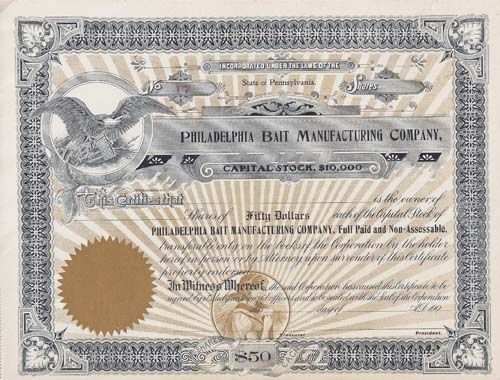 -- Jim Garrett & Skip Brooks