The Pflueger Medalist is one of the most popular fly reels ever made. Dating them can be tricky, however, but the following article from the August 1936
Sporting Goods Dealer
might help a bit. It helps to pinpoint when Pflueger added the "graduated drag" button on the back plate.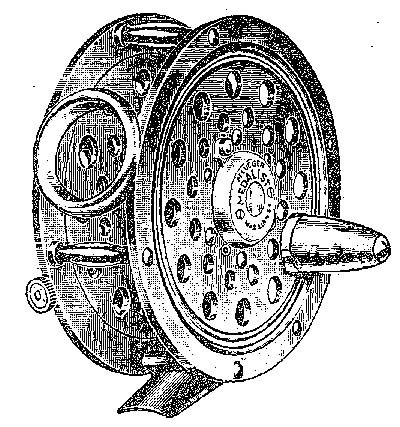 Pflueger Medalist Reel Improved
"Fishermen have long desired a reel like the improved 'Medalist,' which is equipped with a device whereby a smooth and even tension can be applied to the spool when running out the line," states Enterprise Mfg. Company, Akron. O.
"The new and improved Medalist in sizes 1494 and 1496 will therefore be welcomed by the fly rod angler as filling the above requirement in a most practical and satisfactory manner.
Medalists Nos. 1484 and 1496 are now offered with a graduated drag operated by a thumbscrew on the back or tail plate of the reel, by means of which the amount of tension, either light or heavy, can be applied as desired. The tension of drag applies only as the spool is running out and automatically releases as the line is wound in. Independent of the tension drag a slight click action is also retained.
As will be noted, the graduated drag is only supplied in numbers 1494 and 1496, which have the line guide. Both in experimental tests as well as in actual fishing, this new medalist has performed in a satisfactory manner and is highly recommended by those who have used it."
I love these early Medalists, and the ones with the small white knob are great finds, which date from the summer of 1936!
-- Dr. Todd