I recently came across a photo of Mary Charteris Thorburn, a famed fly tier and tackle maker from Scotland. She was in business from about 1915 through her death in 1950, and made flies for most major outlets. She also sold a ton of tackle branded with her name, including Young and Dingley badged reels.
The following blurb was published in the July 1916
Forest & Stream
and came with the accompanying photo:
Miss M.C. Thorburn, in her Workshop at Edinburgh, Scotland, Making Salmon Flies
American sportsmen have grown accustomed to seeing fields of outdoor recreation and activity they once thought restricted to mere man, invaded--and successfully, too--by their new partner in fun, the sportswoman.
Many of them, however, probably do not realize that the broadening out of woman's activities in the countries at war has included her entry into the field of dressing expert fishing tackle for anglers all over the world.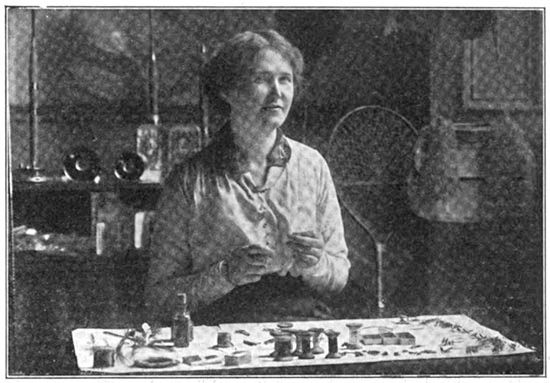 The picture shows Miss M.C. Thorburn in her workshop at Edinburg, Scotland, dressing spring salmon flies. She conducts the entire business herself, which besides the making of both wet and dry flies for trout and salmon fishing, includes the manufacture and sale of trout and salmon gut casts, rods, nets, and other equipment for the expert angler.
Her obituary from
The Scotsman
dated January 9, 1950 helps us to better understanding this pioneering tackle merchant.
Edinburgh Business Woman's Death
The death occurred yesterday of Miss Mary Charteris Thorburn, fishing tackle maker, of 59 George Street. Miss Thorburn, who was an expert in fly dressing and made flies for all the big competitions, was well known to anglers throughout the world. She started the business shortly after the First World War at 12 Shandwick Street and some 20 years later moved to the George Street Premises. A native of Dinwoodie Station, Dumfriesshire, she was 71 years of age. The business will be continued by her niece, Miss Nessie Graham, who has been associated with her in running the shop for many years.
An amazing lady. To see some examples of trade reels sold by her company, click
here
.
-- Dr. Todd