The following article appeared in the July 1917
Popular Science Monthly
. It features a new device invented in Wisconsin for keeping spinners from tangling the line.

A Spoon Hook Which Will Not Tangle Your Fishing Line
For ten years Charles Leonard, of Lake Geneva, Wisconsin, got his fishing line tangles of fouled when he used a spoon hook and pork bait for the large mouthed bass that abound in that section of the country. Sometimes the hook would snarl his line four or five times in succession, taking all the pleasure out of the pastime. Making up his mind one day that he would invent a spoon hook of his own that would not tangle his line, he proceeded to the task, and the result is that his name is in the Patent Office and he has a spoon hook which can be cast all day without snarling the line.


In the old type of spoon hook the casting weight was attached to the line just above the spoon. This was the cause of all the trouble. In this new hook the weight is attached at the top of the hook, above the joint. Attached to the underside of the lead weight and leading down to a ring below the joint are two wires which prevent the spoon need of the hook from buckling or doubling back. The inventor says he has cast the hook for three hours without a tangle.
Leonard received Patent #1,222,774 on April 17, 1917 for his trolling device. I have not seen one of these in person. If anyone has seen one, let me know!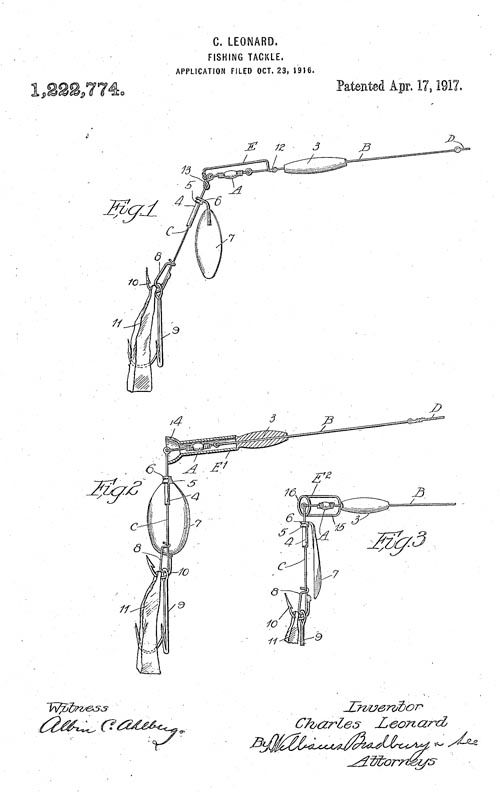 -- Dr. Todd