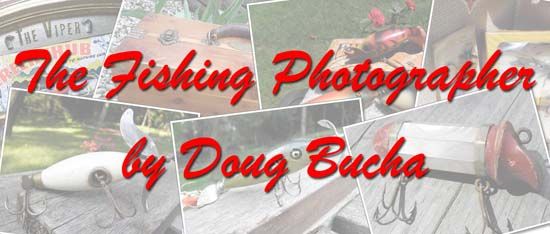 JUNE IS STRAWBERRY TIME IN MICHIGAN
Yes, June is strawberry time in Michigan and as you can see, strawberry can have a second meaning. This would be the classic Heddon "Strawberry" finish, to be exact. Heddon called it spotted, or simply "S" if you were ordering a lure in this color.
Where did this name come from and who was the first collector to coin it? As we look at the lure, it is easy to see where the name came from. The color seems to show up for the first time on the 1911 Swimming Minnow. The next lure to use this color was the 1913 Dummy Double. The name spot or spotted was the cataloged color for both lures. I was unable to find the name Strawberry used in any Heddon catalog throughout the years.
The oldest published use of the name Strawberry appears in Kimball's early reference books. The book says, the #11 had white with red and green decorations- referred to as "strawberry".
I checked with a few collectors who have been collecting for years and none of them knew who coined the name. One collector has even been an advanced strawberry collector from the 1970's.
I will now open the question up to you, the collecting fraternity. Who was the first collector to use the name, Strawberry? If anyone has a good answer, please write or call me so I can post it for everyone to see.
Thank you,
Doug Bucha (dbucha@att.net)