Since I'm not the sharpest tack in the box it took me several years to understand some things about Shakespeare pocket fishing calendars. I first bought a 1947 calendar. Several years later I found a couple different years. Eventually it dawned on me these calendars were a give-a-way item each year. The earliest year I have is 1942 and the latest is 1968.
These wallet size calendars are 2 1/2" by 3 3/4" and  are double sided. They list each month of a year and indicate which are the best days to go fishing. From a 1960 Shakespeare catalog I see these calendars listed for sale at a cost of $5.95 for 500 calendars with three  imprinted lines.  It states, "Dealers hand them out when writing up licenses or upon completing a sale." Each calendar features a different Shakespeare item for sale. Great graphics!  
If anyone has more information cocerning these Shakespeare Pocket Calendars I'd love to hear from you: michaelkoller39@yahoo.com. Since I have many missing years I'd also be interested in any calendars you might have for sale.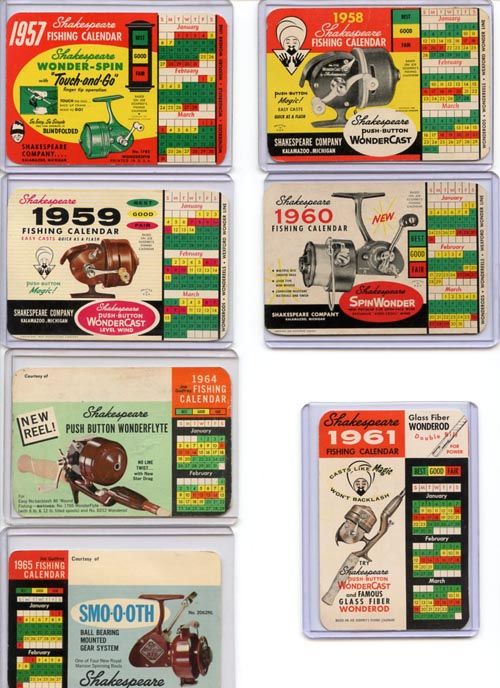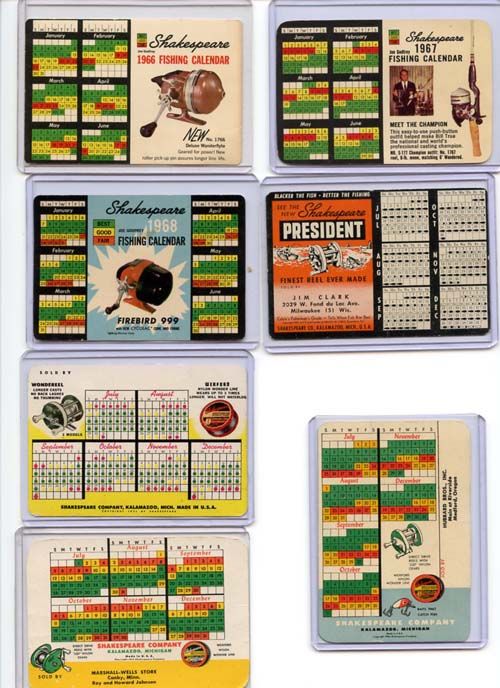 -- Michael Koller