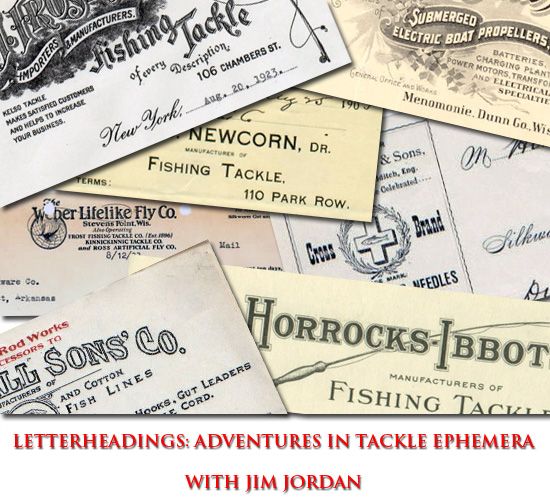 This weeks feature includes some wonderfully illustrated paper from the John J. Hildebrandt Company.
This Indiana postmarked envelope is colorfully decorated with a bass in pursuit of one of  Hildebrandt's # 3 Spinner Flies. The reverse of the envelope features a Mill Stream fishing scene. A wading angler playing his catch against a backdrop of waterfalls. The words "Hildebrandt Spinners for all types of game fish 240 Sizes and kinds" leads me to believe this envelope was only used for a short period. It is the only reference I have found which lists the number of variations in their line as 240. Various advertisements from 1908-1913 list anywhere from 7 sizes & 25 styles to 9 sizes & 50 styles. By 1916 Hildebrandt was advertising a number of variations as high as 302.
  This letterhead dated 3-6-17 features more colorful artwork. A wilderness stream fishing scene with a wading angler removing the hook from his catch.  Titled the John J. Hildebrandt Co. with a subheading Manufacturers of Fishing tackle ,Jobbers of Sporting Goods Logansport, Indiana. Hildebrandt manufactured their spinners and flies, but also sold rods, reels, fishing line and minnow pails made by others.
  This letter which accompanied a Hildebrandt catalog serves as an introduction by the son of company founder John J. Hildebrandt,  H. H. (Hiram) Hildebrandt , President.  Hiram Hildebrandt assures this potential customer that at least a few of the companies 302 varieties of baits are adapted to suite his or any type of fishing. Hiram makes a personal offer to help aid the customer in selection of baits. H.H. describes personal service as one of his hobbies, as well as the companies business model. He even extends an offer to the customer to call on him at any time.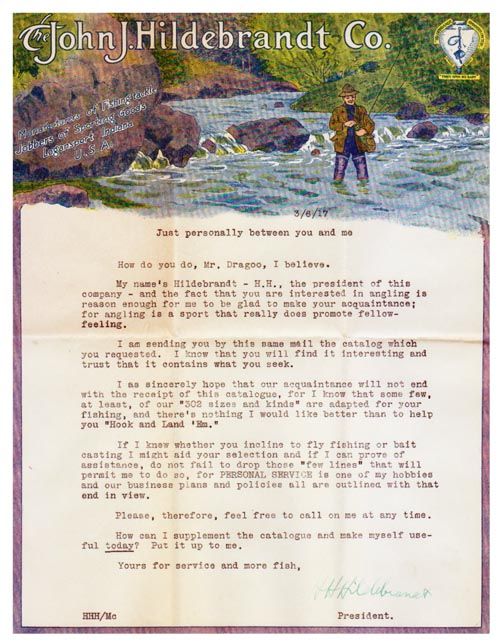 The upper left corner of the paper shows an early Hildebrandt Trademark logo."Hildebrandt  Spinners on Top" and the words "They spin so easy." These words really capture what set Hildebrandt spinners apart from other spinners of the day.  Hildebrandt spinners revolve effortlessly, even on the slowest retrieve. This feature was a great departure from the heavy spinners offered by most other tackle makers of the day. These heavier spinners required a fairly fast retrieve or troll simply to keep the bait off the bottom.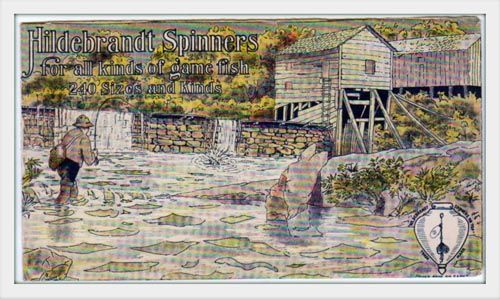 Company founder Big John J. Hildebrandt originated the idea of a thin spinner blade on the first spinner he created. It was made from an extremely worn dime, found swimming among his pocket change. This ten cent piece was so shiny, it glistened. This dime immediately reminded John of the shiny silver minnows which were causing a feeding frenzy among so many smallmouth bass. The silvery bait fish were so plentiful during his day of fishing that the bass would hardly consider any of the flies he presented. Hildebrandts spinner, born out of frustration of bass ignoring his flies, perseverance and the likeness of this dime to the silver minnows that beguiled the unobliging smallmouth bass. Big John pounded this shiny dime even thinner, drilled a hole near the edge and shaped the metal into a concave shaped spinner blade.This blade along with one of Johns wife's hairpins formed the beginnings of this long lived and historic Indiana Tackle Company.
Best Regards,        
Jim Jordan