Today's feature is a Mit-Shel Stamping Mfg. Co., letterhead and illustrated envelope. The heading of this letter is rather general and is not fishing tackle specific.This style letterhead most likely was used for correspondence for all of the companies business. Mit-Shel was incorporated in 1921 by Edward H. Mitchell, Theodore Schell and William Spohr. They manufactured a wide variety of stamped steel products for farming, including brooders, feeders, buckets and troughs.
The heading includes the companies name as well as their "UP TO DATE" 1922 trademark logo and their location, Quincy, Illinois. This May 19,1931 letter is addressed to L.G. Hayes. L.G. Hayes was a respected angler and contributor to Outdoor Life Magazine in the 1930s. Hayes at the time of this letter was the buyer for % Square Stores.
The content deals with a Mit-Shel rep., J.H. Cox soliciting minnow bucket and fish bag business from the Star Square store. It appears a promise was made and perhaps a deal was in the works. Mit-Shel's, J.H. Cox writes to inform Mr. Hayes that his custom floating galvanized metal live fish box was complete. The box would be delivered within the next seven to ten days.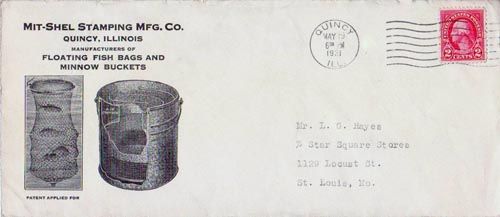 The custom fish box was a gift, as J.H. Cox only asked for a photo of one of Mr. Hayes future catches in return for the box. Often times vintage letterhead are found missing their original envelope or vice versa.
Fortunately the letter and its original envelope were found together. The envelope featuring illustrations of Mit-Shels floating fish bags and minnow buckets gives the package some nice visual appeal.
Best Regards,
Jim Jordan