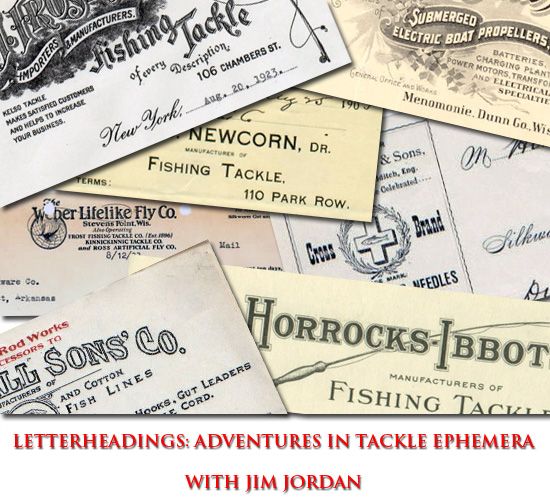 This weeks feature is from the E. H. Peckinpaugh Company, Chattanooga, Tennessee.  
The business of fishing tackle has no off season. In the first month of 1930 we find Ernest Hilary Peckinpaugh adding a new creation to his line, promoting existing baits, seeking orders and testimonials.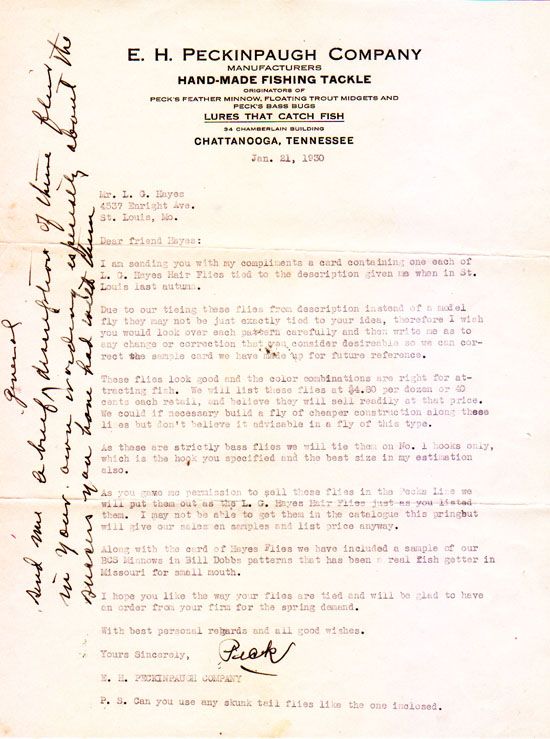 This January 21, 1930 letter offers some wonderful content. Peckinpaugh informs Mr. L.G. Hayes that he is sending him a complimentary card of  L.G. Hayes Hair flies. Absent of a sample, these flies were tied based on a pattern described by Hayes. Peck also mentions that Hayes gave him permission to sell these bass flies in the Peck line. Peckinpaugh was unsure if these new Bass flies would make it into the Pecks catalog this printing. (Peck was correct, the Hayes Fly was absent from a Peckinpaugh Tackle catalog/folder with a July 24, 1930 date typed on it). Pecks salesman would be given samples and a price list of the Hayes Flies. List price would be $4.80 a dozen.
Along with the Hayes flies, Peck sent along  a sample card of BCS minnows in the Bill Dobs pattern as well as a Skunk tail fly. Ernest lets L.G. know that he would be glad to have an order from his firm. After the letter was typed, Peck added a hand written request that Hayes send him a brief testimonial including a description of his flies in his own wording, especially about the success Hayes has had with them. Finally, it is simply hand signed with the abbreviated name, Peck. Of the handful of Peckinpaugh correspondence I have seen only one was formally signed with his full last name.
The actual heading on this piece is rather uninteresting, simply listing the company name, location, the fact their baits were hand made and a mention of a few baits the company originated. As well as Pecks slogan "LURES THAT CATCH FISH".
Best regards,
Jim Jordan