The August 1932 issue of
Sports Afield
is one of my favorite individual magazines. The first thing I really like about it is the Cover. I want to meet the fellow that fishes who does not like this picture of a Smallmouth Bass leaping after a flying insect.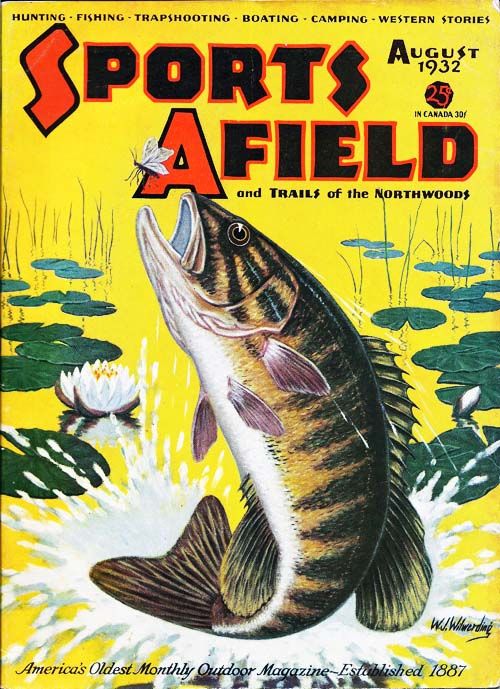 I use to think this sort of thing only happened in paintings but a few years ago I was sitting in the shade looking out over Stoney Lake one hot afternoon and bass were jumping out of the water almost continuously over a large shallow area. As I was watching dozens of dragonfly's skimming back and forth a foot above the surface, out of the water came a bass and nailed the dragonfly I was observing. As I watched over the next 45 minutes, bass were leaping right and left trying for a dragonfly snack. I would say their success rate was about 25%.
As I looked through this issue several things struck me. There are lots of ads for resorts and several for large hotels in Duluth and Minneapolis with room rates from $1.25 to $2.50 a day! When I came to the following advertisement, I stopped in my tracks. It is always great to see an ad that answers a question. As a long-time collector of early bass fishing books, I have been aware of the "NORTHWOODS LIBRARY" for several years. One does not see this interesting collection of booklets written by Robert Page Lincoln very often. I am lucky to own two copies and I have seen only one other. I don't know if they were ever sold over the counter, but here is the entire set, laid out and given away "free" with a one year subscription to
Sports Afield
. This sounds good until one thinks about the $2.00 cost. I notice that the news stand price for an issue is $.25. During the same period other outdoor magazines were selling for 10 and15 cents and in the case of
Hunting and Fishing
a mere 5 cents! Issues of
Sports Afield
from the early 1930's are somewhat scarce and the original price may be the reason.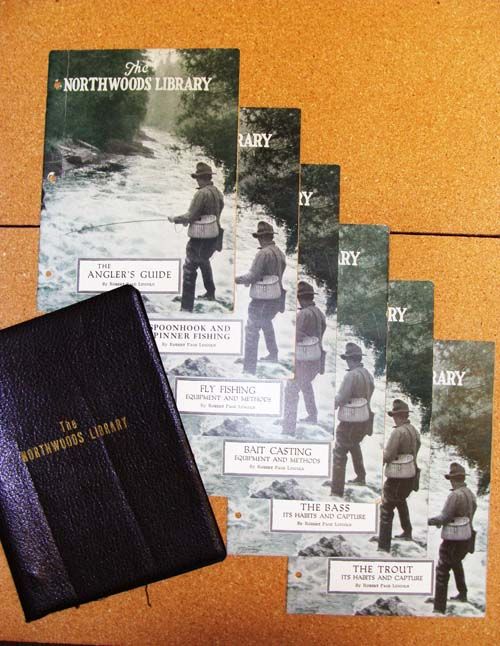 A complete set of the NORTHWOODS LIBRARY booklets along with their genuine "Dupont" cover.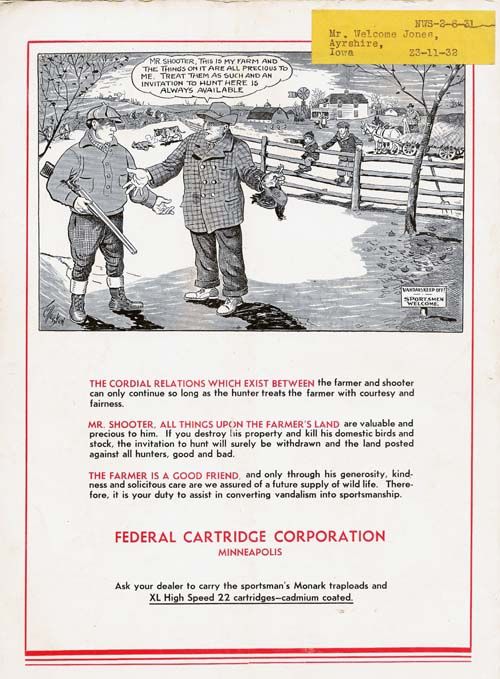 The back of the magazine.
It is not often that we feature the back cover of a magazine, especially when it has nothing to do with fishing. The message here is from the Federal Cartridge Corporation and stresses that if hunters want to be welcome on a farmer's land they need to respect his property. The fact that the farmer is patiently explaining this fact of life to "Mr. Shooter" while holding a dead chicken and the farmer's children are in the background pointing to a dead calf, stretches my sense of reality. I grew up in farm country and have a different idea of what advice "Mr. Shooter" would be receiving at this point.
Finally I would point out that up in the corner of this full page ad that deals with what it takes to be welcome on a farmer's land, is the original 1932 mailing label. On it we see that the magazine was mailed to Ayrshire, Iowa (population 143 in 2010) to none other than a Mr. Welcome Jones. You can't make stuff like this up!
Tight Lines
Wild Bill Sonnett