A Really Great UNID Lure Story, Or Why I Love Collecting
by Joe Van't Hof
I live in Saskatoon, Saskatchewan, Canada and have been collecting for around 25 years. I collect various Canadian tackle companies and Moonlight. About 20 years ago I purchased the pictured folk art homemade lure at a garage sale from the widow of the maker. It took some thought and I always wondered if the maker was just tinkering in the garage and wanted to come up with a new lure or was trying to build something that could really catch fish. By the looks of the thin metal wire he used to fasten the soldered ring he was trying to make the ring that held the hooks to slide freely up and down the shaft of the bait while allowing the bait to revolve with the attached aluminum wings. This all aluminum bait has always been in my unknown folk art pile and has had a soft spot in my heart for all of those 20 years.
After a 20 year wait to see another one, today, a friend of mine gave me this new and improved version that he purchased at a garage sale earlier this year. Apparently the inventor did improve on his initial design by using a stronger wire, separating the aluminum to make a revolving head and using thicker aluminum for the wings to drive the revolving ability.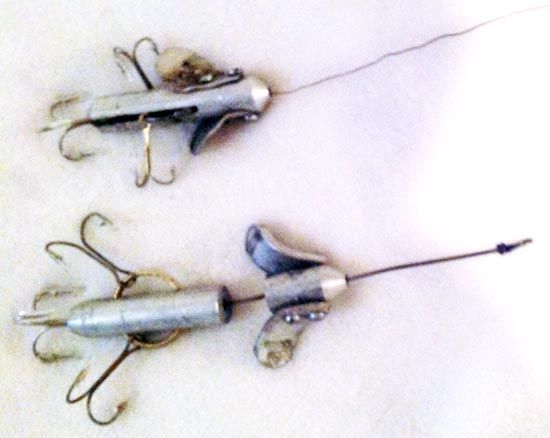 The lures were hand made in a man's garage, I surmise from the remnants of an old battery operated penlight, and some good old ingenuity I guess. I have a couple of other lures that I purchased from the same tackle box where the fisherman looked at a metal spoon, a 58 MYR (patent # 173409 made in Sweden with metal wings) and he probably thought I can make this and promptly set about to making the same lure himself. The attempt was very good but he clearly was mimicking the one in his own tackle box and thought I'm not going to pay a $1.00 for this when I can make it myself. I've added a couple of photos of this bait as well.  I'm sure others have similar stories but it really struck me today when my friend handed over the other revolving bait that what I suspected was true and that this fisherman/inventor was no doubt continuing to work on this unique creation of his. The search continues for others like it!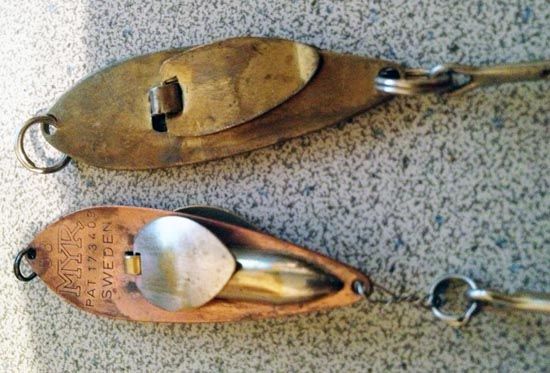 I still have no idea who the maker was (didn't have the presence of mind to ask the widow at the time) but thought it would be neat to share how an inventor played with their design looking to make it better each time.
-- Joe Van't Hof