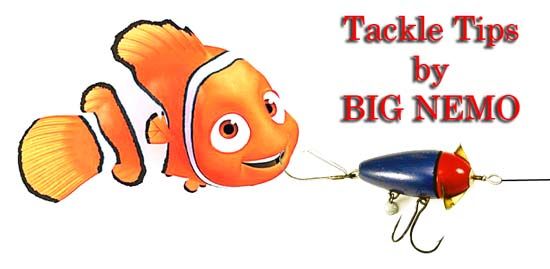 NFLCC History Part I
BY: "Big Nemo"
Forty two years ago on November 30, 1970, it was my 22nd birthday and I got up to go to work. Like every other day since I can remember after college in my Fathers Sporting Goods Store in the small Town of Guthrie, Oklahoma pop. 9,000. The Store was full line we carried everything from Crestliner Boats & Johnson Outboard Motors to Shakespeare, CCBCO, Heddon, Southbend and all the rest of the major sporting goods brands. We also carried athletic equipment, guns, and ammo "Everything's for the Outdoorsman" which was my Dad's store theme. The basement of the store held a gun range, a gunsmith, and motor repair shop we had it all and I lacked for none of it growing up. I did everything in that store from sweep the floors to string Tennis rackets by hand.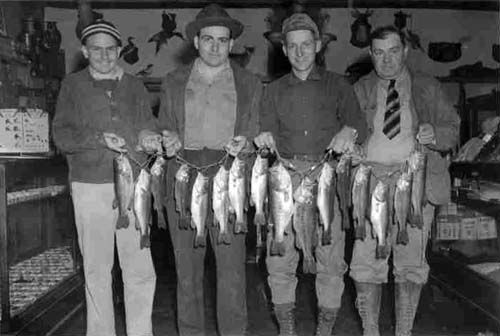 My two uncles Marvin and Chuck Austin, Bill Nelson and my Grandfather John Austin in Bill Nelson Sporting Goods, 1938
<.br>
My Dad was a Gentleman outdoorsman that grew up when the fish and game were plentiful in North Central Oklahoma and working at Jack Talbot Sporting Goods in Guthrie in 1920's sweeping floors just like me was his dream job. He married my Mother Zelma in 1931 and with saving from both their jobs and a little help from their parents they opened Bill Nelson Sporting Goods in 1936.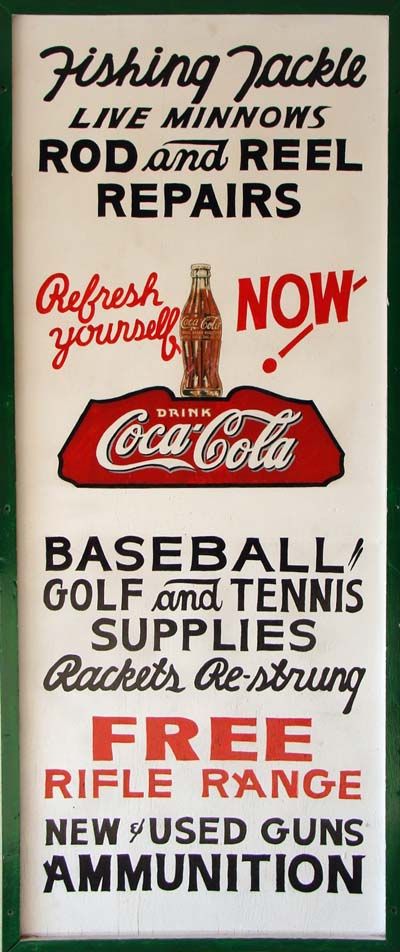 Sign from outside my Dad's store painted in 1938.
This was a downtown location on the square next to the Fire Station and across the street from the Post Office. The Building was a Historic Building built in 1890 by the famous architect Joseph Fuchart one year after the land run and was 25' wide and 125' deep.
Back to this birthday of mine in 1972, it was a day like any other day in most ways but I had no idea how my life would change after that day.
About 1:30 after I had returned from the drug store up the street to grab a Ham and cheese on rye and a soda fountain Coke, a little man walked into the store and began looking around at tackle. My Dad suggested he look behind the wall that ran half the length of the store at the lures hanging there. Six strains of piano wire running 50' in length and on those wires were hundreds of glass eyed lures from 35 year prior. After about an hour he came out from behind the wall with what looked like 50 plus lures. My Dad rang him up on the old brass NCR cash register and it totaled over $100 which was a very large sale for any retailer in those days. I did not think much of it till about a week later on a Saturday another customer came in the store a very big man and he went directly to the old lure section on the store and started loading up. I worked Saturdays allot by myself so I ask him where he was going fishing and he was quick to reply "I'm not going fishing, I collect these"! I was a little set back, but asked right away, "Why"? and he replied "These things are drying up, you just can't find them anymore".
Well as Paul Harvey said, now the rest of the story, the little man that had came in two weeks back was Karl White from Edmond, sixteen miles down the road and the big guy was Willis Logan from OKC, later to become one of my best lure collecting buds. On that day in 1970 began my lust for old lures and I hit the ground running and when we got word in 1976 of a group of guys in Missouri that were starting a club I was quick to respond. Karl had gone to the 1st meeting at the School of the Ozarks with his wife Beverly and others there were John Goodwin, Dudley Murphy, and Paul Hardrich. James Wisdom, Clyde Harbin, and about eight others packed into a little classroom to form the club we know now as NFLCC.
I joined shortly after and became the clubs 1st Gazette editor. It was indeed a special Birthday day in 1970 when I was infected with the bug called lure collecting.
More Club History next time, till then remember, take pride in your collection and others will too.
Big Nemo