A Short History of Tackle Boxes
by Dr. Todd E.A. Larson
Basically, the earliest tackle boxes were either leather or wood; these persisted into the 1930s and 1940s (Tronicks of Wisconsin was one of the best makers of wood tackle boxes of the 1900-1940 era and Richard Wheatley of Great Britain exported leather boxes to America during the same era). The 19th century models are not very common today simply because the early angler had little need (and most could not afford) large amounts of fishing tackle. This began to change with the advent of cheaper tackle in the 1870s. Some popular makers of leather tackle boxes included Knickerbocker (Chicago) and Excelsior (Stamford, CT). These were always more expensive than their metal counterparts.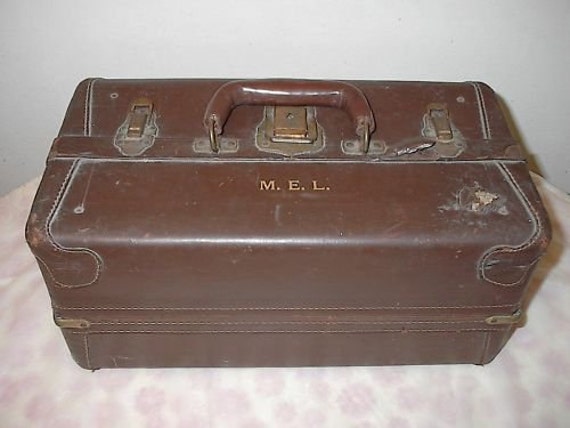 A classic Knickerbocker leather tackle box.
Of course, throughout the Victorian era there was a thriving trade for local carpenters and tanners to make these boxes in most localities as well, and as this was a handier age, many anglers simply made their own. Some of these folk art boxes, as we call them today, are true works of art. Most are unmarked and they come in an astounding variety of styles when they do come to market, which is rarely.
A great 1940s Seamaster wood box by Driftwood Co. of Stuart, Florida.
Metal tackle boxes started making in-roads in the 1870s and they were marketed by every retailer and wholesaler in the nation; manufacturers like the Milwaukee firm of Geuder & Paeschke's Cream City line (the name taken from the nickname of Milwaukee in the 19th century) made millions of cheap boxes for the American angler. Stratton & Terstegge of Louisville marketed a line of Fall's City and My Buddy boxes and soon became a prominent maker of metal tackle boxes, and were followed by Kennedy and others. There was little distinction between tool boxes and tackle boxes for most of the early 20th century, as they served a similar purpose. You often find vintage tackle in what is marked a tool box, and vintage tools in what may be marketed as a tackle box.
A classic turn of the century Cream City tackle box.
The 1930s saw the first widely popular plastic tackle boxes. Many of the first forays into this field were small hand-held ones for fly fishing; I have a great South Bend round celluloid plastic fly box that dates about 1933 and is so dainty it would be crushed if you looked at it wrong. Millsite of Michigan made a very popular round plastic tackle box (tackle holder really) for a number of years beginning in the 1930s, sold as the Daisy Fly Box and copied by a number of other firms. It was originally made by another firm and purchased by Millsite, as outlined in Steve Lumpkin's book.

A Millsite Daisy fly box.
It wasn't until the immediate post-World War 2 era that plastic tackle boxes really began to take off--coinciding with the revolution in both the plastics industry caused by the war and in American fishing spawned by returning G.I.s and spinning tackle. Many household fishing names--Plano (of Illinois), UMCO (Minneapolis), Falls City, PAL, and others saturated the market with new plastic tackle boxes, but continued for some time (in UMCO and PAL's case) making aluminum boxes as well. These vintage aluminum tackle boxes sometimes sell for hundreds of dollars to Japanese bass fishermen on internet auction sites.

An UMCO #1000A was made from aluminum.
Numerous smaller manufacturers sprung up as well throughout the 20th century, including Keystone (Chicago) who made Sports Pal boxes, Liberty Steel Chest Corporation, Walton (Union, IL, makers of Grip-Loc brand, a real tank of a box that weighed about 10 pounds), Simonsen (Chicago), etc. All made metal tackle boxes and some transitioned into the plastic era.

This 1930s Simonsen metal tackle box has a classic look.
All of these firms faced stiff competition beginning in the late 1950s from Japanese, Taiwanese, Korean, and lastly (in the last decade) Chinese imports, but as the bass fishing revolution took hold in the 1960s, they wisely began making specialized boxes for different kinds of fishing on a wide scale. Possum-bellies and, of course, the Plano 747 helped bass pros and weekend anglers alike carry their Big-Os, Rebels, Rapalas, Cotton Cordells, and the like from lake to lake.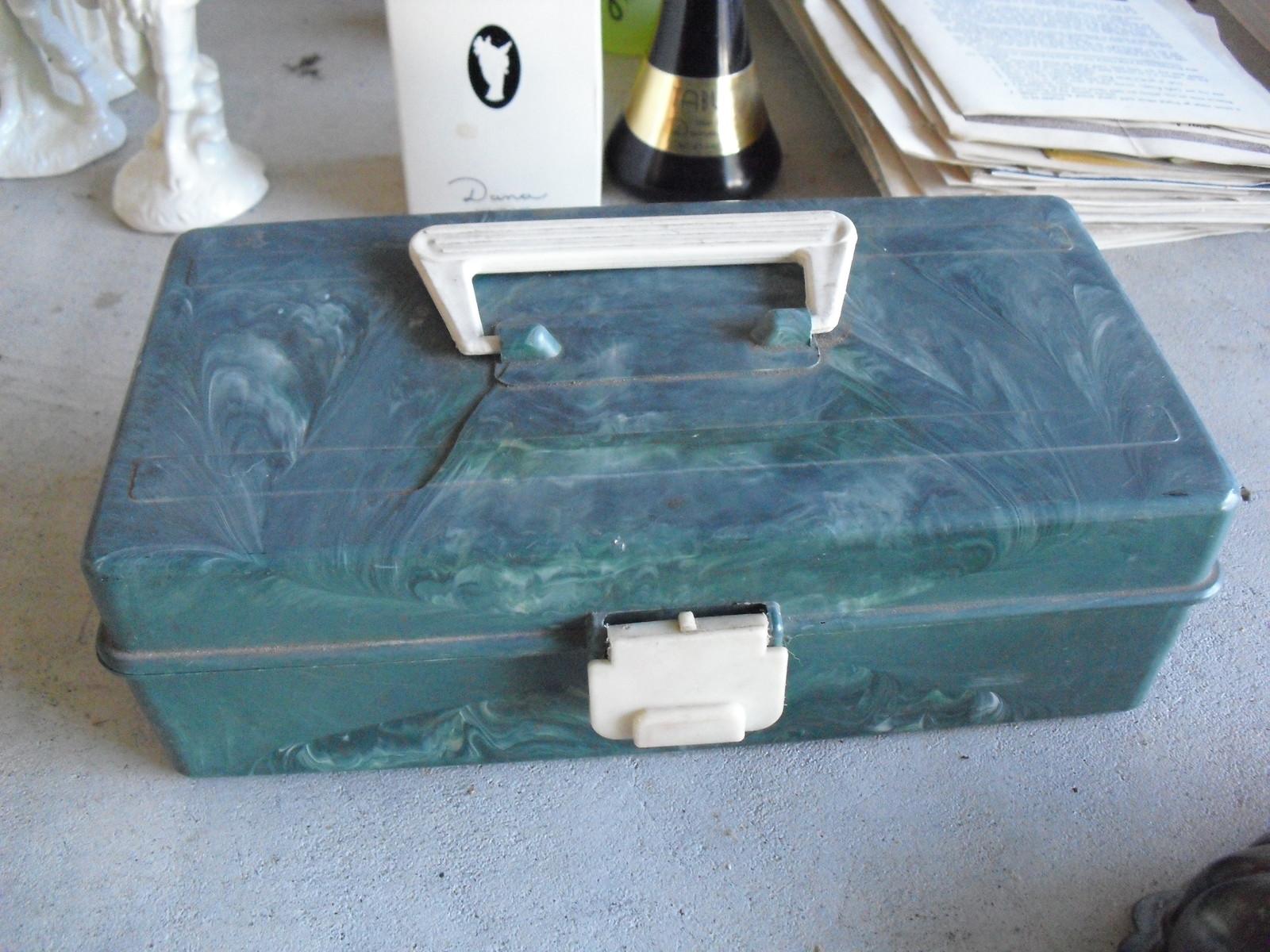 A cheap 1960s imported plastic tackle box.

A Plano 757 was a bass fisherman's dream.
In the 1970s and 1980s, we get a lot of new tackle box companies, such as Old Pal/Woodstream, Umco, Flambeau and the aforementioned Plano, offering inexpensive plastic boxes which made their way into other fields, such as jewelry, arts and crafts, etc.

A rare UMCO #700 clippable tackle box.
-- Dr. Todd